Panthers Pounce on Leopards 49-6 – Football

Perry 49, Louisville 6
<<< Previous At Lake | Football Schedule | Next At Green >>>
The Louisville Leopards Varsity Football Team fell to the visiting Perry Panthers 49-6 Friday Night at Louisville Leopards Stadium. With the loss, Louisville drops to 1-5 on the season.
Game Stats | Scoring Summary | Team Stats | Individual Stats
---
Perry at Louisville Full Game Broadcast
Game Broadcast By Straggat Media
---
Dougherty Scores Lone Leopard Touchdown
Leopard junior runningback Cam Dougherty broke the Panther shutout with an 8 yard touchdown run with 4:48 left in the second quarter. The 6 play, 55 yard scoring drive began with a 31 yard pass from senior quarterback Owen Burick to senior wide receiver Braiden Hershey down the right sideline to the PHS 24. Louisville then converted a 3rd-and-10 via a 12 yard Owen Burick to sophomore Quin Burick connection setting the Leopards up with a 1st-and-goal. Dougherty reached paydirt two plays later, cutting the Perry lead to 35-6.
Dougherty would finish as Louisville's leading rusher with 6 carries for 31 yards. Owen Burick would finish 11 of 21 passing for 117 yards. Hershey was his top target with 3 catches for 44 yards and junior tight end Austin Wade also made 2 receptions for 33 yards.
---
Ivanic Runs for 222 Yards and 3 Touchdowns
The Panthers out-gained the Leopards 395-206 in total offense, which included a 291-61 edge on the ground. Perry was led by senior runningback Christian Ivanic who ran the ball 16 times for 222 yards and 3 touchdowns. Ivanic broke free for endzone runs of 59, 62, and 2 yards.
Sophomore runningback Connor Shephard also had 3 carries for 44 yards and scored on a 19 yard touchdown run that put the Panthers in front 28-0 in the opening quarter.
---
Panthers Pounce on Leopards Early
Perry led from start to finish…literally. Louisville fumbled the opening kickoff and the ball was recovered in the endzone by junior Vann Riordan to put the Panthers in front 7-0 just 9 seconds into the game.
The Leopards went three-and-out on their first possession punting the ball back to Perry. On the first play from scrimmage, Ivanic ran right through the line and then cut back to the left for a 59 yard touchdown scamper to put the Panthers ahead 14-0 with 9:34 remaining in the opening quarter.
After a touchback, Louisville's first play from scrimmage resulted in a 26 yard interception return by Ivanic to the LHS 3 yard line. Two plays later, junior quarterback Austin Mattox ran right, off play action, untouched into the endzone. To that point Perry had run just 3 plays on offense and led 21-0 with 9:04 remaining in the first quarter.
---
Perry 3rd-and-Long Backbreakers
Later in the half, the Panthers called timeout backed up at their own 9 yard line and facing 3rd-and-17. When play resumed, Mattox rolled to his right in his own endzone and hit junior wide receiver Kyson Walker on a slant for a 91 yard back-breaking touchdown to put Perry ahead 42-6.
Earlier in the second quarter, Ivanic also scored on a 62 yard back-breaker on a 3rd-and-13 play. Later in the third quarter, Ivanic also ran right for 36 yards when the Panthers were backed up 3rd-and-16 from their own 24. Ivanic would carry the ball on 10 of the 11 plays on that 70 yard scoring drive including on the final 9 snaps. Ivanic's final touchdown with 3:21 to play put Perry ahead 49-6 and they cruised from there.
---
Panthers Win 8th Straight Over Leopards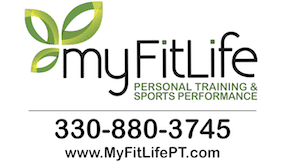 The Panthers have now defeated the Leopards in each of their past 8 matchups dating back to 1996. This includes the last 4 games in the series played at Louisville. .
Perry leads the all-time series 21-11 overall and holds a 9-6 edge when playing at Louisville in the series.
The Leopards have now lost 14 of their last 15 matchups against Federal League foes. Their only victory in that stretch came against the Green Bulldogs last season. Louisville will travel to Green next Friday.
<<< Previous 2022 | Perry All-Time Series
VARSITY UP NEXT: The Leopards will next travel to take on the Green Bulldogs on Friday, September 29. Game time is slated for 7:00 PM from Green Memorial Stadium.
JV UP NEXT: The Leopards JV will next travel to Perry to take on the Panthers on Saturday, September 23 at 10:00 AM. JV will also host Green on Saturday, September 30 at 10:00 AM.
FRESHMAN UP NEXT: The Leopards Freshman are next scheduled to host the Green Bulldogs on Thursday, September 28 at 5:00 PM.
---
Louisville Opponents Week 6 Scores
@New Philadelphia 35, Mount Vernon 10
@Licking Valley 42, Zanesville 0
@Northwest 28, Tuslaw 12
Canton McKinley 37, @North Canton Hoover 28
@Lake 19, Jackson 7
@Green 31, GlenOak 28
South Range 21, @Poland Seminary 7
@Steubenville 42, Wheeling Park (WV) 28
---
49-6 Leopard Scorigami?
No Scorigami! This score has occurred 1 other time in Louisville football history. Louisville won at Salem 49-6 back on September 19, 2014.
---
Donate to Leopard Nation
---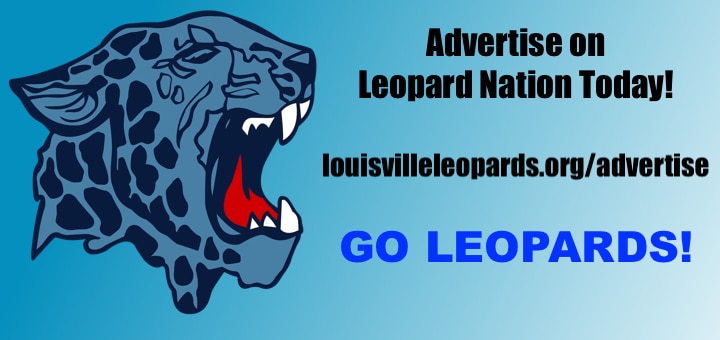 ---
Perry at Louisville Football Game Statistics
Scoring Summary
PANTHERS 49, LEOPARDS 6
Team 1-2-3-4–TOTAL
Perry 28-14-7-0–49
Louisville 0-6-0-0–06
1st Quarter
PERRY – Vann Riordan Fumble Recovery in the Endzone (Brock Huggins Kick) | LHS 0, PHS 7, 11:51
PERRY – Christian Ivanic 59 Yard Run (Brock Huggins Kick) | LHS 0, PHS 14, 9:34
1 Play, 59 Yards
PERRY – Austin Mattox 3 Yard Run (Brock Huggins Kick) | LHS 0, PHS 21, 9:02
2 Plays, 3 Yards
PERRY – Connor Shephard 19 Yard Run (Brock Huggins Kick) LHS 0, PHS 28, 2:27
5 Plays, 49 Yards
2nd Quarter
PERRY – Christian Ivanic 62 Yard Run (Brock Huggins Kick) | LHS 0, PHS 35, 11:03
3 Plays, 67 Yards
LOUISVILLE – Cam Dougherty 8 Yard Run (Kick Failed) | LHS 6, PHS 35, 4:48
6 Plays, 55 Yards
PERRY – Kyson Walker 91 Yard Pass from Austin Mattox (Brock Huggins Kick) | LHS 6, PHS 42, 2:52
5 Plays, 95 Yards
3rd Quarter
PERRY – Christian Ivanic 2 Yard Run (Brock Huggins Kick) | LHS 6, PHS 49, 3:21
11 Plays, 70 Yards
4th Quarter
NO SCORING
Records: Perry 3-3, Louisville 1-5
---
Team Stats
First Downs
Louisville: 13 (5 Rushing, 8 Passing)
Perry: 12 (10 Rushing, 2 Passing)
Total Offense
Louisville: 58 Plays, 206 Yards, 1 Touchdown (3.6 Average)
Perry: 42 Plays, 395 Yards, 6 Touchdowns (9.4 Average)
Rushing
Louisville: 21 Carries, 61 Yards, Touchdown
Perry: 38 Carries, 291 Yards, 5 Touchdowns
Passing
Louisville: 14 of 29 for 145 Yards, 2 Interceptions
Perry: 2 of 5 for 104 Yards, Touchdown
Fumbles/Lost
Louisville: 2/1
Perry: 0/0
Penalties/Yards
Louisville: 0/0
Perry: 1/5
3rd Down Conversions
Louisville: 4 for 9 (44%)
Perry: 5 for 9 (56%)
4th Down Conversions
Louisville: 0 for 3 (0%)
Perry: 0 for 1 (0%)
Punt Yards
Louisville: 3 Punts, 98 Yards (32.7 Average)
Perry: 1 Punt, 40 Yards
Kick Return Yards
Louisville: 2 Returns, 11 Yards (6.5 Average)
Perry: 2 Returns, -2 Yards
Punt Return Yards
Louisville: None
Perry: 1 Return, 8 Yards
Field Goal Attempts
Louisville: None
Perry: 0 for 1 (50 Missed)
---
Individual Stats
Rushing
Louisville
Cam Dougherty 6 Carries, 31 Yards, Touchdown
Owen Burick 10 Carries, 9 Yards
Owen DiMarzio 5 Carries, 21 Yards
Perry
Christian Ivanic 16 Carries, 222 Yards, 3 Touchdowns
Connor Shephard 3 Carries, 44 Yards, Touchdown
Evan Laubacher 4 Carries, 19 Yards
Austin Mattox 5 Carries, 9 Yards, Touchdown
Caelob Hundley 1 Carry, 4 Yards
Mason Mayle 3 Carries, 2 Yards
Carter Foster 1 Carry, 1 Yard
Ryder Hartshorn 2 Carries, -3 Yards
Aidrick Simmons 3 Carries, -7 Yards
Passing
Louisville
Owen Burick 11 of 21 for 117 Yards, 2 Interceptions
Tate Aljancic 3 of 8 for 28 Yards
Perry
Austin Mattox 2 of 5 for 104 Yards, Touchdown
Receiving
Louisville
Braiden Hershey 3 Catches, 44 Yards
Austin Wade 2 Catches, 33 Yards
Tate Golden 2 Catches, 22 Yards
Quin Burick 3 Catches, 19 Yards
Cam Dougherty 2 Catches, 10 Yards
Luke Seaman 1 Catch, 12 Yards
Colten Norris 1 Catch, 5 Yards
Perry
Kyson Walker 1 Catch, 91 Yards, Touchdown
Aidrick Simmons 1 Carry, 13 Yards
Kick Returns
Louisville
Gabe Stoffer 1 Return, 11 Yards
Elder 1 Return, 0 Yards
Perry
Aidrick Simmons 1 Return, 10 Yards
Christian Ivanic 1 Return, -11 Yards
Punt Returns
Louisville
None
Perry
Vann Riordan 1 Return, 8 Yards
Punts
Louisville
Owen Burick 3 Punts, 98 Yards, 37 Long (32.7 Average)
Perry
Brock Huggins 1 Punt, 40 Yards