Louisvilles Runs Out of Time Against Alliance 21-19 – Varsity Football

Alliance 21, Louisville 19
<<< Previous Vs. NDCL | Football Schedule | Next Vs. Jackson >>>
The Louisville Leopards Varsity Football Team fell to the visiting Alliance Aviators 21-19 Friday Night at Louisville Leopards Stadium. With the loss, Louisville falls to 2-6 on the season.
Senior Dan Kennedy ran for 142 yards and 2 touchdowns to lead the Leopards on offense. Kennedy broke loose for a 35 yard run to put Louisville ahead 7-0 in the second quarter. Later, he scored from 2 yards away to cut the LHS deficit to 21-19 with 4:56 remaining the game. The Leopards conversion attempt to tie the game failed and the Aviators would hold on for the victory in the end.
Senior quarterback Tyler Jackson finished 6 of 13 for 93 yards passing and threw a 29 yard touchdown pass to junior wide receiver Zack Seaman. That score answered an Alliance touchdown and got the Leopards within 14-13 with 7:22 remaining in the third quarter. Seaman would finish as Louisville's top receiver with 4 catches for 47 yards.
Alliance was led by senior quarterback Brandon Alexander who completed 12 of 21 passes for 149 yards through the air and also ran the ball 19 times for 78 yards on the ground. He rifled an 11 yard touchdown pass to sophomore runningback Kayden Davis in the second quarter to answer Louisville's first touchdown. Alexander later got a big push from his offensive line to score on a 3 yard quarterback sneak that gave the Aviators their first lead of the game at 14-7 with 9:19 left in the third quarter.
---
Alliance Capitalizes on Louisville Turnover
The Aviators were able to capitalize on great starting field position for that 7 play, 40 yard scoring drive. The Leopards received the ball first in the second half, but fumbled on their first play from scrimmage. Senior defensive lineman Enrique Curry stripped the ball carrier and junior defensive back Mar'Qwayil Greer fell on it for Alliance at the LHS 40. The Aviators ran the ball 7 straight times to the endzone, which included Alexander running for 8 yards on a key 3rd-and-1.
---
Leopards Answer With Efficient Scoring Drive
T
he Leopards wasted no time in answering back with their most efficient scoring drive of the night. Seaman's 18 yard kick return set Louisville up on their own 46 to begin the next drive. On the second play of the drive Jackson hit Kennedy over the middle for a 23 yard pick up. Two plays later, Jackson went over the top to the speedy Seaman who burned the Alliance secondary for a 29 yard touchdown strike.
However, the extra point was blocked at the line by Aviators junior 6'7 defensive lineman Stephen Gales to keep AHS in front 14-13.
---
Aviators Use 13-Play Drive to Pull Ahead 21-13
Alliance strung together a 13 play, 73 yard drive in response that featured 3 third down conversions.A holding penalty pinned the Aviators back into a 2nd-and-18 right off the bat. However, Alexander would find senior tight end Andrew Datz for a 10 yard reception and then converted a 3rd-and-8 with a 17 yard pass to senior wide receiver Dylan Bugara to the LHS 44. Three plays later, Alexander connected with Datz again for a 16 yard gain on 3rd-and-10 to the Louisville 28.
Alliance returned to the ground on the next four plays. This included Davis gaining the necessary yardage on a 3rd-and-4 to put the Aviators in the redzone. Davis capped off the drive a few plays later with a 4 yard touchdown run. Junior kicker Nathniel Woerther booted home his third consecutive extra point to give Alliance a 21-13 lead with 1:03 to go in the third quarter.
---
Louisville Missed Opportunities
The Leopards came up empty on three drives into Aviators territory. In the second quarter, Louisville drove to the Alliance 22 yard line where they faced a 4th-and-5. Jackson ran to the left on the play and weaved his way with extra effort to get as much yardage as possible. After a measurement, it was determined that he came up inches short and the Leopards turned the ball over on downs at the AHS 18.
Later in the third quarter, Louisville recovered an onside kick attempt to begin on their own 49. First down runs by Jackson and Kennedy along with a 10 yard reception by senior wide receiver AJ Lingenhoel set the Leopards up with a 3rd-and-4 from the Aviator 23 yard line to begin the fourth quarter. Rain began to fall and Louisville put the ball on the turf on the next play. A pile up ensued and senior defensive back Braidyn Hartsoe came out with the ball to give possession back to Alliance.
Louisville's defense forced a three-and-out and the offense answered with 10 consecutive running plays on a 74 yard scoring drive. Kennedy scored from 2 yards out with 4:56 left to trim the disadvantage to 21-19. However, the snap was mishandled on the conversion attempt and Hartsoe was there again to pounce on it for the Aviators in ending the attempt to tie the game.
---
Leopards Run Out Of Time
Louisville's defense allowed a single first down before forcing a punt on the second series of Alliance's next drive. The Leopards were left with 2:17 in the pouring rain to string together a scoring drive.
Kennedy ran for 10 yards across midfield to convert a 3rd-and-7 as the clock continued to tick away. However, junior linebacker Tyrik Mason came around the weak side unblocked on second down for an 8 yard loss. That forced Louisville to burn their final timeout with 51 seconds to go.
On 3rd-and-18, Jackson found the leaping Lingenhoel for a gain of 13 to the Aviator 40. The clock continued to count down as the Leopards decided which play to run, but Alliance bailed them out with a timeout of their own with 20 seconds to go. Facing 4th-and-5, Seaman ran a sweep to the left to pick up 8 yards and got out of bounds at the Aviator 32 with 12 seconds left.
Jackson threw a promising pass down the left sideline on the next play, but it was broken up by Alliance senior defensive back Jabril Gilmore at the last second. Louisville would have had a first down around the 10 yard line if it had been completed. With the clock stopping for chain movement, the Leopards could have spiked the ball and ran one more play to the endzone.
Instead they needed 32 yards with 5 seconds remaining. On the final play, pressure from the right side by senior Grant McGeehen and Datz forced Jackson to his left. The final desperation throw sailed out of bounds as the Alliance sideline erupted in celebration.
---
Louisville Vs. Alliance Series
The Aviators have now won the last two meetings over the Leopards, which is their first winning streak in the series since they won against Louisville in both 1986 and 1987. The Leopards still lead the all-time series 15-6-1 overall, which includes a 7-3-1 mark when playing at home in the series.
<<< Previous 2017 | Alliance All-Time Series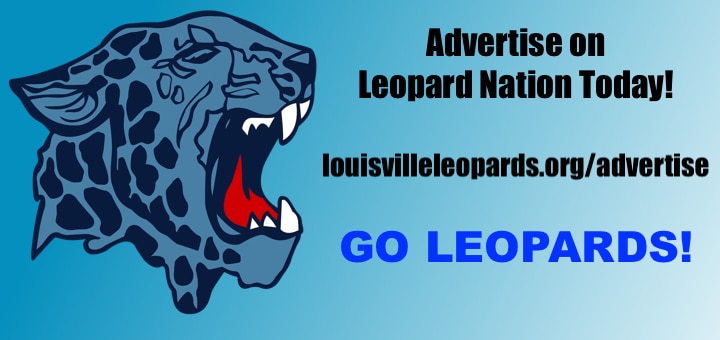 Game Statistics
Scoring Summary
AVIATORS 21, LEOPARDS
Team 1-2-3-4–TOTAL
Alliance 0-7-14-0–21
Louisville 0-7-6-6–19
1st Quarter
NO SCORING
2nd Quarter
LOUISVILLE – Dan Kennedy 35 Yard Run (Myles Lab Kick) | LHS 7, AHS 0, 9:55
6 Plays, 80 Yards
ALLIANCE – Kayden Davis 11 Yard Pass from Brandon Alexander (Nathaniel Woerther Kick) | LHS 7, AHS 7, 7:03
6 Plays, 65 Yards
3rd Quarter
ALLIANCE – Brandon Alexander 3 Yard Run (Nathaniel Woerther Kick) | LHS 7, AHS 14, 9:19
7 Plays, 40 Yards
LOUISVILLE – Zack Seaman 29 Yard Pass from Tyler Jackson (Kick Blocked) | LHS 13, AHS 14, 7:22
4 Plays, 54 Yards
ALLIANCE – Kayden Davis 4 Yard Run (Nathaniel Woerther Kick) | LHS 13, AHS 21, 1:03
13 Plays, 73 Yards
4th Quarter
LOUISVILLE – Dan Kennedy 2 Yard Run (Run Failed) | LHS 19, AHS 21, 4:56
10 Plays, 74 Yards
Records: Alliance 2-7, Louisville 2-6
Team Stats
First Downs:
Alliance: 15
Louisville: 19
Rushing:
Alliance: 36 / 150 2 TD's
Louisville: 39 / 242 2 TD's
Passing:
Alliance: 12 / 21 / 0 149 yds 1 TD
Louisville: 7 / 14 / 0 98 yds 1 TD
Fumbles/Lost:
Alliance: 1 / 0
Louisville: 2 / 2
Penalties / Yds.
Alliance: 6 / 35
Louisville: 3 / 25
3rd Down Conversions:
Alliance: 6 /11
Louisville: 2 / 7
4th Down Conversions:
Alliance: 0 / 1
Louisville: 1 / 2
Individual Stats
Rushing:
Alliance: Brandon Alexander: 19 / 78 1 TD
Kayden Davis: 17 / 72 1 TD
Louisville: Dan Kennedy: 18 / 142 2 TD's
Tyler Jackson: 10 / 39
Zack Seaman: 4 / 35
Connor Adelman: 7 / 26
Receiving:
Alliance: K'Vaughn Davis: 4 / 21
Kayden Davis: 3 / 52 1TD
Dylan Bugara: 2 / 46
Andrew Datz: 2 / 26
Braidyn Hartsoe: 1 /4
Louisville: Zack Seaman: 4 / 47 1 TD
AJ Lingenhoel: 2 / 23
Dan Kennedy: 1 / 23
Tyler Jackson: 1 / 5
Passing:
Alliance: Brandon Alexander: 12 / 21 / 0 149 yds 1 TD
Louisville: Tyler Jackson: 6 / 13 / 0 93 yds 1 TD
Zack Seaman: 1 / 1 / 0 5 yds