Leopards Taken to "Church" by Panthers 40-14 – Football

Perry 40, Louisville 14
<<< Previous Vs. Lake | Football Schedule | Next Vs. Green >>>
The Louisville Leopards Football Team fell to the host Perry Panthers 40-14 Friday Night at Wakefield Stadium. With the loss, Louisville drops to 1-5 on the season.
Game Stats | Scoring Summary | Team Stats | Individual Stats
---
Roberts Runs for 2 Touchdowns in Opening Quarter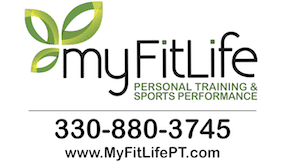 Senior quarterback Charlie Roberts ran the ball 16 times for 115 yards and rushed for two touchdowns to lead the Leopards.
Roberts broke loose for a 51 yard touchdown run to conclude Louisville's 8 play, 80 yard opening drive. He later scored on a three yard touchdown run to cap off a 14 play, 65 yard scoring drive that put the Leopards in front 14-7 with 2:30 remaining in the first quarter.
---
Church Runs for 249 Yards and 5 Touchdowns
Senior runningback De'Andre Church carried the ball 31 times for 249 yards and scored 5 touchdowns on the ground to lead the Panthers. Church reached the endzone on runs of 1 and 13 yards in the first half. He then followed that up with touchdown carries of 11, 2, and 1 in the second half as Perry scored 33 unanswered points to close the game.
The Panthers out-gained the Leopards 418-246 in total yards, which included a 412-178 advantage on the ground. Senior Garrett Laubacher also finished with 5 rushes for 76 yards and scored on a 15 yard touchdown run that gave Perry its first lead of the contest at 19-14 with 1:29 to go before halftime.
---
Ivanic Records Two Interceptions for Perry
Junior Christian Ivanic was a ball-hawk for the Panthers. He made two leaping second half interceptions to end promising Louisville offensive drives. Senior Joel Brown also hauled in a pick around midfield a few minutes into the fourth quarter.
Perry improves to 4-2 on the season with the win.
<<< Previous Vs. Jackson | Perry Football Schedule | Next Vs. Hoover >>>
---
Chambers and Smith Recover Fumbles for Louisville
The Leopards defense also recovered a pair of fumbles. With only a few minutes left in the third quarter, senior linebacker Jacob Davide went to wrap up Church inside the five yard line. When he did the ball was jarred loose and senior defensive back Clay Chambers fell on it at the Louisville 7 yard line.
Late in the game, Perry was driving just outside the redzone when they fumbled the ball away again. Sophomore defensive end Wyatt Smith got control of the ball between the legs of the ball carrier, sophomore runningback Joseph White. Louisville was awarded the ball at their own 25.
Junior linebacker Braylon Taylor also blocked an extra point and recorded a tackle for a loss for the LHS defense.
---
Louisville Vs. Perry Football History
The Leopards have now fallen to the Panthers in each of their last seven meetings dating back to 1996. Louisville has now dropped their last seven games played at Perry, a place the Leopards have not won at since 1983.
The Panthers now lead the all-time series 20-11 and they are now 9-6 against Louisville when playing at Perry.
<<< Previous 2021 | Perry All-Time Series
UP NEXT: The Leopards will next host the Green Bulldogs on Friday, September 30. Game time is set for 7:00 PM from Louisville Leopards Stadium. Freshman will travel to Green on Thursday, September 29 at 5:00 PM. JV will also travel to Green on Saturday, October 1 at 10:00 AM.
---
Week 6 Scores for Louisville Opponents
Steubenville 69, @Wheeling Park (WV) 28
@Poland Seminary 31, Niles McKinley 7
Northwest 27, @Orrville 7
@Canton McKinley 42, North Canton Hoover 9
Lake 21, @Jackson 7
@GlenOak 31, Green 24
@Notre Dame-Cathedral Latin 46, Easter Liverpool 0
Lindsly (WV) 41, @Fort Frye 38
---
Donate to Leopard Nation
---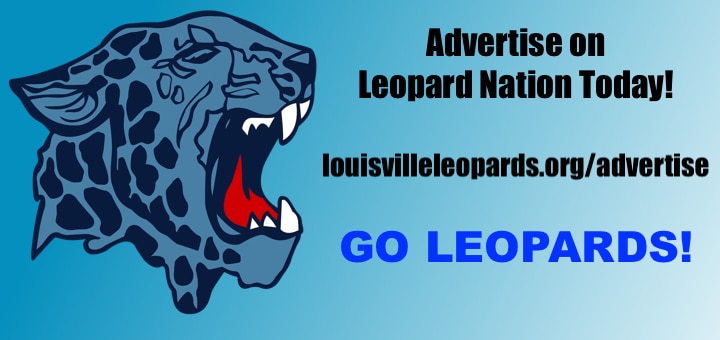 ---
Louisville at Perry Football Game Statistics
Scoring Summary
PANTHERS 40, LEOPARDS 14
Team 1-2-3-4–TOTAL
Louisville 14-0-0-0–14
Perry 7-12-14-7–40
1st Quarter
LOUISVILLE – Charlie Roberts 51 Yard Run (Seth Colley Kick) | LHS 7, PHS 0, 9:25
8 Plays, 80 Yards, 2:35
PERRY – De'Andre Church 1 Yard Run (Ty Boughman Kick) | LHS 7, PHS 7, 8:12
4 Plays, 27 Yards, 1:04
LOUISVILLE – Charlie Robers 3 Yard Run (Seth Colley Kick) | LHS 14, PHS 7, 2:30
14 Plays, 65 Yards, 5:42
2nd Quarter
PERRY – De'Andre Church 13 Yard Run (Kick Blocked) | LHS 14, PHS 13, 11:09
8 Plays, 65 Yards, 3:16
PERRY – Garrett Laubacher 15 Yard Run (Pass Failed) | LHS 14, PHS 19, 1:29
5 Plays, 82 Yards, 1:03
3rd Quarter
PERRY – De'Andre Church 11 Yard Run (Ty Boughman) | LHS 14, PHS 26, 10:10
5 Plays, 63 Yards, 1:43
PERRY – De'Andre Church 2 Yard Run (Ty Boughman) | LHS 14, PHS 33, 0:08
7 Plays, 43 Yards, 2:36
4th Quarter
PERRY – De'Andre Church 1 Yard Run (Ty Boughman) | LHS 14, PHS 40, 9:01
5 Plays, 47 Yards, 2:10
Records: Perry 4-2, Louisville 1-5
---
Team Stats
First Downs
Louisville: 13 (9 Rushing, 3 Passing, 1 Penalty)
Perry: 23 (22 Rushing, 0 Passing, 1 Penalty)
Total Offense
Louisville: 58 Plays, 246 Yards (4.2 Average)
Perry: 57 Plays, 418 Yards (7.3 Average)
Rushing
Louisville: 41 Carries, 178 Yards, 2 Touchdowns
Perry: 55 Carries, 412 Yards, 6 Touchdowns
Passing
Louisville: 9 of 17 for 68 Yards, 3 Interceptions
Perry: 1 of 2 for 6 Yards
Fumbles/Lost
Louisville: 1/0
Perry: 2/2
Penalties/Yards
Louisville: 1 for 15 Yards
Perry: 4 for 40 Yards
3rd Down Conversions
Louisville: 5 for 13
Perry: 6 for 8 (75%)
4th Down Conversions
Louisville: 2 for 3 (67%)
Perry: 0 for 2 (0%)
Punt Yards
Louisville: 3 Punts, 96 Yards (32.0 Average)
Perry: None
Kick Return Yards
Louisville: 2 Returns, 42 Yards (21.0 Average)
Perry: 3 Returns, 85 Yards (28.3 Average)
Punt Return Yards
Louisville: None
Perry: 2 Returns, 12 Yards (6.0 Average)
Field Goals
Louisville: None
Perry: None
---
Individual Stats
Rushing
Louisville
Charlie Roberts 16 Carries, 115 Yards, 2 Touchdowns
Jacob Davide 8 Carries, 20 Yards
Tate Golden 4 Carries, 16 Yards
Brandon Jackson 1 Carry, 13 Yards
Daveion Cruse 7 Carries, 11 Yards
Wyatt Smith 2 Carries, 8 Yards
Carter Deem 1 Carry, 4 Yards
Chase Mueller 1 Carry, -1 Yards
Jacob Paumier 1 Carry, -8 Yards

Perry
De'Andre Church 31 Carries, 249 Yards, 5 Touchdowns
Garrett Laubacher 5 Carries, 76 Yards, Touchdown
Austin Mattox 4 Carries, 42 Yards
Dominic Scott 6 Carries, 19 Yards
Landen Johnson 1 Carry, 8 Yards
Christian Ivanic 1 Carry, 6 Yards
Carson Basham 4 Carries, 4 Yards
Joseph White 2 Carries, 4 Yards
Christian Robbins 1 Carry, 4 Yards
Passing
Louisville
Charlie Roberts 5 of 13 for 19 Yards, 3 Interceptions
Daveion Cruse 2 of 2 for 39 Yards
Jacob Paumier 1 of 1 for 6 Yards
Braiden Elder 1 of 1 for 4 Yards
Perry
Austin Mattox 1 of 2 for 6 Yards
Receiving
Louisville
Brandon Jackson 3 Catches, 45 Yards
Chase Mueller 1 Catch, 8 Yards
Braiden Elder 1 Catch, 6 Yards
Carter Deem 1 Catch, 4 Yards
Daveion Cruse 2 Catches, 3 Yards
Tate Golden 1 Catch, 2 Yards
Perry
Carson Basham 1 Catch, 6 Yards
Kick Returns
Louisville
Chase Mueller 2 Returns, 42 Yards, 23 Long (21.0 Average)
Perry
Joel Brown 1 Return, 48 Yards
Christian Ivanic 1 Return, 22 Yards
Garrett Laubacher 1 Return, 15 Yards
Punt Returns
Louisville
None
Perry
Christian Ivanic 2 Returns, 12 Yards, 15 Long (6.0 Average)
Punts
Louisville
Carter Duskey 3 Punts, 96 Yards, 34 Long (33.0 Average)
Perry
None