Louisville Shutout at Lake 49-0 – Football

Lake 49, Louisville 0
<<< Vs. Hoover | Football Schedule | Next Vs. Perry >>>
The Louisville Leopards Varsity Football Team was shutout by the host Lake Blue Streaks 49-0 Friday Night at Blue Streaks Stadium. With the loss, Louisville drops to 1-4 on the season.
Game Stats | Scoring Summary | Team Stats | Individual Stats
---
Louisville at Lake Full Game Broadcast
Full Game Brodcast By Straggat Media
---
Burick Throws for 79 Yards
Louisville's average starting field position for the night was their own 19 yard line. The Leopards did not cross their own 35 yard line in managing just two first downs on five opening half drives.
Louisville eclipsed their first half first down total by moving the chains three times on their opening second half drive. Senior quarterback Owen Burick, who was 5-for-5 passing in the opening half, opened the drive by completing 6 of 8 passes to lead the Leopards across midfield.
Burick completed a 12 yard first down reception to senior wide receiver Matt Crosby on 3rd-and-6 and an 8 yard first down completion to his brother sophomore wide receiver Quin Burick on 4th-and-7 down to the Lake 42. Crosby would finish as Louisville's leading receiver with 4 catches for 46 yards.
The Leopard drive would stall after that. It ended in a sequence that included a completion for no gain followed by three incompletions. Burick would finish 11 of 16 passing for 79 yards.
---
Aljancic Leads Promising Final Drive
Trailing 49-0, Louisville's most promising drive of the game was their final one. Led by junior quarterback Tate Aljancic, the Leopards marched the ball 68 yards on 14 plays into the Blue Streaks redzone.
Aljancic connected with senior wide receiver Braiden Hershey and Quin Burick on back-to-back first downs. He then completed a 19 yard pass to Crosby on 3rd-and-3 and a 6 yard pass to senior wide receiver Tate Golden on 4th-and-4 to put Louisville in the redzone for the first time all night.
Three of the next 4 Leopard plays resulted in incompletions. On 4th-and-7 from the Blue Streak 13, Aljancic threw to tight end Austin Wade in the corner of the endzone. Wade secured the ball, but his feet were rule out of bounds ending Louisville's hopes to take the zero off the scoreboard.
Aljancic finished 7 of 12 for 62 yards through the air. Hershey was the Leopards top target on the evening with 5 grabs for 32 yards. Golden also had 3 catches for 23 yards and Quin Burick finished with 2 receptions for 19 yards.
---
Blue Streaks Strike 1st with Two 1st Quarter Touchdowns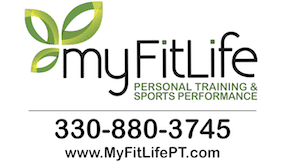 The Blue Streaks dominated the contest from start to finish. Lake found the endzone in each of its 6 first half possessions in pulling ahead 42-0 at halftime.
The Blue Streaks marched 64 yards on 9 plays on their opening drive before senior runningback Joseph Garro scored from a yard away. Lake followed their opening score with their longest drive of the night. The Blue Streaks used 12 plays to drive 69 yards in only 2:55. Junior tailback Charlie Christopher scored from 4 yards away to put Lake ahead 14-0.
---
Lake Takes Advantage of Short Field
Christopher would score his second touchdown two drives later on a 4th-and-goal from the 1 yard line. That extended the Blue Streak lead to 28-0 with 4:17 left in the second quarter. Lake was setup with short field on that 30 yard scoring drive after the Leopards rolled the dice on 4th-and-2 from their own 32 and were dropped for a 2 yard loss.
The ensuing kickoff was fumbled by Louisville and recovered by Lake senior kicker Celton Dutton at the Leopard 21 yard line. Three plays later, backup quarterback Noah Kubasky scored the first of his two 6 yard touchdown runs to put the Blue Streaks ahead 35-0 with 3:49 to go before halftime.
The Leopards picked up a first down on the first series of their next drive, but then fumbled on the next play. Senior defensive end Ethan Baluch was there to pounce on the loose ball for Lake at the Louisville 29. Two plays later, senior wide receiver Kam'ron Fouty-Koonce caught a 9 yard touchdown pass from Kubasky to increase the Blue Streak advantage to 42-0 with 1:20 remaining in the half.
---
Blue Streaks Out-Gain Leopards 323-159
Lake out-gained Louisville 323-159 in total offense for the game, which included a 184-16 advantage on the ground. The Blue Streaks' rushing attack was led by senior runningback Nate Baker who amassed 89 yards on 13 attempts. Kubasky also had 30 yards on the ground, Christopher rushed for 25 yards, and starting senior quarterback Cale Jarvis also added 25 yards rushing.
Jarvis would finish 9 of 14 passing for 95 yards and a touchdown in the first half. His lone touchdown pass went to senior wide receiver Samuel Kerscher from 16 yards out to put Lake ahead 21-0 early in the second quarter. Kubasky would replace Jarvis soon after and finish 4 of 5 through the air for 44 yards for the game. Senior wide receiver Ryan Anderson was Lake's top receiver making 7 catches for 45 yards.
---
Louisville Drops 4th Straight to Lake
The Leopards have now lost their last 4 matchups against the Blue Streaks dating back to 2019. In the last three seasons, Lake has outscored Louisville 122-14. The series will not be renewed for the 2024 season.
The Leopards are now 4-12 against the Blue Streaks all-time, which includes a 1-5 record when playing at Lake. Louisville has dropped its last 4 games played at Blue Streaks Stadium and has not won at Lake since a 12-6 double overtime win back in 1989.
<<< Previous 2022 | Lake All-Time Series
UP NEXT: The Leopards will next host the Perry Panthers on Friday, September 22. Game time is set for 7:00 PM from Louisville Leopards Stadium.
JV UP NEXT: The Leopards JV will host the Lake Blue Streaks on Saturday, September 23 at 10:00 AM at Louisville Leopards Stadium. They will also travel to take on the Perry Panthers on Saturday, September 30 at 10:00 AM from Wakefield Stadium.
FRESHMAN UP NEXT: The Leopard Freshman will next travel to take on the Perry Panthers on Thursday, September 21 at 5:00 PM from Wakefield Stadium.
---
Louisville Opponents Week 5 Scores
@Mansfield Senior 35, New Philadelphia 14
@Heath 40, Zanesville 20
Northwest 42, @Fairless 35
@GlenOak 27, North Canton Hoover 24
@Jackson 49, Perry 14
@Canton McKinley 28, Green 27
South Range 37, @Struthers 33
Steubenville 34, @Dover 14
---
49-0 Leopard Scorigami?
No Scorigami! This score has occurred 4 other times in Louisville football history including most recently in 2016 at Carrollton:
10/3/2008: Louisville 49, Alliance 0
10/15/1999: Louisville 49, Marlington 0
10/7/1949: Louisville 49, North Canton Hoover 0
---
Donate to Leopard Nation
---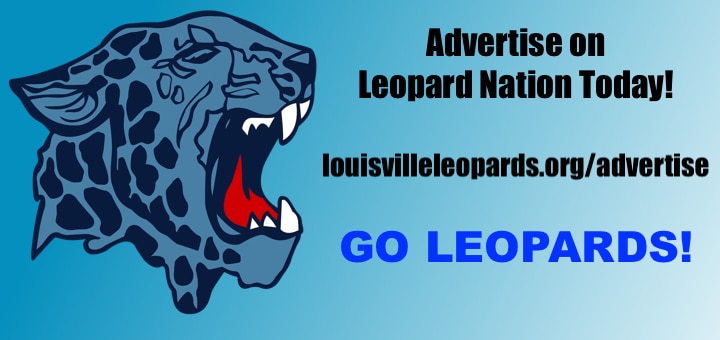 ---
Louisville at Lake Football Game Statistics
Scoring Summary
BLUE STREAKS 49, LEOPARDS 0
Team 1-2-3-4–TOTAL
Lake 14-28-0-7–49
Louisville 0-0-0-0–00
1st Quarter
LAKE – Joseph 1 Garro Yard Run (Celton Dutton Kick) | LAKE 7, LOUISVILLE 0, 7:36
9 Plays, 64 Yards, 4:24
LAKE – Charlie Christopher 4 Yard Run (Celton Dutton Kick) | LAKE 14, LOUISVILLE 0, 2:57
12 Plays, 69 Yards, 2:55
2nd Quarter
LAKE – Samuel Kerscher 16 Yard Pass from Cale Jarvis (Celton Dutton Kick) | LAKE 21, LOUISVILLE 0, 8:55
9 Plays, 56 Yards, 3:06
LAKE – Charlie Christopher 1 Yard Run (Celton Dutton Kick) | LAKE 28, LOUISVILLE 0, 4:17
6 Plays, 30 Yards
LAKE – Noah Kubasky 6 Yard Run (Celton Dutton Kick) | LAKE 35, LOUISVILLE 0, 3:47
3 Plays, 21 Yards
LAKE – Kam'ron Fouty-Koonce 9 Yard Pass from Noah Kubasky (Celton Dutton Kick) | LAKE 42, LOUISVILLE 0, 1:20
2 Plays, 29 Yards
3rd Quarter
NO SCORING
4th Quarter
LAKE – Noah Kubasky 6 Yard Run (Celton Dutton Kick) | LAKE 49, LOUISVILLE 0, 9:32
9 Plays, 58 Yards
Records: Lake 4-1, Louisville 1-4
---
Team Stats
First Downs
Louisville: 9 (2 Rushing, 7 Passing)
Lake: 20 (14 Rushing, 6 Passing)
Total Offense
Louisville: 46 Plays, 159 Yards (3.5 Average)
Lake: 51 Plays, 323 Yards, 7 Touchdowns (6.3 Average)
Rushing
Louisville: 18 Carries, 16 Yards
Lake: 32 Carries, 184 Yards, 5 Touchdowns
Passing
Louisville: 18 of 28 for 141 Yards
Lake: 13 of 19 for 139 Yards, 2 Touchdowns
Fumbles/Lost
Louisville: 2/2
Lake: 0/0
Penalties/Yards
Louisville: 5 for 34 Yards
Lake: 1 for 15 Yards
3rd Down Conversions
Louisville: 5 for 11 (45%)
Lake: 6 for 6 (100%)
4th Down Conversions
Louisville: 2 for 5 (40%)
Lake: 0 for 0
Punt Yards
Louisville: 2 for 80 Yards (40.0 Average)
Lake: None
Kick Return Yards
Louisville: 5 Returns, 38 Yards (7.6 Average)
Lake: 2 Returns, 32 Yards (16.0 Average)
Punt Return Yards
Louisville: None
Lake: None
Field Goal Attempts
Louisville: None
Lake: None
---
Individual Stats
Rushing
Louisville
Owen Burick 6 Carries, 8 Yards
Owen DiMarzio 4 Carries, 7 Yards
Kason Graybill 1 Carry, 2 Yards
Cam Dougherty 6 Carries, 1 Yard
Tate Golden 1 Carry, -2 Yards
Lake
Nate Baker 13 Carries, 89 Yards
Noah Kubasky 3 Carries, 30 Yards, 2 Touchdowns
Charlie Christopher 5 Carries, 25 Yards, 2 Touchdowns
Cale Jarvis 4 Carries, 25 Yards
Caden Yoder 5 Carries, 14 Yards
Joseph Garro 1 Carry, 1 Yard, Touchdown
Cole Rader 1 Carry, 0 Yards
Passing
Louisville
Owen Burick 11 of 16 for 79 Yards
Tate Aljancic 7 of 12 for 62 Yards
Lake
Cale Jarvis 9 of 14 for 95 Yards, Touchdown
Noah Kubasky 4 of 5 for 44 Yards, Touchdown
Receiving
Louisville
Braiden Hershey 5 Catches, 32 Yards
Matt Crosby 4 Catches, 46 Yards
Tate Golden 3 Catches, 23 Yards
Quin Burick 2 Catches, 19 Yards
Cooper Rice 2 Catches, 12 Yards
Owen DiMarzio 1 Catch, 7 Yards
Austin Wade 1 Catch, 2 Yards
Lake
Ryan Anderson 7 Catches, 45 Yards
Kam'ron Fouty-Koonce 4 Catches, 42 Yards, Touchdown
Samuel Kerscher 2 Catches, 23 Yards, Touchdown
Alexander Quior 1 Catch, 20 Yards
Ethan Hunt 1 Catch, 6 Yards
Nate Baker 1 Catch, 3 Yards
Kick Returns
Louisville
Braiden Elder 2 Returns, 14 Yards, 13 Long (7.0 Average)
Tate Golden 1 Return, 14 Yards
Owen DiMarzio 1 Return, 10 Yards
Kolton Loy 1 Return, 0 Yards
Lake
Nate Baker 2 Returns, 32 Yards, 17 Long (16.0 Average)
Punt Returns
Louisville
None
Lake
None
Punts
Louisville
Carter Duskey 1 Punt, 41 Yards
Owen Burick 1 Punt, 39 Yards
Lake
None