Louisville Edges GlenOak 3-2 on Senior Night – Girls Tennis
Louisville 3, GlenOak 2
<<< Previous Vs. North Canton Hoover | Girls Tennis Schedule | Next LHS Doubles Classic >>>
The Louisville Leopards Girls Tennis Team edged the visiting GlenOak Golden Eagles 3-2 on Senior Night Thursday at the Greg Parrish Courts. With the victory, Louisville improves to 7-2 on the season.
---
---
Leopards Sweep Singles Matches
All three senior singles players won their matches in two sets to lead the Lady Leopards to victory. Rachel Kibler improved her perfect record to 8-0 on the year in #1 singles with a straight set 6-1, 6-1 victory over Elaina Norris.
Jade Thomas also won in straight sets 6-4, 6-4 in #2 singles over Lindsey Klenner to up her record to 5-4 on the season in singles play. Katie Yarnall also earned a 7-5, 6-4 win in #3 singles over Gracyn Geitgey to improve her record to 7-2 on the season.
---
Golden Eagles Take Both Doubles Matches
The Lady Eagles won both doubles matches. The #1 doubles of team of Chelsea Wiery & Ella Watson won in straight sets 6-4, 6-4 over the Louisville senior duo of Bailey Menegay & McKenzie Taylor.
The most competitive match of the evening was #2 doubles. The GlenOak tandem of Reece Wiery & Kennedy McGuire rallied for a 4-6, 6-2, 6-4 win over the LHS team of junior Jhacel Dawa & senior Kora Woolf.
---
Louisville Wins 12 Straight Over GlenOak
The Lady Leopards have now defeated the Lady Golden Eagles in each of their past 12 meetings dating back to 2010, which includes their past 7 matchups in the series played at LHS. Louisville is now 21-11 against GlenOak all-time.
<<< Previous 2019 | GlenOak All-Time Series
---
Leopards Honor Six Seniors
Prior to the match, Head Coach Rod Hall honored each of the six Lady Leopard tennis seniors individually. Those seniors included Rachel Kibler, Bailey Menegay, McKenzie Taylor, Jade Thomas, Kora Woolf, and Katie Yarnall.
Leopard Nation would like to thank these six seniors for their hard work and dedication to the Louisville Girls Tennis program over the past few years, and also wish them the best of luck on all their future endeavors.
Louisville Herald Senior Night Video
UP NEXT: The Lady Leopards will next host the Louisville Doubles Classic on Saturday, September 11 beginning at 9:00 AM.
---
Senior Night Photos
COMING SOON
---
GlenOak at Louisville Girls Tennis Box Score
LEOPARDS 3, GOLDEN EAGELS 2
Singles
#1 Rachel Kibler (L) d. Elaina Norris (GO) 6-1, 6-1
Kibler 8-0
#2 Jade Thomas (L) d. Lindsey Klenner (GO) 6-4, 6-4
Thomas 5-4
#3 Katie Yarnall (L) d. Gracyn Geitgey (GO) 7-5, 6-4
Yarnall 7-2
Doubles
#1 Chelsea Wiery & Ella Watson (GO) d. Bailey Menegay & McKenzie Taylor (L) 6-4, 6-4
Menegay 6-4, Taylor 5-5
#2 Reece Wiery & Kennedy McGuire (GO) d. Jhacel Dawa & Kora Woolf (L) 4-6, 6-2, 6-4
Dawa 1-6, Woolf 3-5 (3-4 Doubles)
Records: Louisville 7-2
---
Donate to Leopard Nation
---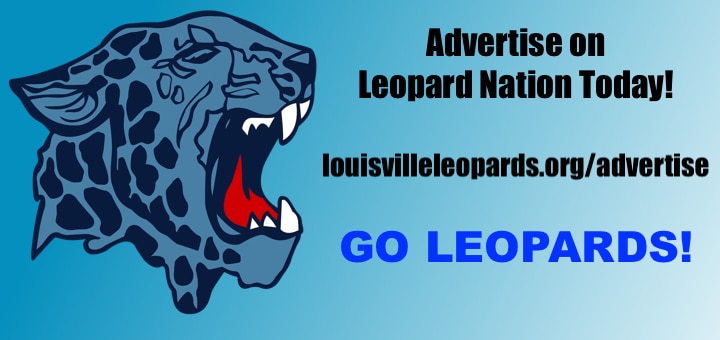 Don't forget to Subscribe to Our Posts for Free