Louisville Blanked by Undefeated Hoover 5-0 – Girls Tennis
North Canton Hoover 5, Louisville 0
<<< Previous at United Local | Girls Tennis Schedule | Next Vs. GlenOak >>>
The Louisville Leopards Girls Tennis Team was shutout by the visiting North Canton Hoover Vikings Tuesday at the Greg Parrish Courts. With the loss, Louisville falls to 5-2 on the season.
---
---
Vikings Record Double Bagels Across the Board
The Lady Vikings earned a double bagel 6-0, 6-0 win in every match. Singles winners for Hoover included Lilly Altman, Claire Wood, and Angelia Koinoglou.
North Canton doubles teams winners included Tess Bucher & Izzy Warburton in #1 doubles and Cecilia Holben & Bridget Fink in #2 doubles.
---
Leopards Lineup Change
Louisville was without undefeated #1 singles player Rachel Kibler, which moved Jade Thomas up to #1 singles, Katie Yarnall to #2 singles, and Kora Woolf to #3 singles.
The Lady Leopards #1 doubles team of Bailey Meengay & McKenzie Taylor remained the same. The #2 doubles team of sophomores Camila Sánchez & Diana Sánchez made their varsity debuts.
---
Louisville Vs. Hoover Girls Tennis History
North Canton has taken the last 26 meetings in the series over Louisville, a streak that began in 1993. The Lady Vikings have shutout the Lady Leopards in each of the past 6 seasons overall.
UP NEXT: The Lady Leopards will next host the GlenOak Golden Eagles on Thursday, September 9 for Senior Night. Start time is slated for 4:15 PM with Senior Night honors beforehand.
---
Hoover at Louisville Girls Tennis Box Score
Singles
#1 Lilly Altman (NC) d. Jade Thomas (L) 6-0, 6-0
Thomas 4-4
#2 Claire Wood (NC) d. Katie Yarnall (L) 6-0, 6-0
Yarnall 6-2
#3 Angelina Koinoglou (NC) d. Kora Woolf (L) 6-0, 6-0
Woolf 3-4 (0-1 Singles)
Doubles
#1 Tess Bucher & Izzy Warburton (NC) d. Bailey Menegay & McKenzie Taylor (L) 6-0, 6-0
Menegay 6-3, Taylor 5-4
#2 Cecilia Holben & Bridget Fink (NC) d. Diana Sánchez & Camila Sánchez (L) 6-0, 6-0
C. Sánchez 0-1, D. Sánchez 0-1
---
Donate to Leopard Nation
---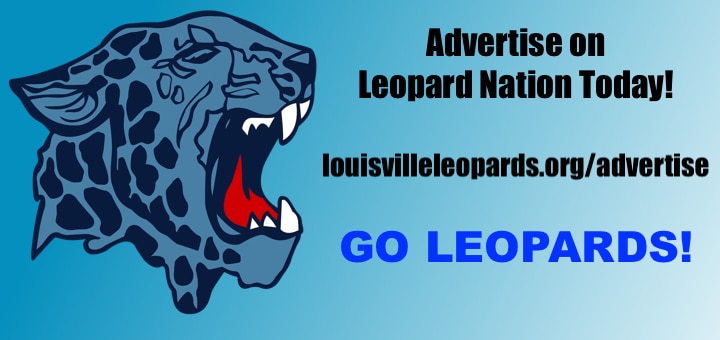 Don't forget to Subscribe to Our Posts for Free