Louisville Swept at Home By Undefeated Marlington – Volleyball

Marlington 25-25-25, Louisville 9-6-14
<<< Previous At Stow | Volleyball Schedule | Next GlenOak Quad >>>
The Louisville Leopards Varsity Volleyball Team was swept by the undefeated visiting Marlington Dukes 25-9, 25-6, 25-14 Thursday Evening at Louisville High School. With the loss, Louisville drops to 1-3 on the year.
---
---
Adelman Leads Leopards in Kills & Digs
Senior outside hitter Kelsey Adelman led the Lady Leopards with a team-high 5 kills on offense and a match-leading 7 digs on defense.
Sophomore Addison Burick also tallied a team best 13 assists for Louisville.
---
Dukes Improve to 5-0
The Lady Dukes were led on offense senior Madison Wade who finished with a match-high 8 kills and Mallory Bennett who had a match best 14 assists.
Freshman outside hitter Layne Graffice also registered 6 digs on defense. Marlington remains unbeaten, improving to 5-0 with the victory.
The Lady Dukes have now defeated the Lady Leopards in eight straight match-ups dating back to 2017, which includes the last four meetings played at LHS.
<<< Previous 2020 | Marlington All-Time Series
JV: Marlington 20-25-25, Louisville 25-18-7
UP NEXT: The Lady Leopards compete at the GlenOak Quad on Saturday, September 4 beginning at 10:00 AM. JV will host a quad match at the same time.
---
8th Grade (9/1): Louisville 19-25-25, Perry Black 25-23-23
Aces: Addy Campbell 5
Passes from Serve: Emma Kroah 11
Digs: Chloe Miller 11
Kills: Addy Campbell 2, Chloe Miller 2
Assists: Anna Sirohman 21
Block Points: Taylor McCully 2
Coaches Mention for Exceptional Front Play: Jenna Steenrod
Records: Louisville 3-4
---
7th Grade (9/1): Louisville 25-25, Perry 16-17
Leah Claugus 22 Serves, 16 Aces, 2 Tips, 3 Assists
Karis Miglich 4 Serves, 2 Aces, 1 Hit, 2 Tips
Taylor Schneider 3 Serves, 1 Ace, 1 Hit
Records: Louisville 5-2
---
Donate to Leopard Nation
---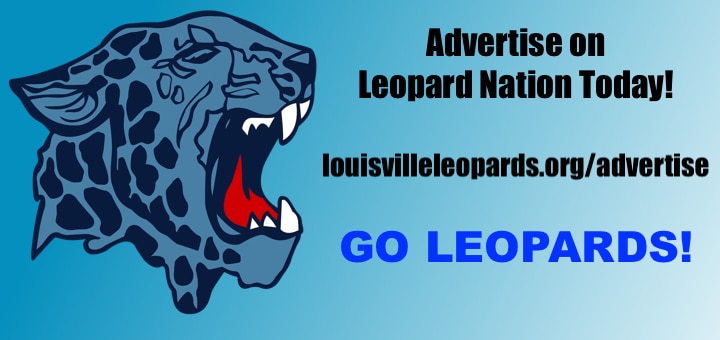 Don't forget to Subscribe to Our Posts for Free