Leopards Edged By Panthers By a Single Stroke 178-179 – Boys Golf
Perry 178, Louisville 179
<<< Previous Vs. East Canton | Boys Golf Schedule | Next Match At Southeast >>>
The Louisville Leopards Boys Golf Team was edged by the visiting Perry Panthers by a single stroke 178-179 Thursday at Sleepy Hollow Country Club. With the loss, Louisville drops to 2-3.
---
---
Mayle Cards Season Low 37 to Lead Louisville
Sophomore Jack Mayle was the match medalist after shooting a 1 over par season low 37 to lead the Leopards.
Junior Sam Karcher and sophomore Zach Root both shot 46 and junior Caleb Harsh rounded out the Louisville scoring by carding a 50.
"Took a small step back tonight. Putts weren't falling, balls were finding hazards, and we made some mental mistakes throughout the round."

– Head Coach Mike McFerren
---
Robbins Paces Perry with Team Low 40
Marshall Robbins shot a team low 40 to lead Perry. Other scorers for the Panthers included Tyler DeRoy 45, Q Pierce 46, and Tyler Burkholder 47. PHS improves to 3-2 with the win.
This was the first meeting between Louisville and Perry since 2011. Similar to Thursday's duel, that 18-hole match was won by the Leopards by only a single stroke 335-336.
<<< Previous 2011 | Perry All-Time Series
"Long weekend, lot of work to do to get where we all want to be. I have all the faith in the world in these young fellas to get after it all weekend!"

– Head Coach Mike McFerren
UP NEXT:The Leopards will next travel to take on the Southeast Pirates on Tuesday, September 7. Tee-time is set for 4:0 PM from Olde Dutch Mill Golf Course.
---
Perry at Louisville Boys Golf Box Score
Varsity: Panthers 178, Leopards 179
LEOPARDS SCORES: Jack Mayle 37, Sam Karcher 46, Zach Root 46, Caleb Harsh 50. TEAM TOTAL = 179
PANTHERS SCORES: Marshall Robbins 40, Tyler DeRoy 45, Q Pierce 46, Tyler Burkholder 47. TEAM TOTAL = 178
Records: Perry 3-2, Louisville 2-3
---
Donate to Leopard Nation
---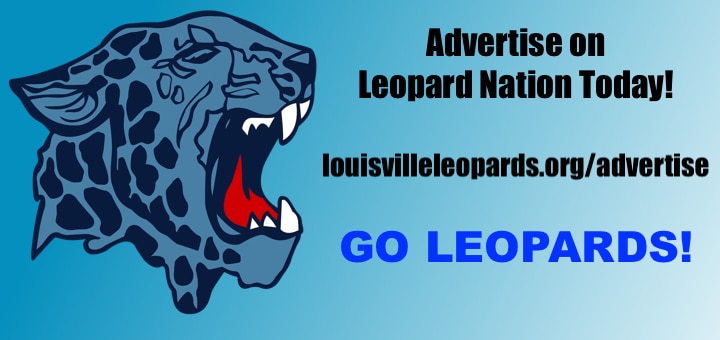 Don't forget to Subscribe to Our Posts for Free