Leopard Freshman Storm Past Tornadoes for 4th Straight Shutout – Freshman Football

Louisville 27, Dover 0
<<< Previous Vs. North Canton Hoover | Football Schedule | Next At Wooster >>>
The Louisville Leopards Freshman Football Team dominated in a 27-0 shutout win over the visiting Dover Tornadoes Thursday Evening at Louisville Leopards Stadium. With the victory, Louisville is still undefeated at 4-0 and still unscored upon with this being their fourth consecutive shutout.
Quarterback Keaton Rode threw for a pair of touchdowns and ran for another to lead the Leopards offense.
MORE TO COME…
<<< Previous 2019 | Dover All-Time Series
UP NEXT: The Leopards Freshman will next hit the road to challenge the Wooster Generals on Thursday, October 1 at 5:30 PM.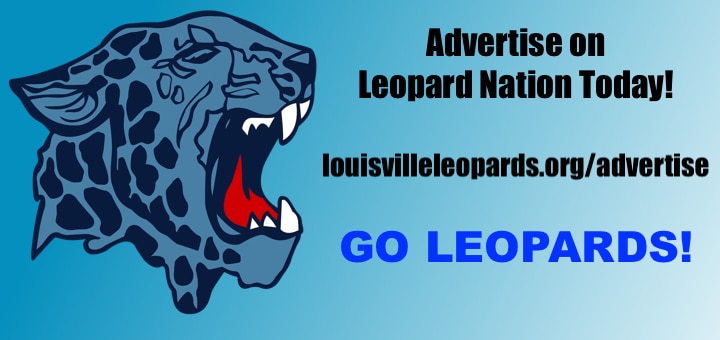 Game Statistics
Scoring Summary
LEOPARDS 27, TORNADOES 0
Team 1-2-3-4–TOTAL
Dover 0-0-0-0–00
Louisville 7-7-7-6–27
1st Quarter
LOUISVILLE – Keaton Rode 1 Yard Run (Carter Duskey Kick) | LHS 7, DHS 0, 4:22
11 Plays, 65 Yards, 4:38
2nd Quarter
LOUISVILLE – Andrew Corona 6 Yard Pass from Keaton Rode (Carter Duskey Kick) | LHS 14, DHS 0, 0:02
3rd Quarter
LOUISVILLE – Will Ramsey 23 Yard Run (Carter Duskey Kick) | LHS 21, DHS 0, 6:20
4th Quarter
LOUISVILLE – Hayden Nigro 5 Yard Pass from Keaton Rode (Pass Failed) | LHS 27, DHS 0, 8:13
Records: Louisville 4-0