Leopard Freshman Double Up Generals 40-20 on the Road – Freshman Football
Louisville 40, Wooster 20
<<< Previous Vs. Dover | Freshman Football Schedule | Next Vs. Lake >>>
The Louisville Leopards Freshman Football Team doubled up the host Wooster Generals 40-20 Thursday Evening at Wooster High School. With the victory, Louisville remains unbeaten at 5-0 on the season.
Quarterback Keaton Rode ran for a 15 yard touchdown and threw a pair of touchdown passes to Wide Receiver Hayden Nigro to lead the Leopards on offense. Rode hooked up with Nigro to give Louisville an early 6-0 lead in the opening quarter. The other two scores helped put the game away as the Leopards built a 40-14 advantage with five minutes to play.
Louisville scored 4 of their 6 touchdowns on the ground. Trailing for the first time all season, the Leopards answered with a 50 yard touchdown run by Andrew Corona which enabled them to take a 13-8 lead into the break. Runningback Will Ramsey tacked on two more rushing touchdowns in the third quarter including an 88 yard burst that put LHS in front 27-8.
Louisville's defense surrendered their first points of the season when Wooster scored with 3:27 to go in the second quarter. This ended 17 1/2 quarters of shutout football for the Freshman Leopards who blanked their first four opponents. Not a bad way to start their high school football careers as that spanned over 2 1/2 hours of game time without giving up a score, 2:41:33 (or 161 Minutes, 33 Seconds).
On special teams, Carter Duskey also converted 4 extra point kicks for Louisville.
UP NEXT: The Leopards Freshman will next host the Lake Blue Streaks on Thursday, October 8. Game time is set for 5:00 PM from Louisville Leopards Stadium.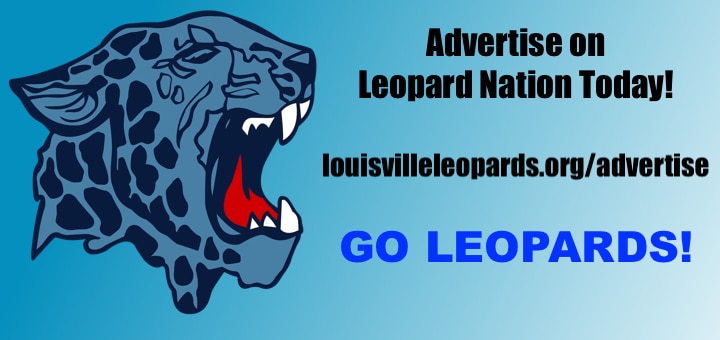 Game Statistics
Scoring Summary
LEOPARDS 40, GENERALS 20
Team 1-2-3-4–TOTAL
Louisville 6-7-14-13–40
Wooster 0-8-6-6–20
1st Quarter
LOUISVILLE – Hayden Nigro ?? Pass from Keaton Rode (Kick Failed) | LHS 6, WHS 0, 6:16
2nd Quarter
WOOSTER – ?? (Conversion Successful) | LHS 6, WHS 8, 3:27
LOUISVILLE – Andrew Corona 50 Yard Run (Carter Duskey Kick) | LHS 13, WHS 8, 2:48
3rd Quarter
LOUISVILLE – Will Ramsey ?? Run (Carter Duskey Kick) | LHS 20, WHS 8, 6:30
LOUISVILLE – Will Ramsey 88 Yard Run (Carter Duskey Kick) | LHS 27, WHS 8, 3:09
WOOSTER – ?? Pass (Conversion Failed) | LHS 27, WHS 14, 0:40
4th Quarter
LOUISVILLE – Hayden Nigro 20 Yard Pass from Keaton Rode (Carter Duskey Kick) | LHS 34, WHS 14, 6:05
LOUISVILLE – Keaton Rode 15 Yard Run (Kick Blocked) | LHS 40, WHS 14, 5:00
WOOSTER – ?? 30 Yard TD Pass from ?? (Conversion Failed) | LHS 40, WHS 20, 3:48
Records: Louisville 5-0