Leopard Freshman Blank Hoover 20-0, Still Unscored Upon – Freshman Football

Louisville 20, North Canton Hoover 0
<<< Previous At St. Vincent-St. Mary | Freshman Football Schedule | Next Vs. Dover >>>
The Louisville Leopards Freshman Football Team shutout the visiting North Canton Hoover Vikings 20-0 Thursday Evening at Louisville Leopards Stadium. With their third straight shutout, Louisville is now and undefeated 3-0 and remains unscored upon through 112 minutes of game time this season.
The Leopards defense stifled the Vikings offense for much of the first half giving Louisville better and better field position as a result. Hoover was forced to punt out of their own endzone and this resulted in a boot that went out of bounds on the Viking 29. Two plays later Will Ramsey ran right for a 24 yard touchdown to break the deadlock with 3:04 left in the second quarter. Carter Duskey's extra point was true and Louisville would take a 7-0 lead into halftime.
The Leopards defense forced and recovered three fumbles in the second half to preserve the shutout. On the Vikings opening third quarter drive, the trio of Andrew Nees, Brandon Stanich, and Braylon Taylor stormed into the backfield to sack the Hoover quarterback. The ball jarred free in the process and Gabe Fetterman fell on it for Louisville at the North Canton 48.
The Vikings would get the ball back on their own 15 after an interception, but they would give it right back to the Leopards three plays later. Backed up due to an intentional grounding, Hoover threw a screen to the left but the receiver fumbled once he hit open space. Braiden Hershey pounced on it for Louisville at the Viking 12. Three plays later, Quarterback Keaton Rode scampered up the middle for a 9 yard touchdown run on 3rd-and-7 to put the Leopards in front 13-0 with 3:29 to play in the third quarter.
MORE TO COME…
<<< Previous 2019 | North Canton Hoover All-Time Series
UP NEXT: The Leopards will next host the Dover Tornadoes on Thursday, September 24. Game time is set for 5:00 PM from Louisville Leopards Stadium.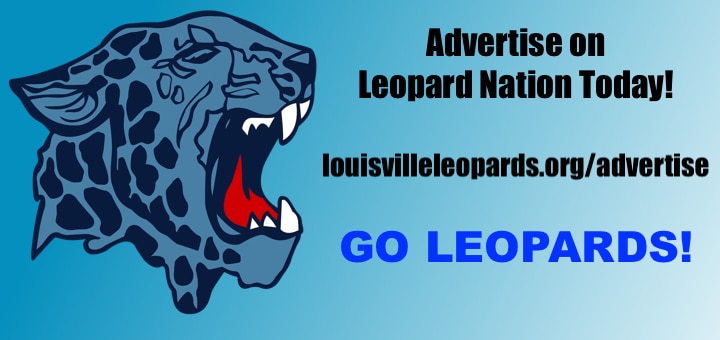 Game Statistics
Scoring Summary
LEOPARDS 20, VIKINGS 0
Team 1-2-3-4–TOTAL
Hoover 0-0-0-0–00
Louisville 0-7-6-7–20
1st Quarter
NO SCORING
2nd Quarter
LOUISVILLE – Will Ramsey 24 Yard Run (Carter Duskey Kick) | LHS 7, NCHHS 0, 3:04
3rd Quarter
LOUISVILLE – Keaton Rode 9 Yard Run (Kick Blocked) | LHS 13, NCHHS 0, 3:29
LOUISVILLE – Keaton Rode 3 Yard Run (Carter Duskey Kick) | LHS 20, NCHHS 0, 0:51
4th Quarter
NO SCORING
Records: Louisville 3-0, North Canton Hoover 0-4