Leopards Come Undone in 4th, Fall At Hoover 45-21 – Varsity Football

North Canton Hoover 45, Louisville 21
<<< Previous Vs. St. Vincent-St. Mary | Football Schedule | Next At Central Catholic >>>
The Louisville Leopards Varsity Football Team fell to the host North Canton Hoover Vikings 45-21 Friday Night at Memorial Stadium. With the loss, Louisville falls to 1-3 on the season.
Dan Kennedy carried the ball 17 times for 115 yards, ran for 2 touchdowns, and made 3 catches for 35 yards to lead the Leopards as they rallied back from a 14-0 deficit in the first half. Louisville tied the game at 21-21 when quarterback Tyler Jackson hit wide receiver Brock Pickens on a 2 yard touchdown pass on the final play of the first half. Jackson would finish 10 of 20 passing for 120 yards through the air.
Neither team scored in the third quarter, but North Canton poured on 24 unanswered points in the fourth quarter to quickly turn a competitive game into a blowout.
Hoover High School Video Broadcast Replay
---
Louisville at Hoover Q92 Broadcast
Louisville Vs. Hoover All-Time Series Update
The Vikings have now won 4 of the past 5 matchups in the rivalry overall and the last 6 games in the series played at Memorial Stadium. The 45 points scored by Hoover matches their all-time high against Louisville. The Vikings beat the Leopards 45-0 back on October 24, 1986. Louisville still leads the all-time series 56-37-5 dating back to 1924 and holds a 25-22-2 edge in games in the rivalry played at North Canton.
<<< Previous 2019 | North Canton Hoover All-Time Series
UP NEXT: The Leopards will next travel to face the Canton Central Catholic Crusaders on Friday, September 25 at 7:00 PM.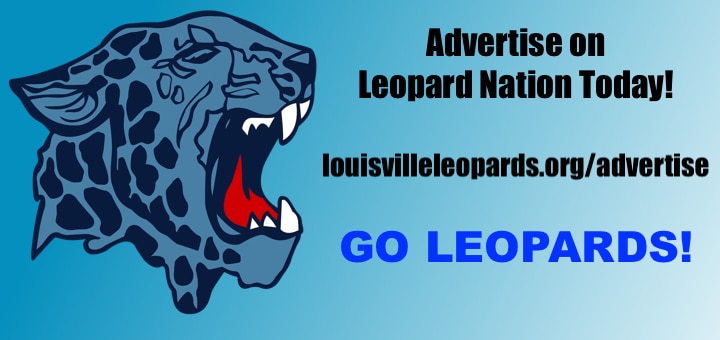 Game Statistics
Scoring Summary
VIKINGS 45, LEOPARDS 21
Team 1-2-3-4–TOTAL
Louisville 7-14-0-0–21
Hoover 14-7-0-24–45
1st Qtr:
NC – 8:21 – Drew Robinson 6 yd run
Robby Smart PAT
9 plays 65 yds
NC – 4:40 – Elliott Tornow 80 yd pass from Connor Ashby
Robby Smart PAT
1 play 80 yds
L – 0:19 – Dan Kennedy 15 yd run
Myles Lab PAT
7 plays 75 yds
2nd Qtr:
L – 6:40 – Dan Kennedy 2 yd run
Myles Lab PAT
7 plays 45 yds
NC – 3:40 – Drew Robinson 18 yd run
Robby Smart PAT
7 plays 62 yds
L – 0:00 – Broc Pickens 2 yd pass from Tyler Jackson
Myles Lab PAT
9 plays 70 yds
3rd Qtr:
None
4th Qtr:
NC – 10:06 – Drew Robinson 48 yd run
Robby Smart PAT
11 plays 99 yds
NC – 6:47 – Robby Smart 26 yd Field Goal
6 plays 50 yds
NC – 2:30 – Brock Henne 16 yd pass from Connor Ashby
Robby Smart PAT
2 plays 18 yds
NC – 1:25 – Jack Baxter 34 yd run
Robby Smart PAT
2 plays 35 yds
Records: North Canton Hoover 2-2, Louisville 1-3
Team Stats
Louisville: 17
North Canton: 20
Rushing:
Louisville: 38 / 158 / 2 TDs
=Canton: 38 / 251 / 4 TD's
Passing:
Louisville: 10 / 21 / 2 120 yds 1TD
Canton: 15 / 21 / 2 204 yds 2 TD's
Fumbles / Lost:
Louisville: 1 /1
NorCanton: 0 / 0
Penalties / Yds:
Louisville: 5 / 35
North Canton: 4 / 45
3rd Down Conversions:
Louisville: 4 / 11
North Canton: 7 / 12
4th Down Conversions:
Louisville: 1 / 2
North Canton Canton: 0 / 0
Individual Stats
Louisville: Dan Kennedy: 17 / 115 2 TD's
Connor Adelman: 7 / 18
Tyler Jackson: 7 / 18
Ethan Thomas: 2 / 9
North Canton: Drew Robinson: 30 / 214 3 TD's
Jack Baxter: 2 / 35 1 TD
Receiving:
Louisville: Dan Kennedy: 3 / 35
AJ Lingenhoel: 2 / 27
Connor Adelman: 2 / 27
Broc Pickens: 2 / 22 1 TD
Zack Seaman: 1 / 6
North Canton: Brock Henne: 5 / 67 1 TD
Beau Burtscher: 3 / 21
Zach Yun: 3 / 14
Elliott Tornow: 2 / 87 1 TD
Drew Robinson: 2 / 15
Passing:
Louisville: Tyler Jackson: 10 / 20 / 1 120 yds 1 TD
North Canton: Connor Ashby: 15 / 21 / 2 204 yds 2 TD's