Leopards Score 28 Unanswered in Comeback Win at Central – Varsity Football

Louisville 34, Central Catholic 20
<<< Previous At North Canton Hoover | Football Schedule | Next Vs. Wooster >>>
The Louisville Leopards Varsity Football Team rallied with 28 unanswered points in the final 12:29 to stun the host Canton Central Catholic Crusaders 34-20 at Lowell Klinefelter Field Friday Night. With the victory, Louisville improves to 2-3 on the season.
The Leopards out-gained the Crusaders 378-322 in total yardage for the game, which included a 260-114 edge on the ground. The Louisville backfield produced a pair of 100-yard rushers in senior Dan Kennedy and junior Creed Patterson. Kennedy carried the ball 17 times for 117 yards and Patterson rushed the rock 12 times for 106 yards. Both scored on short touchdown runs late in the fourth quarter to give LHS the lead.
Senior quarterback Tyler Jackson finished 6 of 13 passing for 118 yards with a pair of touchdowns to go along with 9 carries for 37 yards rushing for the Leopards. Jackson threw an 80 yard touchdown pass to junior wide receiver Zack Seaman in the first half as the pair would go on to connect 4 times in the game for 106 yards. Jackson later found junior wide receiver AJ Lingenhoel on a 4 yard touchdown pass late in the third quarter that kickstarted Louisville's second half rally.
Leopards Score 3 Touchdowns in Final 5 Minutes
The Leopards rallied with three touchdowns in the final five minutes to turn a touchdown deficit into a two touchdown victory. Patterson's game-tying 2 yard touchdown run with 4:51 to go capped off a 10 play, 92 yard Louisville scoring drive. Myles Lab booted through the extra point to tie the game at 20-20. Louisville's defense forced a 3-and-out on Central's next possession, and the Leopards offense went back to the grind driving another 70 yards on 9 plays. Kennedy scored from a yard out with 43 seconds remaining to put LHS in front 27-20.
The Crusaders received renewed life when sophomore quarterback Jack Talkington completed a 21 yard pass to junior wide receiver T'Kye Wells down the right sideline to set Central up at the Louisville 35 with 22 seconds remaining. That hope was shattered on the next play when Seaman stepped in front of a Crusaders pass to the left and took it 70 yards to the house for a game-clinching pick six. Gabby Smith was successful on her first career extra point attempt making her the second girl in team history to score for the Louisville Leopards football team. And as a result the Leopards, who had trailed by two touchdowns at the half, had a 34-20 lead with 10 seconds to play.
Crusaders Take 20-6 Lead into the Half
Seaman also scored on an explosive 80 yard touchdown pass from Jackson for Louisville's only score of the first half. The Leopards had just surrendered a 10–0 lead and this 3rd-and-10 hookup got them back into the mix trailing 10-6 with 9:22 to play before halftime.
Central Catholic answered with an 11 play, 68 yard scoring drive that ended with senior kicker Matt Kling converting his second field goal of the night. Kling earlier capped off a 14-play opening drive with a 28 yard make with 5:58 to go in the first quarter. His second quarter field goal was successful from 34 yards away in putting the Crusaders in front 13-6 with 5:06 left.
Louisville took another shot downfield on the ensuing possession in search of a game-tying score. However, junior defensive back Gerald Johnson made a leaping interception and Central took over on their own 46 with 2:43 to play.
The Crusaders marched 54 yards on 8 plays before senior running back Mason Vance scored his second touchdown of the game from 3 yards out. Vance also scored on a 2 yard run earlier in the quarter to cap off a 15 play, 72 yard Central scoring drive. His second endzone trip put the Crusaders ahead 20-6 with 19 seconds remaining before halftime and they would take that lead into the locker room.
A Tale of Two Halves
At the half, Central held a 15-3 advantage in first downs and they had out-gained Louisville 252-106 in total yards. Outside of the Jackson to Seaman 80 yard bomb, the Leopards gained just 26 yards of total offense on 13 snaps. This included 8 rushing attempts for only 11 yards.
The Crusaders dominated time of possession in the first half and a big key to their long scoring drives was success on third down. Central converted 8 of 10 third downs in the first half, with their only 2 failed attempts leading to the two Kling field goals. On the flip side, Louisville's offense went three-and-out on their first two possessions and didn't record a first down until their touchdown pass with 9:22 remaining in the second quarter.
The Leopards rewrote the script in the second half as their defense forced a three-and-out on 3 of Central's first 4 possessions. The Crusaders obtained just a single first down and also went 0 for 4 on third down forcing them to punt on their first 4 possessions.
Louisville held a 13-3 edge in second half first downs and out-gained Central 272-70 in total yards of offense. This included a 249-29 advantage in rushing yards.
Louisville Vs. Central Football Series
With the victory, the Leopards have now taken 3 out their last 4 from the Crusaders overall. Louisville now leads the all-time series 13-2-1 dating back to 1940, which includes a 6-1-1 record when playing games at Central in the series. The Leopards defeated the Crusaders in 2 of the last 3 seasons of the current series. These three games have been the highest scoring in the series all-time with the 54 points scored on Friday being the most ever for a Louisville-Central contest.
<<< Previous 2019 | Central Catholic All-Time Series
UP NEXT: The Leopards will next host the Wooster Generals on Friday, October 2 at 7:00 PM from Louisville Leopards Stadium. Freshman will be on the road at Wooster on Thursday, October 1 at 5:30 PM and JV will also be on the road at Wooster on Saturday, October 3 at 10:00 AM.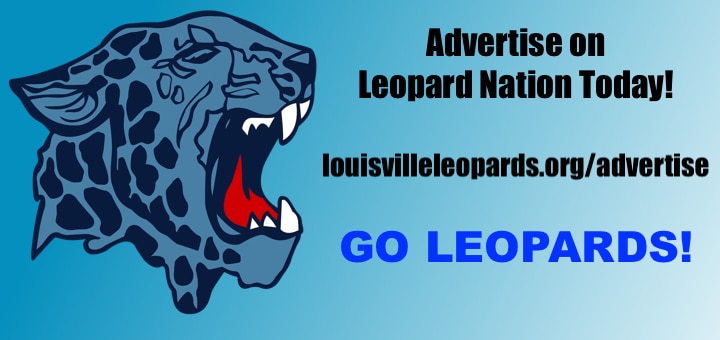 Louisville at Central Catholic Game Statistics
Scoring Summary
LEOPARDS 34, CRUSADERS 20
Team 1-2-3-4–TOTAL
Louisville 0-6-7-21–34
Central Catholic 3-17-0-0—20
1st Qtr:
C – 5:58 – Matt Kling 28 yd Field Goal
14 plays 65 yds
2nd Qtr:
C – 10:49 – Mason Vance 2 yd run
Matt Kling PAT
15 plays 72 yds
L – 9:22 – Zack Seaman 80 yd pass from Tyler Jackson
Kick Failed
3 plays 80 yds
C – 5:06 – Matt Kling 34 yd Field Goal
11 plays 68 yds
C – 0:19 – Mason Vance 3 yd run
Matt Kling PAT
8 plays 54 yds
3rd Qtr:
L – 0:29 – AJ Lingenhoel 4 yd pass from Tyler Jackson
Myles Lab PAT
3 plays 50 yds
4th Qtr:
L – 4:51 – Creed Patterson 2 yd run
Myles Lab PAT
10 plays 92 yds
L – 0:43 – Dan Kennedy 1 yd run
Myles Lab PAT
9 plays 70 yds
L – 0:10 – Zack Seaman 70 yd Interception return
Gabriella Smith PAT
1 play 70 yds
Records: Louisville 2-3, Canton Central Catholic 1-4
Team Stats
First Downs:
Louisville: 16
Central: 18
Rushing:
Louisville: 38 / 260 2 TD's
Central: 31 / 114 2 TD's
Passing:
Louisville: 6 / 13 / 1 118 yds 2 TD's
Central: 20 / 34 / 1 208 yds 0 TD's
Fumbles / Lost:
Louisville: 0 / 0
Central: 1 / 0
Penalties / Yds:
Louisville: 4 / 25
Central: 2 / 20
3rd Down Conversions:
Louisville: 4 / 8
Central: 9 / 15
4th Down Conversions:
Louisville: 1 / 2
Central: 0 / 0
Individual Stats
Rushing;
Louisville: Dan Kennedy: 17 / 117 1 TD
Creed Patterson: 12 / 106 1 TD
Tyler Jackson: 9 / 3
Central: Jack Talkington: 15 / 44
Danny Heck: 9 / 48
Receiving:
Louisville: Zack Seaman: 4 / 106 1 TD
Dan Kennedy: 1 / 8
AJ Lingenhoel: 1 / 4 1 TD
Central: Riley Campbell: 7 / 75
Thomas Boron: 4 / 49
T'Kye Wells: 4 / 50
Passing:
Louisville: Tyler Jackson: 6 / 13 / 1 118 yds 2 TD's
Central: Jack Talkington: 20 / 34 / 1 208 yds 0 TD's