Leopard Shutout Dragons 10-0 in Tournament Opener – Girls Soccer
s#24 Louisville 10, #29 Lakeside 0
<<< Previous Vs. Akron Firestone | Girls Soccer Schedule | Next At #3 Jackson >>>
The #24 seed Louisville Leopards Girls Soccer Team shutout the visiting #29 seed Ashtabula Lakeside Dragons 10-0 in the DI Cleveland East 1 Sectional Semifinals Monday Evening at Louisville Leopards Stadium. With the victory, Louisville improves to 6-7-5 on the year and advances to play at #3 seed Massillon Jackson in the DI Cleveland East 1 Sectional Finals on Thursday, October 21 at 6:00 PM.
---
.
---
Kimble Records Hat Trick to Lead Leps
Sophomore Ava Kimble recorded a hat trick to lead the Lady Leopards. Fellow sophomores Matti Benson and Natalie Lab also scored a pair of goals each for Louisville. Other goal scorers included senior Morgan Keelan, senior Bre Pittman, sophomore Mikaiah Sells.
Eight of the Leopard ten goals were assisted led by Keelan who registered a team leading three assists. Freshman Payton Allan and Benson also finished with a pair of assists each for Louisville. VanZant added an assist as well.
---
Henderhan Notches Record 8th Shutout
Junior goalkeeper Amelia Henderhan made 5 saves and held Lakeside off the board throughout. The shutout is Henderhan's eighth of the year, which is a new individual season LHS record. As a team, the Lady Leopards also recorded eight shutouts in 2004 and 2013. Henderhan has now recorded 18 shutouts in her three year varsity career.
The Dragons finish the season 4-8-1. This was the first ever meeting between Louisville and Ashtabula Lakeside.
---
Most Lopsided Victory in Tournament History
The 10-0 victory is the Lady Leopards most lopsided win in their tournament history and this is by far the most goals they have ever scored in the postseason. The previous Louisville high mark came in a 4-1 win over Perry in their 2011 DI Austintown Sectional Semifinal matchup.
This is just the fourth time that the Lady Leopards have shutout their opponent in the postseason. Their last two tournament shutouts came against the GlenOak Golden Eagles at home. In 2013, Louisville defeated GlenOak 1-0 on a golden goal in overtime and in 2012 the Lady Leopards defeated the Golden Eagles 3-0 in their previous most lopsided shutout in team history. Louisville also blanked Canton McKinley 1-0 in the opening round of the 2005 tournament.
The Lady Leopards have now won their last three tournament games played at Louisville Leopards Stadium dating back to 2016. Louisville is now 10-18 in tournament play all-time, which includes a 6-2 record when playing at home. LHS also finishes the season with a winning 4-3-1 record when playing within the confines of Louisville Leopards Stadium.
<<< 2020 At Jackson | Girls Soccer Tournament History | 2021 At Jackson >>>
UP NEXT: The Lady Leopards Girls Soccer Team will next travel to take on the #3 Seed Massillon Jackson Polar Bears in the DI Cleveland East 1 Sectional Finals on Thursday, October 21 at 6:00 PM.
---
Donate to Leopard Nation
---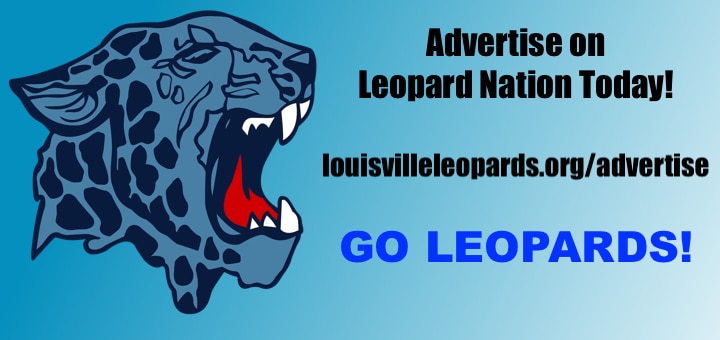 Don't forget to Subscribe to Our Posts for Free
---
LAKESIDE AT LOUISVILLE GIRLS SOCCER BOX SCORE
LEOPARDS 10, DRAGONS 0
Team 1-2–TOTAL
Lakeside 0-0–00
Louisville 7-3–10
1st Half
LOUISVILLE – Mikaiah Sells (Morgan Keelan) | LOUISVILLE 1, LAKESIDE 0
LOUISVILLE – Matti Benson (Payton Allan) | LOUISVILLE 2, LAKESIDE 0
LOUISVILLE – Morgan Keelan (Fallon VanZant) | LOUISVILLE 3, LAKESIDE 0
LOUISVILLE – Ava Kimble (Morgan Keelan) | LOUISVILLE 4, LAKESIDE 0
LOUISVILLE – Matti Benson (Morgan Keelan) | LOUISVILLE 5, LAKESIDE 0
LOUISVILLE – Natalie Lab (Payton Allan) | LOUISVILLE 6, LAKESIDE 0
LOUISVILLE – Natalie Lab | LOUISVILLE 7, LAKESIDE 0
2nd Half
LOUISVILLE – Ava Kimble | LOUISVILLE 8, LAKESIDE 0
LOUISVILLE – Ava Kimble (Matti Benson) | LOUISVILLE 9, LAKESIDE 0
LOUISVILLE – Bre Pittman (Matti Benson) | LOUISVILLE 10, LAKESIDE 0