Lady Leopards Whip Spartans 67-51 to Open Tournament – Girls Basketball

#25 Louisville 67, #28 Boardman 51
<<< Previous At Western Reserve | Girls Basketball Schedule | Next At Canton McKinley >>>
The #25 seed Louisville Leopards defeated the visiting #28 seed Boardman Spartans 67-51 in the Division I Northeast 1 Sectional Semifinals Saturday Afternoon at Louisville High School. With the victory, the Lady Leopards improve to 8-13 on the season and advance to play at #5 seed Canton McKinley on Thursday, February 18 at 7:00 PM in the Sectional Finals.
Senior Sherilynn Mullett scored a team-high 17 points to lead Louisville. Three other Lady Leopards players also reached double figures with senior Paige Cole scoring 12, junior Aubrey Thorne making 3 three-pointers in scoring 11, and freshman Brooke Haren also adding 10.
---
Boardman Takes Lead On Opening Tip
Senior shooting guard Reagan Burkey snatched a loose ball on the opening tip and took it to the house to give the Lady Spartans a 2-0 lead just 4 seconds into the game. That kickstarted a 7-2 Boardman run to begin the game as senior center Katie Stamp scored on a fast break and Burkey hit a three-pointer all within the first minute of the game.
The Lady Leopards answered back with baskets by Mullett and Cole before taking an 8-7 lead from the free throw line. The Spartans knotted the game from the charity stride and then took their last lead of the contest at 10-8 on a basket by freshman shooting guard Samantha Duble.
---
Lady Leopards Take Command with 16-2 Run
Louisville answered back with a 16-2 run to take a double digit first half advantage. Thorne hit a pair of three-pointers to put the Lady Leopards back in front and later in the run added a deep two. LHS continued to press throughout the opening half and Haren recorded a pair of steals during the run. The first steal led to a Mullett lay-in and on the second Haren took it to the basket herself.
Cole was fouled while attempting a three-pointer after that. She hit 2 of 3 shots from the charity stripe to put Louisville ahead 24-12 with 5:17 left in the second quarter.
---
Spartans Rally with 14-2 Run to Tie the Game
Boardman seized momentum back with a 14-2 run over the next few minutes to knot the game at 26-26 with 51.5 seconds remaining in the half.
But the Leopards wouldn't be denied as Mullett hit a contested three-pointer on the other end to put LHS back in front 29-26. Haren also rattled home a last second field goal to put Louisville ahead 31-27 at the half.
---
Louisville Pulls Away in 2nd Half
The Lady Leopards wasted no time in re-upping their lead to double digits with an 8-2 run out of the locker room. Mullett scored back-to-back baskets to start the run. Then junior Maddie Dyer recorded a steal and score that was helped produced by the continuous LHS press in the backcourt. On their next possession, Cole found the back door unlocked on a layup via a pass from Dyer. That put Louisville back in front by ten at 39-29.
The Leopards never surrendered their advantage after that and had an answer for every Spartan highlight. Burkey hit a three-pointer to cut the deficit to 39-32, but a few possessions later Thorne answered with her third three-pointer of the contest to put Louisville ahead 44-32. Burkey remained hot in hitting another triple to cut the lead to single digits. But Kelsey Adelman and Haren answered with back-to-back buckets to give LHS their largest advantage of the night at 48-35.
---
Cole Breaks Own Season Three-Pointer Record
The Lady Leopards took a 50-40 lead into the fourth quarter and built upon their double digit advantage the rest of the way. Louisville iced the game making 8 of 12 free throws from the line in the final stanza.
Midway through the fourth period, Cole circled around the defense to the top of the arch. Dyer passed the ball to her in stride and Cole, in one smooth motion, squared and cashed in on her 44th three-pointer of the season. The make broke her own team record of 43 set a season ago. Cole has now made a team record 91 three-pointers in her career.
---
Boardman at Louisville Full Game
---
Burkey Leads Boardman with Game-High 18
Burkey led Boardman with 3 three-pointers and scored a game-high 18 points. Sophomore guard Gia Triveri also scored all 9 of her points in the second half. Duble and point guard Mackenzie Riccitelli both added 6 points each for BHS.
With the victory, the Leopards are now 2-1 against the Spartans all-time with all three games coming in tournament play. The other two sectional games were played at Alliance with Boardman winning 65-35 in 2009 and Louisville taking the 2011 matchup 51-48.
<<< Previous 2011 | Boardman All-Time Series
---
Esterak Now 3-1 in Postseason
The Lady Leopards are now 46-44 all-time in the postseason, which includes a 6-3 record in tournament games played at Louisville High School. Louisville is now 7-13 in the postseason since moving to Division I and 3-1 under Head Coach Chris Esterak in his two seasons at the helm.
<<< Previous 2020 Vs. GlenOak | Girls Basketball Tournament History | Next At Canton McKinley >>>
UP NEXT: The #25 seed Lady Leopards will next travel to face the #5 seed Canton McKinley Bulldogs on Thursday, February 18 at 7:00 PM in the DI Northeast 1 Sectional Finals at Canton Memorial Fieldhouse.
---
Donate to Leopard Nation
---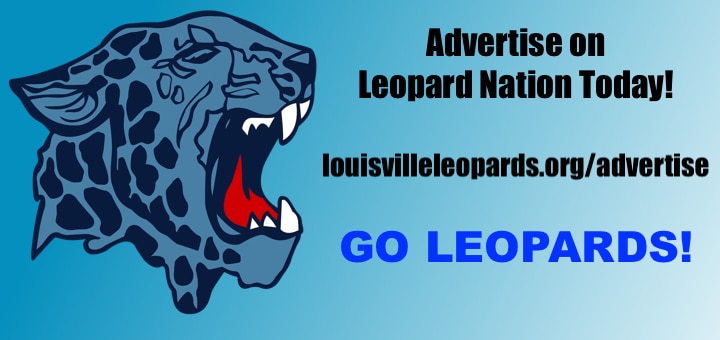 Don't forget to Subscribe to Our Posts for Free
You can also Submit an Article
---
Varsity Statistics
LEOPARDS 67, SPARTANS 51
Team 1-2-3-4–TOTAL
Boardman 12-15-13-11–51
Louisville 20-11-19-17—67
SPARTANS: Burkey 6 3-8 18, Triveri 4 1-5 9, Duble 3 0-0 6, Riccittili 2 1-3 6, Mills 2 1-1 5, Stamp 2 0-1 4, Moore 0 2-2 2, Snyder 0 1-2 1. TOTAL 19 9-22 51.
3-Pointers (4): Burkey 3, Riccittili
Team FT: 9-22 41%
LEOPARDS: Mullett 7 2-2 17, Cole 3 5-7 12, Thorne 4 0-0 11, Haren 5 0-0 10, Loy 1 5-8 7, Adelman 2 1-2 5, Dyer 1 3-4 5. TOTAL 23 16-23 67.
3-Pointers (5): Thorne 3
Team FT: 16-23 70%
Fouls: 17-14 Louisville
Records: Louisville 8-13