Strong 4th Quarter Lifts Louisville Past Mineral Ridge 66-51 – Boys Basketball
Louisville 66, Mineral Ridge 51
<<< Previous At Massillon | Boys Basketball Schedule | Next At Lake >>>
The Louisville Leopards Boys Varsity Basketball Team defeated the host Mineral Ridge Rams 66-51 Saturday Evening at Mineral Ridge High School. With their third straight victory, Louisville secures a winning regular season with an 11-8 mark on the year.
Tyler Boldon recorded a double double with a game-high 19 points to go along with 10 rebounds to lead the Leopards. Will Aljancic and Dakota Hoffman also poured in 16 points each for LHS. Aljancic made 4 three-pointers and Hoffman dished out a team leading 5 assists.
---
---
Leopards Hold Rams to Single Field Goal in 4th
Louisville led 15-14 at the end of the first, but the Rams outscored the Leopards 13-9 to take a 27-24 lead into halftime. Boldon and Aljancic each hit a pair of three-pointers in the third quarter as LHS outscored the opposition 20-15 to take a 44-42 lead into the fourth.
Louisville finished the game strong in outscoring Mineral Ridge 22-9 in the final stanza. The Leopard defense allowed just a single field goal from the floor in the fourth quarter, while the LHS offense converted 8 baskets from the field. Louisville also made 6 of 7 shots from the foul line to help seal the game.
---
Weiss Leads Mineral Ridge with Team-High 16
The Rams were led by Triston Weiss who scored a team-high 16 points. Mo Clark also made 3 three-pointers to finish with 13 and Austin Governen scored 7 of his 12 points in the fourth quarter for Mineral Ridge.
This was the first ever meeting between the two schools in boys basketball. The Rams are the second brand new opponent on the Leopards schedule this season with Olentangy Orange being the other first timer. Louisville will also host the Notre Dame-Cathedral Latin Lions to open tournament play on February 23, the two also have never met on the basketball court.
UP NEXT: The Leopards will next travel to face the Lake Blue Streaks on Tuesday, February 16. JV will begin at 6:00 PM and Varsity will follow around 7:15 PM.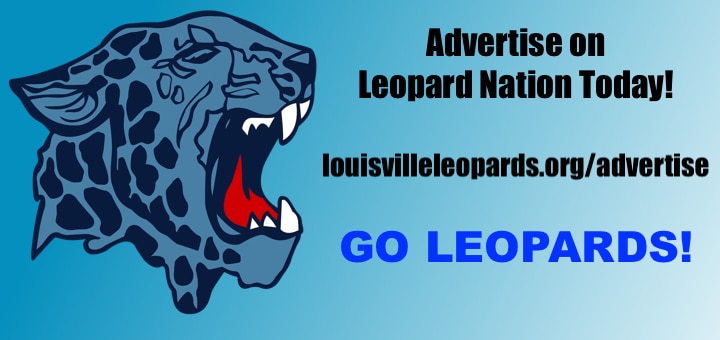 VARSITY STATISTICS
LEOPARDS 66, RAMS 51

Team 1-2-3-4–TOTAL
Louisville 15-9-20-22—66
Mineral Ridge 14-13-15-9—51
LEOPARDS: Boldon 8 1-2 19, Aljancic 6 0-0 16, Hoffman 4 7-7 16, Pickens 3 2-2 8, Noble 1 1-2 5, Lingenhoel 1 0-0 2. TOTAL 24 11-13 66.
3-Pointers (7): Aljancic 4, Boldon 2, Hoffman
Team FT: 11-13 85%
RAMS: Weiss 4 8-9 16, Clark 4 2-4 13, Governen 3 5-6 12, Royal-Eiland 3 2-2 8, Joines 1 0-0 2. TOTAL 15 17-21 51.
3-Pointers (3): Clark 3, Governen
Team FT: 17-21 81%
Fouls: 19-11 Louisville
Turnovers: 13-10 Louisville
Records: Louisville 11-8
---
JV: Louisville 43, Mineral Ridge 22
JV STATISTICS
LEOPARDS 43, RAMS 22
Team 1-2-3-4–TOTAL
Louisville 13-12-10-8–43
Mineral Ridge 4-2-5-11–22
BOX SCORE NOT PROVIDED
Records: Louisville 8-11