Mullett Ties Steals Record as Louisville Falls Short at Dalton – Girls Basketball
Dalton 58, Louisville 56
<<< Previous At Western Reserve Academy | Girls Basketball Schedule | Next At Western Reserve >>>
The Louisville Leopards Girls Varsity Basketball Team fell on the road to the host Dalton Bulldogs 58-56 Saturday Afternoon at Dalton High School. With the loss, Louisville falls to 7-12 on the season.
Senior Sherilynn Mullett scored a team-high 20 points and tied a team record with 9 steals to lead the Lady Leopards. The feat was previously accomplished by Mandy Jaeb (2005-2008) and Mackenzie Storlie (2009-2012). Mullet also pulled down 10 rebounds, which left her just a single theft short of a triple double. Seven of her steals came in the third quarter alone, which is also believed to be a team record for a single quarter.
Fellow senior Paige Cole also hit 3 three-pointers and poured in 17 points for Louisville. Juniors Kelsey Adelman and Kendal Loy also combined for 13 points, all in the second half. Loy scored 7 and Adelman added 6.
---
Teams Trade Runs In the First Half
The Lady Leopards jumped out to a 6-0 advantage at the start, which would prove to be their largest lead of the contest. The Bulldogs answered back with a 10-2 run to take a 10-8 lead, before Louisville rallied to knot the game at 11-11 by the end of the first quarter.
Cole hit back-to-back three-pointers in the second quarter to put LHS ahead 17-13. But again Dalton rallied back with an 9-2 run to take a 22-19 advantage.
---
Dalton Opens up Largest Lead of the Game
The turning point in the game came on a three-point attempt in the right corner. Bulldog sophomore Lauren Clos was called for a foul in the act of shooting. The play also drew a technical foul from the Leopard bench. As a result, Dalton shot five consecutive free throws and buried them all. Clos made all three of her attempts and freshman Addesa Miller canned both technical shots from the charity stride. The Bulldogs would take that 27-21 lead into the locker room.
Sophomore Ella Lunsford hit a three-pointer from the top of the arch to begin the second half. That opened up Dalton's largest lead of the game at 30-21.
---
Louisville Uses Press to Rally Back
In response, Louisville went into a full-court press on defense. Mullett got a quick steal and score. Then she immediately recorded another steal in the backcourt and passed to freshman Brooke Haren for another lay-in to cut the deficit to 30-25. Adelman and Loy helped provide the pressure on both steals and the Bulldogs quickly called timeout as a result.
The Lady Leopards continued to claw, but Dalton never gave up their advantage. Mullett completed a traditional three-point play from the line and Adelman followed with a steal and score to cut the deficit to 32-30.
Miller answered for the Bulldogs by popping a three-pointer from the right wing. Cole returned the favor on the other end for Louisville with a three-point make on the left wing. The two teams traded scores again with DHS holding a slight 37-35 advantage.
---
Leopards Unable to Catch Bulldogs
A steal by junior Abby Weaver just past mid-court led to a quick three-pointer by Lunsford. This kickstarted a 7-1 Bulldog run that put them ahead 44-36.
Momentum shifted back in the Lady Leopards favor before the third quarter buzzer sounded. Loy hit a jumper and Mullett tallied another backcourt steal that led to her making a pair of free throw attempts. Dalton went ahead 46-40, but Louisville continued to press. Mullett deflected another pass on defense and took it coast to coast for a fast break basket. Cole recorded a steal for LHS on defense and Adelman pulled down an offensive board on the other end. Adelman's putback seconds later cut the deficit to 46-44 heading into the fourth quarter.
The Lady Bulldogs opened up a 50-44 lead to begin the fourth, but a steal and score by Haren with 4:30 to go got the Lady Leopards back to within 50-48. A pair of free throws by Cole less than a minute later cut the deficit to the slimmest of margins at 51-50.
Dalton refused to give up the lead. Miller hit a pair of free throws for the Bulldogs to put them ahead 53-50. Then Cole dished inside to Loy who used the glass for two more Leopard points. Miller caught a pass at mid-court and drove all the way to the basket to put DHS back up by three at 55-52. Back came Louisville as Mullett hit a pair of free throws to cut the gap to 55-54 with 1:24 to play.
---
Louisville Doomed By Late Turnovers
Lunsford split a pair from the line on the other end to put Dalton ahead 56-54 with 1:04 to go. This granted the Leopards an opportunity to tie or take the lead on offense, but Louisville was called for traveling with 51.1 seconds remaining.
The Leopards were gifted another chance after the Bulldogs were whistled for a 5 second violation on an inbound attempt on the other end. But their series of bad breaks continued as a pass to the right was broken up by Lunsford but ruled out of bounds off Louisville giving the ball back to Dalton.
Weaver all but iced the game on the other end for the Lady Bulldogs with a pair of free throws to put them ahead 58-54 with 14.5 seconds to go. Cole scored a quick bucket with 6 seconds remaining to cut the lead to 58-56, but Dalton was able to run the clock out on their final possession.
---
Miller Leads Dalton with Game-High 23
The Bulldogs (13-8) were led by Miller who went 13 of 15 from the free throw line, hit 2 three-pointers, and scored 13 of her game-high 23 points in the second half. Lunsford also hit a pair of three-pointers and dropped in 19. Senior 6'1 post Tess Denning also added 9 for Dalton.
This was the first ever meeting between the two schools in girls basketball.
UP NEXT: The Lady Leopards will next travel to take on the Berlin Center Western Reserve Blue Devils on Monday, February 8. JV will begin at 5:30 PM and Varsity will follow around 7:00 PM.
---
Donate to Leopard Nation
---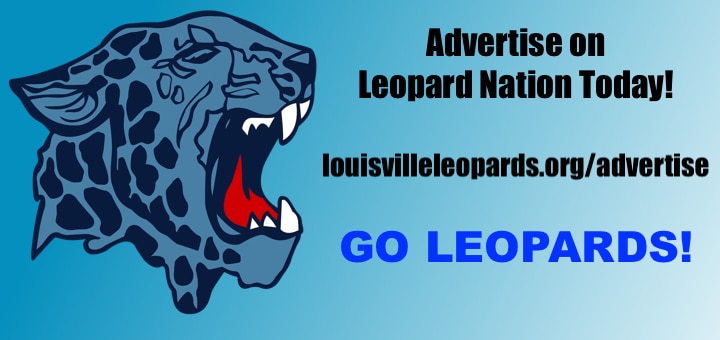 Don't forget to Subscribe to Our Posts for Free
---
Varsity Statistics
BULLDOGS 58, LEOPARDS 56
Team 1-2-3-4–TOTAL
Louisville 11-10-23-12—56
Dalton 11-16-19-12—58
LEOPARDS: Mullett 6 8-8 20, Cole 6 2-2 17, Loy 3 1-2 7, Adelman 3 0-1 6, Haren 2 0-0 4, Joseph 0 2-2 2. TOTAL 20 13-15 56.
3-Pointers (3): Cole 3
Team FT: 13-15 87%
BULLDOGS: Miller 4 13-15 23, Lunsford 6 5-7 19, Denning 4 1-1 9, Weaver 1 2-6 4, Clos 0 3-3 3. TOTAL 15 24-32 58.
3-Pointers (4): Lunsford 2, Miller 2
Team FT: 24-32 75%
Fouls: 21-14 Louisville
Records: Dalton 13-8, Louisville 7-12
---
JV: Dalton 45, Louisville 22
JV Statistics
BULLDOGS 45, LEOPARDS 22
Team 1-2-3-4–TOTAL
Louisville 9-2-6-5—22
Dalton 9-17-11-8—45
LEOPARDS:Popa 4 0-0 10, Mayle 4 0-0 8, Ramsey 1 0-0 2, Wasara 1 0-0 2. TOTAL 10 0-0 22.
3-Pointers (2): Popa 2
Team FT: None
BULLDOGS: Cannon 6 1-4 17, Chubbuk 4 0-0 10, Geiser 3 0-0 6, Johnson 2 1-2 6, Clark 0 2-8 2, Meinhart 1 0-0 2, West 1 0-0 2. TOTAL 17 4-14 45.
3-Pointers (7): Cannon 4, Chubbuk 2, Johnson
Team FT: 4-14 29%
Fouls: 13-6 Louisville
Records: Dalton 13-5, Louisville 4-11