Louisville Falls to Barberton 26-7 in Opener – Football

Barberton 26, Louisville 7
<<< Previous 2020 Vs. Jackson | Football Schedule | Next At Poland Seminary >>>
The Louisville Leopards Varsity Football Team fell to the visiting Barberton Magics 26-7 to open the season Friday Night at Louisville Leopards Stadium.
---
Gates Recovery Sets Up Seaman TD Catch
Senior wide receiver Zack Seaman caught a 30 yard touchdown pass down the right sideline from senior quarterback Caleb Miller with 6:11 to go in the opening quarter. The score came one play after junior defensive lineman Shane Gates pounced on a Barberton fumble at the Magics 30 yard line. The loose ball came as a result of a bad exchange on a toss play to the right and would turn out to be Barberton's only turnover of the contest.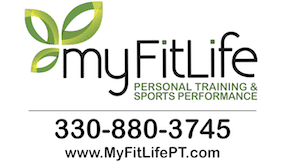 Miller would finish 12 of 24 passing for 126 yards in his first varsity start under center. Seaman led all receivers in yardage with 37 on 2 catches. Senior runningbacks Connor Adelman and Riston Jobes both finished with 3 receptions for 28 yards. Jobes would also lead the Leopards ground game with 14 carries for 47 yards.
---
Macko Leads Magics to 1st Quarter Touchdowns
Barberton was led by senior wide receiver Hayden Macko who caught 6 passes while racking up 140 yards receiving on the night. On the second play from scrimmage, Macko turned a simple curl route into a 43 yard reception that helped setup the Magics opening drive score. Two plays later, senior runningback Cameron Macon ran to his right 31 yards to paydirt to put Barberton in front 7-0.
Macko later broke open for an 83 yard touchdown catch on the final play of the first quarter to put the Magics ahead 14-7.
---
Barberton Builds to Their Lead
Barberton senior quarterback Chanden Lee finished 13 of 20 passing for 247 yards. Lee also threw an 18 yard touchdown pass to senior wide receiver Kaige Lowe to cap off another one play scoring drive. The best field position of the night was setup by senior linebacker Chris Smith who stormed in to partially block/redirect the Leopards punt attempt. Senior defensive lineman John Jackson fielded the ball out of the air and was tackled immediately at the 18. The quick touchdown strike came with 10:40 to go in the second quarter and extended the Magics lead to 20-7.
Barberton added to their lead in the second half with a pair of field goals by senior placekicker Eston Brown who converted from 32 in the third quarter before hitting a 31 yard field goal to put the game away in the fourth quarter.
Earlier in that final Magics scoring drive, Lee hit Macko to move the chains on 4th-and-4 in their own territory. The pair connected again on the next play when Macko made a leaping 33 yard reception in double coverage. The ensuing field goal put BHS ahead by three scores at 26-7.
---
Magics Outrush Leopards 170-30
The Magics ground game did the rest as they finished with 170 rushing yards on 35 attempts, while the Leopards carried the ball 24 times for only 30 yards. Senior Cameron Macon finished with 13 carries for 61 yards and sophomore Xzavier Macon took the ball 6 times for 52 yards.
The Leopards were forced to give the ball up back in their own territory and senior punter AJ Lingenhoel boomed a 51 yard punt pinning BHS back with 6:38 to go. Barberton kept the ball on the ground for 11 of their final 12 plays to drain the remainder of the clock. The Magics only pass play proved to be a screen from Lee to Smith that went for 20 yards on 3rd-and-17.
---
Louisville Unable to Score on Productive Drives
Louisville was also not afraid of third-and-long. In the first half, the Leopards converted a 3rd-and-15 on a Miller to junior wide receiver Chase Mueller pass completion down the left sideline.
Later in the third quarter, Louisville faced a similar 3rd-and-16. Miller found Jobes on a screen pass to his left. Jobes found a seam down the left sideline paved from a block by Mueller and nearly took it to the house. However, he was tripped up and fell to the turf at the 15 yard line after a 25 yard gain.
The Leopards drove 73 yards on 8 plays to the Magics 7 yard line, for what was their most productive drive of the night. However, they weren't able to capitalize. A false start turned a 3rd-and-2 into a 3rd-and-7. That was followed up by back-to-back incompletions to end the chance.
---
Louisville Season Opener History
Louisville has now dropped their past 5 season openers. They fall to 60-35-3 all-time in week 1, which includes a 33-13 record in season openers played at home. LHS is also now 68-29-1 in home openers overall (played at any point in the season).
This was the first ever meeting between these two teams in varsity football.
---
Gates Named Player of the Game
UP NEXT: The Leopards will next travel to take on the Polar Seminary Bulldogs on Friday, August 27 at 7:00 PM.
---
Schedule Opponents Week 1 Finals
Canfield 24, @Poland Seminary 12
Wooster 30, @Orrville 6
Cleveland Heights 48, @North Canton Hoover 28
@Lake 35, Alliance 7
@Canton Central Catholic 28, Perry 26, OT
Green 48, @Akron Ellet 6
@GlenOak 31, Shaker Heights 22
Linsly (WV) – Did Not Play
---
Donate to Leopard Nation
---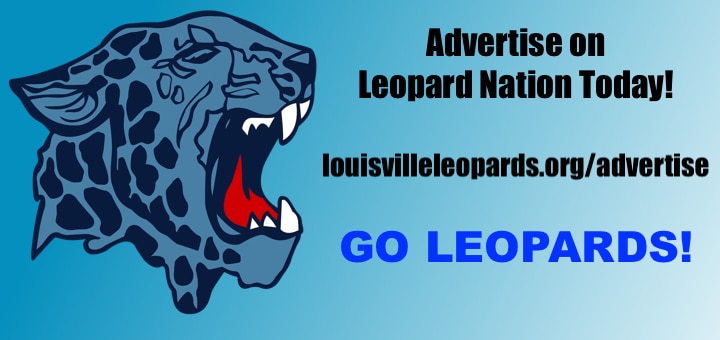 Barberton Magics at Louisville Leopards Game Statistics
Scoring Summary
MAGICS 26, LEOPARDS 7
Team 1-2-3-4–TOTAL
Barberton 14-6-3-3–26
Louisville 7-0-0-0–07
1st Quarter
BABERTON – Cameron Macon 31 Yard Run (Eston Brown Kick) | LHS 0, BHS 7, 10:22
3 Plays, 75 Yards
LOUISVILLE – Zack Seaman 30 Yard Pass from Caleb Miller (Connor Adelman Kick) | LHS 7, BHS 7, 6:11
1 Play, 30 Yards
BARBERTON – Hayden Macko 83 Yard Pass from Chanden Lee (Eston Brown Kick) | LHS 7, BHS 14, 0:00
1 Play, 83 Yards
2nd Quarter
BARBERTON – Kaige Lowe 18 Yard Pass from Chanden Lee (Kick Failed) | LHS 7, BHS 20, 10:40
1 Play, 18 Yards
3rd Quarter
BARBERTON – Eston Brown 32 Yard Field Goal | LHS 7, BHS 23, 6:41
8 Plays, 53 Yards
4th Quarter
BARBERTON – Eston Brown 31 Yard Field Goal | LHS 7, BHS 26, 7:06
13 Plays, 88 Yards
Records: Barberton 1-0, Louisville 0-1
---
Team Stats
First Downs
Barberton: 14
Louisville: 8
Rushing
Barberton: 35 Carries, 170 Yards, TD
Louisville: 24 Carries, 30 Yards
Passing
Barberton: 13 of 20 for 247 Yards, 2 TDs
Louisville: 12 for 24 for 126 Yards, 1 TD, 1 INT
Fumbles / Lost
Barberton: 1 / 1
Louisville: 0 / 0
Penalties / Yards
Barberton: 7 for 53 Yards
Louisville: 3 for 15 Yards
3rd Down Conversions:
Barberton: 2 for 11
Louisville: 3 for 13
4th Down Conversions:
Barberton: 1 for 3
Louisville: 0 for 1
---
Individual Stats
Passing
Barberton:
Chanden Lee: 13 of 20 for 247 Yards, 2 TDs
Louisville:
Caleb Miller: 12 of 24 for 126 Yards, 1 TD, 1 INT
Receiving
Barberton:
Hayden Macko: 6 Catches, 180 Yards, TD
Kaige Lowe: 2 Catches, 26 Yards, TD
Louisville:
Zack Seaman 2 Catches, 37 Yards, TD
Connor Adelman: 3 Catches, 28 Yards
Riston Jobes: 3 Catches, 28 Yards
Chase Mueller 1 Catch, 19 Yards
AJ Lingenhoel 2 Catches, 9 Yards
Daveion Cruse 1 Catch, 5 Yards
Rushing
Barberton:
Xzavier Macon: 6 Carries, 52 Yards
Cameron Macon: 13 Carries, 61 Yards, TD
Louisville:
Riston Jobes 14 Carries, 47 Yards
Connor Adelman 2 Carries, 3 Yards
Zack Seaman 1 Carry, -5 Yards
Caleb Miller 7 Carries, -15 Yards