Leopards Down Falcons at Home 56-48 – Boys Basketball
Louisville 56, Austintown Fitch 48
<<< Previous Vs. Marlington | Boys Basketball Schedule | Next Vs. Northwest >>>
The Louisville Leopards Boys Varsity Basketball Team defeated the visiting Austintown Fitch Falcons 56-48 Tuesday Night at Louisville High School. With the victory, Louisville ups their record to a winning mark of 7-6.
Dakota Hoffman scored in every quarter on his way to dropping in a team-high 18 points to lead the Leopards. Will Aljancic also made 4 three-pointers to finish with 14 points. Both Tyler Boldon and Broc Pickens added 8 points each as well.
---
Leopards Hold Lead After Each Quarter
After six lead changes to begin the game, Louisville finished the first quarter on an 11-3 run to take a 16-11 lead into the second quarter. The Falcons chipped away at the Leopards advantage in the second quarter, but LHS maintained their lead throughout the period and went into the locker room up 28-27.
Austintown Fitch took their final lead of the game at 31-30 before Louisville ripped off 7 straight points to go ahead 37-31. The Falcons would cut into the deficit a few times throughout the third quarter, but each time the Leopards answered back to up their advantage to 48-41 by the end of the period.
---
Austintown Fitch at Louisville Full Game
---
Falcons Rally to Get Within 51-48
Austintown Fitch made things interesting down the stretch with a quick pair of baskets as part of a 5-0 run to shrink the Louisville lead to three points. Freshman point guard Dan Evans drove down the lane for a layup. Then senior power forward Nate Leskovac picked off an LHS pass on the ensuing possession and kicked it ahead to freshman shooting guard DeShawn Vaughn for the fast break score to make it 51-48 with 2:44 left to play.
The Leopards would shutout the Falcons the rest of the way to clinch the victory. Connor King split a pair of free throws from the line to put Louisville up 52-48 with 1:21 to go. On defense, Cory Noble forced a Fitch miss in the lane and Pickens pulled down the rebound underneath the hoop.
---
Key Passing Seals the Deal for Louisville
The Leopards then advanced the ball the entire length of the court without the ball leaving the air and utilized all five players in the process. Pickens threw to his right to Boldon. Boldon threw and overhand pass to King in the center of the court. King then one-timed a chest pass to his left to Hoffman just across the mid-court stripe. Then Hoffman showed off his quarterbacking skills with a perfect overhand pass to Noble who was cutting to the hoop. He caught the pass in stride, took a step, and laid it home to put Louisville in front 54-48.
The Falcons were called for a traveling on the other end giving the Leopards the ball on the baseline. Boldon threw a long pass to the other end of the court and Pickens used his wide receiver skills to track it down in the midst of an aggressive Fitch defender. Pickens then passed to Aljancic who remained unguarded. This allowed Louisville to run some precious seconds off the clock before Hoffman was fouled with 22.1 seconds left. Hoffman took full advantage of the double bonus to put the Leopards final nail in the coffin at 56-48.
---
I love toughness, I love teams that grind wins and play the right way! I love teams that care about teammates more then themselves. I love doing it the right way with kids that grew up wanting to be part of The Program and our now adding to The Program! @LouisvilleLeps @LepsAD

— Tom Siegfried (@Leopardbball) January 27, 2021
---
Underwood Leads Fitch With Game-High 22
Austintown Fitch was led by Allen Underwood who scored a game-high 22 points. Todd Simons also poured in 14 points and Evans added 4.
The Leopards are now 5-1 against the Falcons all-time, which includes a 3-0 record when playing Austintown Fitch at home.
<<< Previous 2019-2020 | Austintown Fitch Falcons All-Time Series
UP NEXT: The Leopards will next host the Northwest Indians on Friday, January 29 for a Varsity only matchup beginning at 7:00 PM.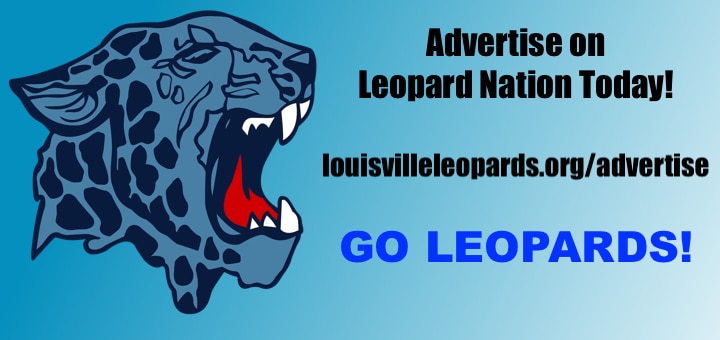 VARSITY STATISTICS
LEOPARDS 56, FALCONS 48

Team 1-2-3-4–TOTAL
Austintown Fitch 11-16-14-7—48
Louisville 16-12-20-8–56
FALCONS: Underwood 8 6-6 22, Simons 5 4-10 14, Evans 2 0-0 4, Smith 1 1-2 3, Leskovac 0 2-4 2, Vaughon 1 0-1 2, Garcia 0 1-2 1, Roth 0 0-1 0. TOTAL 17 14-26 48.
3-Pointers: None
Team FT: 14-26 54%
LEOPARDS: Hoffman 6 5-6 18, Aljancic 5 0-0 14, Boldon 3 1-3 8, Pickens 4 0-0 8, Noble 2 0-0 4, Nigro 1 0- 2 2, Haren 0 1-1 1, King 0 1-2 1. TOTAL 21 8-14 56.
3-Pointers (6): Aljancic 4, Boldon, Hoffman
Team FT: 8-14 57%
Fouls: 19-18 Austintown Fitch
Turnovers: 20-18 Louisville
Records: Louisville 7-6, Austintown Fitch 5-8
---
JV: Austintown Fitch 52, Louisville 22
JV STATISTICS
FALCONS 52, LEOPARDS 22
Team 1-2-3-4–TOTAL
Austintown Fitch 14-12-11-15—52
Louisville 8-8-2-4—22
FALCONS: Maley 7 1-1 15, Hunter 3 1-2 9, Jaros 3 2-2 8, Foster 2 1-3 5, Williams 2 1-1 5, Garcia 2 0-0 4, Vaughn 2 0-0 4, Latona 1 0-0 2. TOTAL 22 6-9 52.
3-Pointers (2): Hunter 2
Team FT: 6-9 67%
LEOPARDS: Vesely 1 3-4 6, Cherry 1 2-2 4, Dusky 1 1-1 3, Gonzalez 1 0-0 3, Nigro 1 0-2 3, Jackson 0 2-4 2, Rode 0 1-2 1. TOTAL 5 9-15 22.
3-Pointers (3): Gonzalez, Nigro, Vesely
Team FT: 9-15 60%
Fouls: 13-11 Austintown Fitch
Turnovers: 13-12 Louisville
Records: Louisville 3-9