Leopards Dismantle Raiders in Consolation Title Game – Baseball
Louisville 14, Shaker Heights 0, 5 Innings
<<< Previous Vs. Conneaut | Baseball Schedule | Next At Green >>>
The Louisville Leopards Varsity Baseball Team run-ruled the visiting Shaker Heights Raiders 14-0 in five innings Wednesday at Andy Aljancic Field. This was the consolation championship game of the Constitution Town Early Bird Tournament. With the victory, Louisville improves to 3-1 on the season.
---
Morley Throws 1-Hit Shutout
Sophomore starting pitcher Connor Morley threw a complete game 1-hit five inning shutout and struck out 6 to lead the Leopards. After beginning the game with a strikeout, Shaker Heights shortstop Flynn Bloch singled to center for the Raiders only hit of the contest.
Morley allowed two free passes in the second inning, but settled in after that. He sent down the final 11 batters he faced, which included retiring the side in the final three innings he pitched.
---
---
Eight Different Leopards Record Hits
Eight different Louisville batters recored hits in the game led by junior second baseman/shortstop Anthony Warner who batted 2-for-4 with a pair of RBIs. Sophomore centerfielder Charlie Roberts also drove in 3 runs and senior first baseman Josh Stafford scored 3 runs to highlight the Leopards offense.
Altogether seven different Louisville hitters drove in runs. Junior left fielder Connor Adelman and junior catcher Walker Kandel finished with 2 RBIs a piece. Senior centerfielder Cory Noble, senior designated hitter Broc Pickens, and Stafford drove in a run each as well.
This was the first known meeting between the two schools.
UP NEXT: The Louisville Baseball Team will next travel to take on the Green Bulldogs on Monday, April 5 at 5:00 PM.
---
Donate to Leopard Nation
---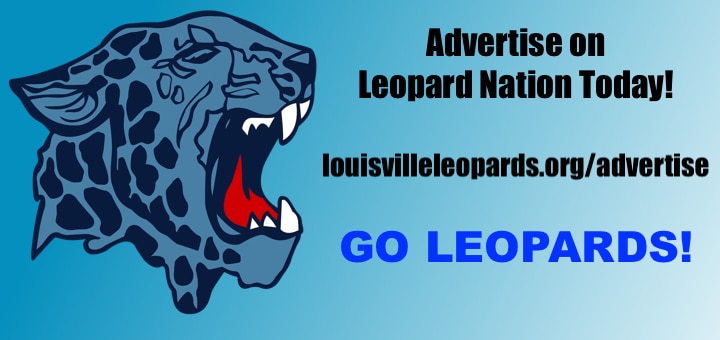 Don't forget to Subscribe to Our Posts for Free
VARSITY BASEBALL BOX SCORE
LEOPARDS 14, RAIDERS 0, 5 INNINGS
Team 123-45–R-H-E
Shaker Heights 000-00–0-1-4
Louisville 126-5X–14-9-0
SHAKER HEIGHTS RAIDERS BASEBALL VARSITY BATTING STATS
| Lineup | AB | R | H | RBI | BB | SO |
| --- | --- | --- | --- | --- | --- | --- |
| Owen Bang | 2 | 0 | 0 | 0 | 0 | 1 |
| Flynn Bloch | 2 | 0 | 1 | 0 | 0 | 0 |
| Adam Diaz | 2 | 0 | 0 | 0 | 0 | 2 |
| Peter Khayat | 2 | 0 | 0 | 0 | 0 | 0 |
| Sam Neel | 1 | 0 | 0 | 0 | 1 | 0 |
| Camran Wadsworth | 2 | 0 | 0 | 0 | 0 | 1 |
| Nolan James | 1 | 0 | 0 | 0 | 0 | 0 |
| Adrian Lee | 2 | 0 | 0 | 0 | 0 | 1 |
| Michel Wilcox | 2 | 0 | 0 | 0 | 0 | 1 |
| Jeremiah Timko | – | – | – | – | – | – |
| Leo Mcguinness | – | – | – | – | – | – |
| Totals | 16 | 0 | 1 | 0 | 1 | 6 |
SHAKER HEIGHTS RAIDERS BASEBALL VARSITY PITCHING STATS
| Pitching | IP | #P | S% | H | R | ER | SO | BB | HR |
| --- | --- | --- | --- | --- | --- | --- | --- | --- | --- |
| Sam Neel | 2.2 | 72 | .500 | 6 | 9 | 5 | 1 | 5 | 0 |
| Owen Bang | 1.1 | 49 | .531 | 3 | 5 | 5 | 1 | 4 | 0 |
| Leo Mcguinness | 0.0 | 0 | .000 | 0 | 0 | 0 | 0 | 0 | 0 |
| Totals | 4.0 | 121 | .512 | 9 | 14 | 10 | 2 | 9 | 0 |
LOUISVILLE LEOPARDS BASEBALL VARSITY BATTING STATS
| Lineup | AB | R | H | RBI | BB | SO |
| --- | --- | --- | --- | --- | --- | --- |
| Zack Seaman | 2 | 2 | 1 | 0 | 1 | 0 |
| -Tony Brahler | 0 | 0 | 0 | 0 | 0 | 0 |
| Charlie Roberts | 3 | 0 | 1 | 3 | 0 | 0 |
| -Cory Noble | 1 | 1 | 1 | 1 | 0 | 0 |
| Broc Pickens | 3 | 0 | 1 | 1 | 0 | 0 |
| -Evan Kroah | 1 | 1 | 0 | 0 | 0 | 0 |
| Kaedin Gotshall | 1 | 1 | 0 | 0 | 1 | 0 |
| -Kurt Haren | 0 | 0 | 0 | 0 | 0 | 0 |
| -Derek Lizer | 0 | 1 | 0 | 0 | 1 | 0 |
| Walker Kandel | 3 | 0 | 1 | 2 | 1 | 1 |
| Caleb Miller | 1 | 1 | 0 | 0 | 1 | 0 |
| -Colby Croxton | 1 | 0 | 0 | 0 | 1 | 1 |
| Josh Stafford | 1 | 3 | 1 | 1 | 3 | 0 |
| Anthony Warner | 4 | 1 | 2 | 2 | 0 | 0 |
| Connor Adelman | 2 | 2 | 1 | 2 | 0 | 0 |
| -Kyle Vesley | 1 | 1 | 0 | 0 | 0 | 0 |
| JT Popick | 0 | 0 | 0 | 0 | 0 | 0 |
| Connor Morley | – | – | – | – | – | – |
| Totals | 24 | 14 | 9 | 12 | 9 | 2 |
LOUISVILLE LEOPARDS BASEBALL VARSITY PITCHING STATS
| Pitching | IP | #P | S% | H | R | ER | SO | BB | HR |
| --- | --- | --- | --- | --- | --- | --- | --- | --- | --- |
| Connor Morley | 5.0 | 70 | .614 | 1 | 0 | 0 | 6 | 1 | 0 |
| Totals | 5.0 | 70 | .614 | 1 | 0 | 0 | 6 | 1 | 0 |
Records: Louisville 3-1