Lady Leopards Celebrate Senior Night with 1st Victory – Girls Tennis
Louisville 5, Manchester 0
<<< Previous At Central Catholic | Girls Tennis Schedule | Next At GlenOak>>>
The Louisville Leopards Girls Tennis Team defeated the Manchester Panthers 5-0 in their senior night match Monday at the Greg Parrish Courts. With their first win of the year, Louisville improves to 1-10 on the season.
---
---
Seniors Davis and Glaspell Team Up for Senior Night
The Lady Leopards honored their two senior players Alli Davis and Abby Glaspell prior to the match. The two singles players that are normally #1 and #2 in the lineup chose to join forces Monday for senior night in #1 doubles. However, Manchester never showed up and Louisville claimed the forfeit in every matchup.
Singles winners by forfeit included Morgan DeLaCroix, sophomore Savannah Reynolds, and Maddie Ashcraft. Lady Leopard doubles team winners by forfeit included Davis & Glaspell as well as sophomore Leah Collins & junior Jenna Selby.
---
Louisville Vs. Manchester Girls Tennis History
Louisville is now 3-0 against Manchester all-time winning in each of the past three seasons. All three matches were played (or in this case scheduled to be played) at the Greg Parrish Courts. The Leopards edged the Panthers 3-2 in each of the past two seasons.
UP NEXT: The Lady Leopards will next travel to take on the GlenOak Golden Eagles on Wednesday, September 21 at 4:00 PM.
Cover Photo By The Louisville Herald
---
Manchester at Louisville Girls Tennis Box Score
LEOPARDS 5, PANTHERS 0
Singles
#1 Mogan DeLaCroix Won By Forfeit
#2 Savannah Reynolds Won By Forfeit
#3 Maddie Ashcraft Won By Forfeit
Doubles
#1 Alli Davis & Abby Glaspell Won By Forfeit
#2 Leah Collins & Jenna Selby Won By Forfeit
Records: Louisville 1-10
---
Donate to Leopard Nation
---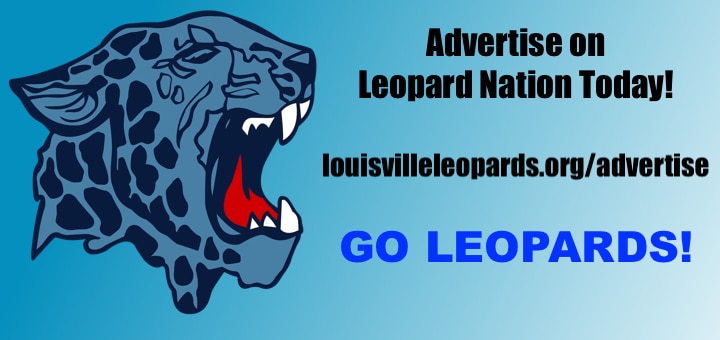 Don't forget to Subscribe to Our Posts for Free