Leopards Fall in Final Minute Vs. Walsh Jesuit 49-48 – Boys Basketball
#8 Walsh Jesuit 49, #10 Louisville 48
<<< Previous Vs. Solon | Boys Basketball Schedule
The #10 seed Louisville Leopards fell to the #8 seed Walsh Jesuit Warriors 49-48 in their DI Northeast 3 District Semifinal held at Harold "Doc" Daugherty Gymnasium on the campus of Euclid High School. With the loss, Louisville finishes the season with a final record of 19-5.
Varsity Recap | Varsity Box Score
---
Aljancic Scores Game High 24 in Final Game
Senior wing Will Aljancic scored 15 of his game high 24 points in the first half to lead LHS in his final game as a Leopard.
Three different Louisville players reached double figures on the night. Junior guard Hayden Nigro scored 12, sophomore forward Brayden Gross dropped in 10, and sophomore forward Ashton Marshall rounded out the Louisville scoring by adding 2.
---
Aljancic Breaks Career 3-Point Record
Aljancic hit a three-pointer in the opening quarter to give the Leopards an 11-8 lead. The field goal was Aljancic's 174th career three-pointer giving sole possession of the school record. Owen Gramoy (2008-2011), currently an assistant coach, set the previous mark 12 years ago with 173 career made three-pointers.
Aljancic would tack on his 175th and final varsity three-pointer as part of his 10 point second quarter.
---
Game of Runs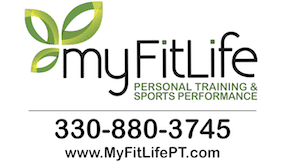 Walsh answered Aljancic's record-breaking three-pointer with a 14-3 run to take a 22-14 second quarter advantage. This run included a stretch of 8 straight points from the Warriors. Louisville would respond back with a 13-0 run to pull ahead 27-22 late in the first half.
The Leopards would go up by as much as 34-27 at the midway point of the third quarter. Aljancic converted an old-fashioned three-point play and used a smooth crossover move to drive to the hole for another basket. Gross also added a bucket to cap off a 7-2 LHS run to begin the third quarter.
Walsh again responded with a 10-0 run to capture a 37-34 advantage. The Warriors would lead 39-36 heading into the fourth quarter and increased their advantage to 44-36 via senior shooting guard Zach Halligan's three-pointer.
---
Nigro Leads Late Leopard Rally
Louisville found themselves trailing 47-40 late in the fourth quarter before stringing together an 8-0 run to take the lead back with under 100 seconds to go. Gross scored underneath with a few minutes left to cut the deficit to 47-42.
A little later, Nigro got hot from beyond the arch. He hit a deep three from the left wing with about 2:30 to play to make it a one possession game. On a defense, sophomore Beau Siegfried forced a jump ball underneath on what was lining up to be an easy layup for Walsh. The Warriors retained possession, but the Leopards defense forced a turnover out of bounds.
On the other end, a pick near the right elbow by Gross left Nigro wide open at the top of the key. Nigro buried his second straight three-pointer to give the Leopards a 48-47 lead with 1:38 left to play.
---
Halligan Scores Go-Ahead Basket
On the ensuing Walsh possession, Louisville appeared to have forced a turnover twice prior to the Warriors scoring the go-ahead basket. A potential travel on the left wing wasn't called and a little later the Leopards were called for a foul while forcing what would have been a steal going the other way.
Out of a timeout, junior shooting guard Tyler Bell inbounded under the hoop to Halligan who was wide open to to put Walsh Jesuit in front 49-48 with 47.3 seconds remaining in the game. The Warrior combination exploited a switch by the Louisville defense to easily score on what would prove to be the deciding basket. Bell and Halligan would both finish with a team high 13 to lead Walsh. Junior power forward Ruel Tomlinson Jr. also added 10.
---
Warriors Defense Seals District Title Berth
On the next possession, Nigro drove to the basket looking to put the Leopards back in front. But he was denied by senior 6'6 center Keith Rivers who came up big for the Walsh defense all night long with multiple blocks. The Warriors took possession of the swat and drew a foul on the other end.
Senior power forward Max Matta missed the front end of the 1-and-1 and Gross pulled in the rebound for Louisville. The Leopards dribbled the ball to the offensive end and Head Coach Tom Siegfried called timeout to draw up a potential game winning play.
A pass inside was tipped away by Rivers as the play started to develop. That left just 2 seconds remaining for a Louisville inbound from the baseline. The Warriors defense clamped down on the final play forcing a long pass outside of the top right side of the arch. Junior point guard Jesse James went airborne to make a leaping tip to deflect the ball away into backcourt as the buzzer sounded. Walsh Jesuit celebrated a District Championship berth.
Walsh will take on #12 seed Lyndhurst Brush in their DI Northeast 3 District Final on Saturday, March 4 at 2:00 PM at Euclid High School. Brush upset #2 seed St. Vincent-St. Mary 42-37 in their district semifinal matchup on Wednesday.
---
Louisville Basketball Postseason History
Louisville is now 1-1 against Walsh Jesuit all-time. The Leopards defeated the Warriors 47-36 in the 2018 Greynolds Classic held at Barberton High School in their only other meeting.
Louisville is now 60-90 all-time in the postseason according to records dating back to 1932. This includes a 3-7 record when playing in Division I.
Cover Photo By The Louisville Herald
---
Donate to Leopard Nation
---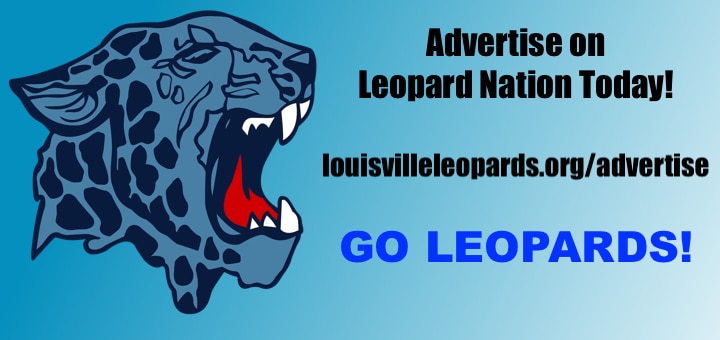 ---
Louisville at Walsh Jesuit Boys Basketball Statistics
WARRIORS 49, LEOPARDS 48
Team 1-2-3-4–TOTAL
Louisville 11-16-9-12–48
Walsh Jesuit 9-16-14-10–49
LEOPARDS: Aljancic 8 6-8 24, Nigro 5 0-0 12, Gross 3 4-4 10, Marshall 1 0-0 2, Roberts 0 0-1 0. TOTAL 17 10-13 48.
3-Pointers (4): Aljancic 2, Nigro 2
Team FT: 10-13 77%
WARRIORS: Bell 5 1-2 13, Halligan 5 0-0 13, Tomlinson Jr. 4 2-2 10, Sitarz 1 0-0 3, James 1 0-0 2, Matta 1 0-1 2, McFarren 1 0-0 2, Rivers 1 0-0 2, Spicer 1 0-0 2. TOTAL 20 3-5 49.
3-Pointers (6): Halligan 3, Bell 2, Sitarz
Team FT: 3-5 60%
Fouls: 15-12 Walsh Jesuit
Records: Louisville 19-5