Louisville Falls to Lake 8-3 on Senior Night – Baseball
Lake 8, Louisville 3
<<< Previous At GlenOak | Baseball Schedule | Next At Canton South >>>
The Louisville Leopards Varsity Baseball Team fell to the visiting Lake Blue Streaks 8-3 on Senior Night Tuesday at Andy Aljancic Field. With the loss, Louisville drops back to an even 12-12 on the season.
Senior designated hitter Josh Stafford batted 2-for-3 with an RBI double in the seventh inning to lead the Leopards. Senior first baseman Ryan Aljancic and senior third baseman Colby Croxton also drove in runs for Louisville.
---

---
Leopards Chip Away at Deficit
Trailing 3-0, the Leopards answered back with a run in the bottom of the first inning. Senior shortstop Evan Kroah reached base on a dropped third strike and then advanced to second when senior catcher Kaedin Gotshall singled to left field. Kroah advanced to third on a fielder's choice and then came home on Aljancic's sacrifice fly to centerfield.
The Blue Streaks added three more runs in the top of the fourth and another run in each of the next two innings to pull ahead 8-1. Louisville chipped into the lead in the sixth when seniors center fielder Cory Noble, right fielder Kurt Haren, and Croxton strung together three consecutive 2-out singles. Croxton drove in Noble as a result to cut the deficit to 8-2.
The Leopards again produced a pair of base runners after recording two outs in the seventh. Aljancic singled to center and then entered scoring position when senior pitcher Tyler Jackson walked. Stafford doubled on a fly ball to right field in the next at-bat to bring Aljancic to the plate to get Louisville within 8-3.
---
Brady and Grega Lead Lake Offense
Lake (11-11) was led by right fielder Logan Brady who batted 3-for-4 with a triple, RBI single, and 2 runs scored. Third baseman Nathan Grega also went 2-for-4 with an RBI single and scored a run.
The Blue Streaks out-hit the Leopards 9-7 for the game. Six different Lake batters registered hits and 5 drove in runs. Designated hitter Adam Lippe, second baseman Ty Perrin, and shortstop Landon Woods also drove in runs for the Blue Streaks.
---
Collins Notches Victory for Blue Streaks
On the mound, Lake starting pitcher Caleb Collins pitched 5 2/3 innings, gave up 1 earned run on 5 hits, and struck out 3 to notch the victory for the Blue Streaks.
Jackson pitched the first 4 innings and struck out 5 on the hill for the Leopards. Junior Caleb Miller closed out the final 3 innings for Louisville and surrendered just 1 run on 2 hits.
---
Louisville Vs. Lake Baseball Series
Lake has now defeated Louisville in each of the last three seasons and taken 4 out of the last 5 in the series overall. The Blue Streaks have also won the last 5 games in the series played at Louisville High School.
<<< Previous 2019 | Lake All-Time Series
---
Leopards Baseball Honors Seniors
The Leopards honored their 10 senior players prior to Tuesday's game. Those seniors included Ryan Aljancic, Tony Brahler, Colby Croxton, Kaedin Gotshall, Kurt Haren, Tyler Jackson, Evan Kroah, Cory Noble, Broc Pickens, and Josh Stafford. The entire Louisville starting lineup comprised of these 10 senior players in their Senior Night game against Lake.
Leopard Nation would like to thank these 10 seniors for their hard work and contributions over the past few seasons to the Louisville Baseball Program and wish them the best of luck in their post-high school endeavors.
---
Donate to Leopard Nation
---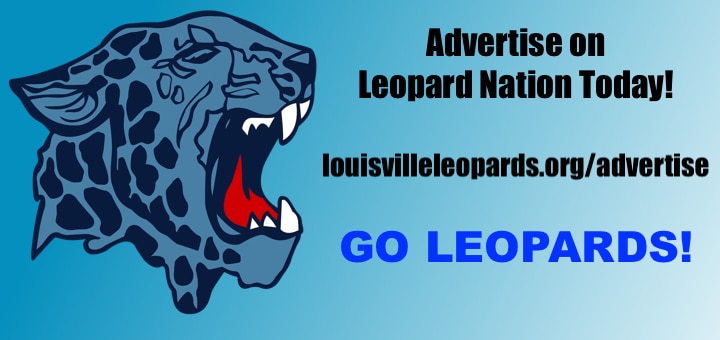 Don't forget to Subscribe to Our Posts for Free
VARSITY BASEBALL BOX SCORE
BLUE STREAKS 8, LEOPARDS 3
Team 123-456-7–R-H-E
Lake 300-311-0–8-9-0
Louisville 100-001-1–3-7-4
LAKE BLUE STREAKS BASEBALL VARSITY BATTING STATS
| Lineup | AB | R | H | RBI | BB | SO |
| --- | --- | --- | --- | --- | --- | --- |
| Caleb Collins | 4 | 1 | 1 | 0 | 0 | 2 |
| Logan Brady | 4 | 2 | 3 | 1 | 0 | 1 |
| Nathan Grega | 4 | 1 | 2 | 1 | 0 | 0 |
| Cade Dellinger | 3 | 1 | 0 | 0 | 1 | 1 |
| Adam Lippe | 1 | 0 | 0 | 1 | 3 | 0 |
| Ty Perrin | 2 | 0 | 0 | 1 | 0 | 0 |
| Brody Begue | 1 | 1 | 1 | 0 | 0 | 0 |
| Landon Woods | 3 | 1 | 1 | 1 | 0 | 0 |
| Evan Larimore | 1 | 0 | 0 | 0 | 0 | 0 |
| Jaden Ek | 2 | 0 | 0 | 0 | 0 | 1 |
| Grant Nehrenz | 3 | 0 | 1 | 0 | 0 | 0 |
| Drake Slagle | 0 | 1 | 0 | 0 | 0 | 0 |
| Mason Champagne | – | – | – | – | – | – |
| Cooper Smith | – | – | – | – | – | – |
| David Lara | – | – | – | – | – | – |
| Totals | 28 | 8 | 9 | 5 | 4 | 5 |
LAKE BLUE STREAKS BASEBALL VARSITY PITCHING STATS
| Pitching | IP | #P | S% | H | R | ER | SO | BB | HR |
| --- | --- | --- | --- | --- | --- | --- | --- | --- | --- |
| Caleb Collins | 5.2 | 94 | .532 | 5 | 2 | 1 | 3 | 6 | 0 |
| Cooper Smith | 0.1 | 1 | 1.000 | 0 | 0 | 0 | 0 | 0 | 0 |
| David Lara | 1.0 | 24 | .625 | 2 | 1 | 1 | 0 | 1 | 0 |
| Totals | 7.0 | 119 | .555 | 7 | 3 | 2 | 3 | 7 | 0 |
LOUISVILLE LEOPARDS BASEBALL VARSITY BATTING STATS
| Lineup | AB | R | H | RBI | BB | SO |
| --- | --- | --- | --- | --- | --- | --- |
| Evan Kroah | 4 | 1 | 0 | 0 | 0 | 2 |
| Kaedin Gotshall | 3 | 0 | 1 | 0 | 1 | 0 |
| Broc Pickens | 3 | 0 | 0 | 0 | 1 | 0 |
| Ryan Aljancic | 3 | 1 | 1 | 1 | 0 | 0 |
| Tyler Jackson | 1 | 0 | 0 | 0 | 2 | 0 |
| Caleb Miller | 1 | 0 | 0 | 0 | 0 | 0 |
| Josh Stafford | 3 | 0 | 2 | 1 | 1 | 0 |
| Cory Noble | 3 | 1 | 1 | 0 | 1 | 0 |
| Kurt Haren | 3 | 0 | 1 | 0 | 0 | 1 |
| Colby Croxton | 2 | 0 | 1 | 1 | 1 | 0 |
| Zack Seaman | 0 | 0 | 0 | 0 | 0 | 0 |
| JT Popick | 0 | 0 | 0 | 0 | 0 | 0 |
| Tony Brahler | 0 | 0 | 0 | 0 | 0 | 0 |
| Totals | 26 | 3 | 7 | 3 | 7 | 3 |
LOUISVILLE LEOPARDS BASEBALL VARSITY PITCHING STATS
| Pitching | IP | #P | S% | H | R | ER | SO | BB | HR |
| --- | --- | --- | --- | --- | --- | --- | --- | --- | --- |
| Tyler Jackson | 4.0 | 81 | .568 | 7 | 7 | 5 | 5 | 4 | 0 |
| Caleb Miller | 3.0 | 27 | .667 | 2 | 1 | 1 | 0 | 0 | 0 |
| Totals | 7.0 | 108 | .593 | 9 | 8 | 6 | 5 | 4 | 0 |
Records: Lake 11-11, Louisville 12-12