Leopards Stunned By Knights Rally in Final Minutes 2-1 – Boys Soccer

Archbishop Hoban 2, Louisville 1
<<< At Stow | Boys Soccer Schedule | Next At Alliance >>>
The Louisville Leopards Boys Soccer Team succumbed to a late rally by the visiting Archbishop Hoban Knights 2-1 Tuesday Night at Louisville Leopards Stadium. With the loss, Louisville is now 7-2-2 on the season.
Varsity Recap | Varsity Box Score | JV Recap | JV Box Score
---
---
Burton Gives Leopards 1-0 Lead
Sophomore Carter Burton scored the game's first goal with eleven minutes to go in the opening half. Junior Damien Lowder provided the assist on the play to give the Leopards a 1-0 lead.
Neither team would score over the course of the next 49 minutes as Louisville rode their one score lead deep into the second half.
---
Knights Score Twice in the 79th Minute
The Knights stunned the Leopards with a pair of goals in a span of just 50 seconds during the 79th minute. Jared Bendo knotted the game up at the 1:54 mark. Then Mateo LaCola followed up with the go-ahead score that put Archbishop Hoban in front 2-1 with 1:04 to play.
---
Louisville Vs. Hoban Boys Soccer Series
The Leopards are now 0-3-1 against the Knights all-time, which includes an 0-2-1 record at Louisville in the series. The Leopards tied Hoban at home 2-2 in their previous meeting back on October 6, 2016. The Knights won both matchups in 2002 and 2003
<<< Previous 2016 | Hoban All-Time Series
UP NEXT: The Louisville Leopards Boys Soccer Team will next travel to take on the Alliance Aviators on Thursday, September 28. Game time is set for 7:00 PM from Rockhill Elementary School Field.
Cover Photo By The Louisville Herald
Game Broadcast by Straggat Media
---
JV: Louisville 1, Archbishop Hoban 0
The Leopards JV blanked the visiting Knights 1-0 Tuesday Evening at the Louisville High School Soccer Field. With their fourth shutout of the season, Louisville JV is now 5-4-1 on the season.
Junior Mitchel Edgein scored the game's only goal in the second half via an assist from freshman Drew Lindner.
---
Donate to Leopard Nation
---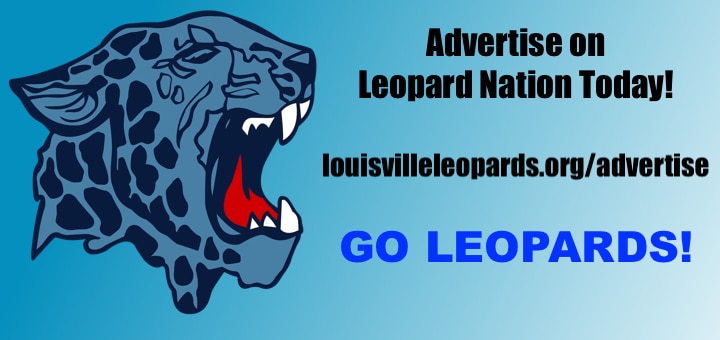 Don't forget to Subscribe to Our Posts for Free
---
Hoban at Louisville Boys Varsity Soccer Box Score
KNIGHTS 2, LEOPARDS 1
Team 1-2–TOTAL
Hoban 0-2–02
Louisville 1-0–01
1st Half
LOUISVILLE – Carter Burton (Damien Lowder) | LHS 1, HHS 0, 11:00
2nd Half
HOBAN – Jared Bendo | LHS 1, HHS 1, 1:54
HOBAN – Mateo LaCola | LHS 1, HHS 2, 1:04
Records: Louisville 7-2-2
---
Louisville Boys JV Soccer Box Score
LEOPARDS 1, KNIGHTS 0
Team 1-2–TOTAL
Hoban 0-0–00
Louisville 0-1–01
1st Half
NO SCORING
2nd Half
LOUISVILLE – Mitchel Edgein (Drew Lindner) | LHS 1, HHS 0
Records: Louisville 5-4-1