Louisville Falls at Lake in Four Sets – Volleyball

Lake 27-25-18-25, Louisville 25-13-25-20
<<< Previous Jackson Tournament | Volleyball Schedule | Next At North Canton Hoover >>>
The Louisville Leopards Varsity Volleyball Team fell to the host Lake Blue Streaks in four sets 25-27, 13-25, 25-18, 20-25 Tuesday Night at Lake High School. With the loss, Louisville falls to 4-5 on the year.
---
---
Louisville Vs. Lake Seesaw Volleyball Series
Senior outside hitter Kelsey Adelman led the Lady Leopards with a team-high 13 kills and 3 aces serving. Sophomore middle hitter Brooke Haren finished as Louisville's leading server with 12 service points.
Other leaders for the Leopards included sophomore setter AJ Burick with a team-high 28 assists and senior defensive specialist/libero Emma Davis leading the defense with a team best 16 digs.
---
---
Louisville Vs. Lake Seesaw Volleyball Series
Louisville and Lake have exchanged victories back-and-forth in each of their past 6 meetings. The Blue Streaks have won the past two matches in the series played at Uniontown.
<<< Previous 2020 | Lake All-Time Series
JV: Lake 25-25, Louisville 22-21
UP NEXT: The Lady Leopards will again hit the road to take on the North Canton Hoover Vikings on Thursday, September 16. JV will begin at 5:30 PM and Varsity will follow around 7:00 PM.
Cover Photo By: The Louisville Herald
---
8th Grade (9/13):
Marlington 25-14-25, Louisville 22-25-19
Anna Sirohman 13 Serves, 2 Aces
Emma Kroah 6 Digs
Chloe Miller 10 Attacks, 7 Kills
Belle Burkhardt 18 Assist
Addy Campbell 4-6
Records: Louisville 4-6
---
7th Grade (9/13):
Louisville 25-25, Marlington 6-21
Leah Claugus 12 Serves, 9 Aces, 3 Hits
Dakota Gross 6 Serves, 2 Aces, 10 Assists
Kloey Rukavina 5 Serves
Taylor Schneider 5 Serves
Madison Miller 2 Hits
Records: Louisville 8-2
---
Donate to Leopard Nation
---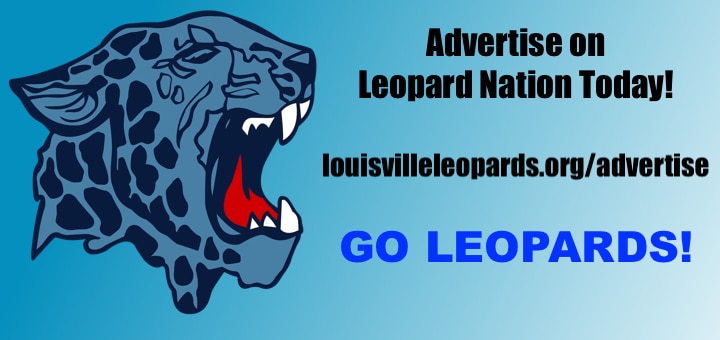 Don't forget to Subscribe to Our Posts for Free