Leopards Bounce Back with Win Over Magics – Boys Tennis
Louisville 4, Barberton 1
<<< Previous At Dover | Boys Tennis Schedule | Next Vs. Claymont >>>
The Louisville Leopards Boys Tennis Team earned a 4-1 road win against the host Barberton Magics Tuesday at the Barberton High School Tennis Courts. With the victory, Louisville is now 2-1 on the young season.
The Leopards duo of Garrett Holleran and Logan Demos recorded a double bagel 6-0, 6-0 in #1 doubles. Gabe Stoffer and Chase Duskey both won their singles matches in straight sets.
The #2 doubles team of Isaiah Gray and Brenden Eyler also claimed victory by default for LHS in #2 doubles.
Barberton's lone victory came in #1 singles. Drew Stefan defeated Austin Beck 6-0, 6-3 to breakup the shutout.
The Leopards are now 2-0 against the Magics all-time. Louisville edged Barberton at home last year 3-2 in their only other meeting.
<<< Previous 2022 | Barberton All-Time Series
---
---
Louisville at Barberton Boys Tennis Box Score
LEOPARDS 4, MAGICS 1
Singles
#1 Drew Stefan (B) d Austin Beck (L) 6-0,6-3
#2 Gabe Stoffer (L) d Ryan Owen (B) 6-2,6-3
#3 Chase Duskey (L) d Gontzal DeMoral (B) 6-1,6-4
Doubles
#1 Garett Holleran & Logan Demos (L) d Todd Terwilliger & Ryan Pletcher (B) 6-0,6-0
#2 Isaiah Gray & Brenden Eyler 11 (L) d default
UP NEXT:The Louisville Boys Tennis Team will next host the Claymont Mustangs in their home opener on Wednesday, March 29 at 4:30 PM.
Cover Photo By The Louisville Herald
---
Donate to Leopard Nation
---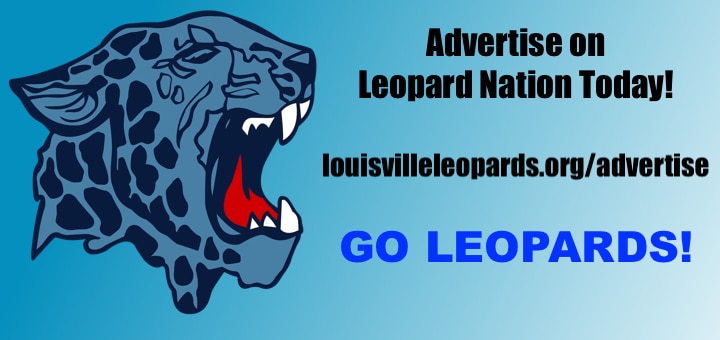 Don't forget to Subscribe to Our Posts for Free