Leopards Tame Lions in Double Overtime Thriller – Football

Louisville 24, NDCL 17, 2OT
<<< Previous At GlenOak | Football Schedule | Next Vs. Linsly >>>
The Louisville Leopards Football Team won a double overtime thriller 24-17 over the visiting Notre Dame-Cathedral Latin Lions Friday Night at Louisville Leopards Stadium. With the victory, Louisville improves to 3-6 on the season.
Game Stats | Scoring Summary | Team Stats | Individual Stats
---
Mueller Scores Two-Game Tying Touchdowns
Senior wide receiver Chase Mueller finished with three catches for 90 yards and caught two clutch touchdown receptions from senior quarterback Charlie Roberts during the Leopards comeback victory. Roberts went over the top to Mueller for a 65 yard touchdown connection to tie the game at 10-10 with 2:38 to play in the fourth quarter. Later in overtime, Roberts rolled to his left and threw a 5 yard touchdown pass to Mueller in the endzone to knot the game at 17-17 and force double overtime.
The Leopards were pushed back to the 30 after a holding penalty on their first play of scrimmage in double overtime. But Roberts and Mueller hooked up again for a 20 yard pass completion on the next play to set Louisville up 1st-and-goal at the 10 and poised to take their first lead of the contest.
---
Ramsey Scores Go Ahead TD in Double OT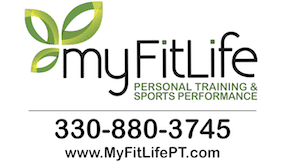 After an incompletion, Roberts fired a pass to junior wide receiver Braiden Hershey in the center of the field just in front of the goal line for a nine yard completion. Roberts would finish 13 of 26 passing for 155 yards on the evening.
On third-and-goal junior runningback Will Ramsey scored from a yard out to put the Leopards in front 24-17. Ramsey would finish as Louisville's leading rusher with 10 carries for 31 yards.
---
Leopards Defense Secures 1st Home OT Win Since 1996
The Lions turned to senior runningback Burke Buell on their first three offensive plays of double overtime. Buell burst ahead for six yards on the first play and netted two yards on the next play to setup 3rd-and-2.
The Leopard defense slammed the door shut on third down. Buell took a pitch to the left and was immediately met with contact by senior linebacker Jacob Davide. Ramsey came bursting in to make a hard tackle soon after dropping Buell for a one yard loss to setup a do-or-die 4th-and-3 scenario.
After an NDCL timeout, Lions sophomore quarterback Ryan Lipowski faked a handoff to Buell and threw a pass to the left targeting senior tight end Ryan Callahan who was wide open for the first down. The pass sailed on Lipowski and fell incomplete securing the the Leopards first home overtime win in 26 years.
---
First Overtime Game in Louisville Since 2007
Friday marked the first time Louisville played past regulation at home since they fell to Canton South 27-21 in overtime on September 29, 2006. The Leopards last home overtime victory came in a 38-32 home opener win against Kent Roosevelt on September 6, 1996.
Louisville is now 9-3 in games that go beyond regulation since overtime was instated in 1985. This includes a 3-2 record at home with this being the first varsity overtime game ever being played at the new Louisville Leopards Stadium.
The Leopards have now gone to double overtime four times in their history and have won all four matchups. All three previously double overtime matchups came on the road for LHS. Louisville most recently won at Cardinal Mooney 20-14 in double overtime back on October 11, 2019. The Leopards have only gone to triple overtime once when they defeated Alliance 13-10 in their first ever overtime game back on September 13, 1985.
---
Spetic Hits Stadium Record 50 Yard Field Goal
Senior placekicker Gianni Spetic accounted for the only points of the first half and set a stadium record in the process. Spetic hit a 49 yard field goal with 9:26 remaining in the second quarter to give the Lions the first advantage of the contest. The 49 yard field goal is the longest made field goal attempt at Louisville Leopards Stadium and the longest known field goal made against Louisville in its history.
Spetic attempted a 57 yard field goal on Notre Dame-Catherdal Latin's opening drive that fell just short of the mark. The 57 yard attempt is the longest known field goal attempt ever tried against the Leopards.
Spetic would also come up short on a 55 yard game-winning attempt with two seconds remaining in the fourth quarter. The Leopards ran one more offensive play in regulation after that and then the game proceeded into overtime.
---
Duskey Hits Game-Tying Field Goal
Louisville struggled to move the ball on offense in the first half. The Leopards ran 22 first half plays and netted just 12 yards of offensive. Louisville only entered NDCL territory one time and that was only because of senior defensive lineman Connor Morley's strip sack fumble that was recovered by Ramsey at the Lion 45 yard line.
The Leopards endured much better success moving the ball on offense in the second half. Their first drive of the second half stalled around midfield after they failed to convert a 4th-and-2.
The Louisville defenses forced a three-and-out and the Leopards began their next drive at their own 21 yard line. LHS marched 80 yards on eight plays and entered the red zone for the first time all night. A 15 yard personal foul penalty against NDCL, a 17 yard run by Ramsey, and a 33 yard pass from Roberts to Davide were all key first down plays on their longest drive of the night.
A second down sack put the Leopards back outside the red zone, but Roberts followed that with an eight yard run on 3rd-and-19 to shorten the distance for a field goal attempt. Junior placekicker Carter Duskey booted home a 31 yard field goal to tie the game at 3-3 with 2:01 remaining in the third quarter.
Duskey has attended to kickoff duties all year, but this was his first placekick attempt from scrimmage. He would also convert all three of his extra point after touchdown attempts to finish with six points total on the night.
---
Hawk Records Key Fumble Recovery
The Louisville defense forced a three-an-out after Duskey's field goal knotted the game at 3-3. However, the Leopards muffed the ensuing punt and junior Caleb Cirino fell on it for the Lions at the LHS 33 yard line. Louisville not only gave away a possession, but also 37 yards of field position, which was significant considering Spetic's field goal range.
However, the Leopards caught a break two plays later when NDCL fumbled on a handoff exchange and junior linebacker Brady Hawk pounced on the ball at the LHS 35. Louisville would give the ball back two plays later when Lions senior defensive back John Paul Nowak stepped in front of a deep pass for an interception. NDCL had possession again, but the pass was long enough to put the Lions back on their own side of the field at the 38. Hawk's fumble likely saved a field goal attempt that could have given NDCL the lead.
---
Buell Runs for 126 Yards and 2 TDs
Buell led the Notre Dame-Cathedral Latin offense with 34 carries for 126 yard and two touchdowns. Buell scored on a four yard touchdown run with 5:26 remaining in the fourth quarter to give the Lions a 10-3 advantage.
Later in overtime, Buell sprung his longest run of the night from 20 yards out to give the Lions their final lead of the game at 17-10.
NDCL out-rushed Louisville 161-62 on the ground for the game. However, the Leopards out-passed the Lions through the air 155-42 and held a 217-203 edge in total offensive yards as a result.
---
Louisville Evens Series With NDCL
Louisville avenged its 2020 playoff loss to Notre Dame-Cathedral Latin with their comeback victory Friday Night. The Leopards previously lost to the Lions 14-7 at home in the opening round of the playoffs on October 9, 2020 in their only other meeting.
Louisville is now 1-1 against NDCL all-time.
<<< Previous 2020 | NDCL All-Time Series
UP NEXT: The Leopards will next host the Lindsay Cadets in their season finale on Friday, October 21. Game time is set for 7:00 PM from Louisville Leopards Stadium.
---
Louisville Opponent Results Week 8
Friday, October 14
Jefferson Area 27, @Poland Seminary 13
@Northwest 35, Manchester 16
@North Canton Hoover 50, Green 20
Lake 35, @Perry 7
Canton McKinley 40, @GlenOak 7
@Linsly (WV) 21, Dover 20
Saturday, October 15
Steubenville at Cardinal Mooney
---
24-17 Louisville Football Scorigami
Scorigami! The 24-17 score shockingly has never occurred before in Louisville Football History during a win or a loss.
---
Donate to Leopard Nation
---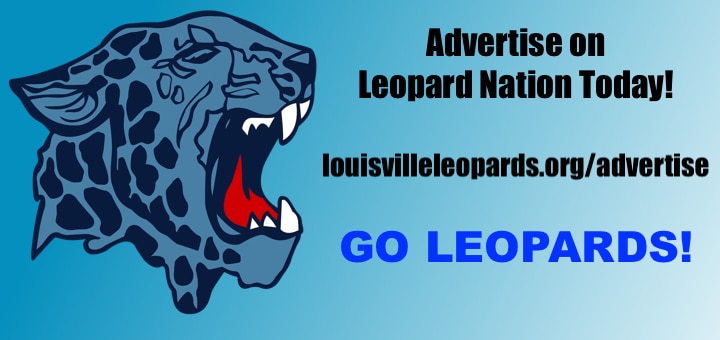 ---
NDCL at Louisville Football Game Statistics
Scoring Summary
LEOPARDS 24, LIONS 17, 2OT
Team 1-2-3-4-OT-2OT–TOTAL
NDCL 0-3-0-7-7-0–17
Louisville 0-0-3-7-7-7–24
1st Quarter
NO SCORING
2nd Quarter
NDCL – Gianni Spetic 49 Yard Field Goal | LHS 0, NDCL 3, 9:26
10 Plays, 65 Yards, 4:51
3rd Quarter
LOUISVILLE – Carter Duskey 31 Yard Field Goal | LHS 3, NDCL 3, 2:01
8 Plays, 80 Yards, 2:35
4th Quarter
NDCL – Burke Buell 4 Yard Run (Gianni Spetic Kick) | LHS 3, NDCL 10, 5:42
7 Plays, 41 Yards, 2:25
LOUISVILLE – Chase Mueller 65 Yard Pass from Charlie Roberts (Carter Duskey Kick) | LHS 10, NDCL 10, 2:38
2 Plays, 65 Yards, 0:14
1st Overtime
NDCL – Burke Buell 20 Yard Run (Gianni Spetic) | LHS 10, NDCL 17
2 Plays, 20 Yards
LOUISVILLE – Chase Mueller 5 Yard Pass from Charlie Roberts (Carter Duskey Kick) | LHS 17, NDCL 17
8 Plays, 20 Yards
2nd Overtime
LOUISVILLE – Will Ramsey 1 Yard Run (Carter Duskey Kick) | LHS 24, NDCL 17
5 Plays, 20 Yards
Records: Louisville 3-6, Notre Dame-Cathedral Latin 2-7
---
Team Stats
First Downs
Louisville: 11 (6 Rushing, 3 Passing, 2 Penalty)
NDCL: 15 (10 Rushing, 2 Passing, 3 Penalty)
Total Offense
Louisville: 65 Plays, 217 Yards (3.3 Average)
NDCL: 68 Plays, 203 Yards (3.0 Average)
Rushing
Louisville: 39 Carries, 62 Yards, Touchdown
NDCL: 49 Carries, 161 Yards, 2 Touchdowns
Passing
Louisville: 13 of 26 for 155 Yards, 2 Touchdowns, 1 Interception
NDCL: 8 of 19 for 42 Yards
Fumbles/Lost
Louisville: 1/1
NDCL: 3/2
Penalties/Yards
Louisville: 5 for 45 Yards
NDCL: 7 for 70 Yards
3rd Down Conversions
Louisville: 3 for 12 (25%)
NDCL: 2 for 14 (14%)
4th Down Conversions
Louisville: 1 for 3 (33%)
NDCL: 0 for 1 (0%)
Punt Yards
Louisville: 6 Punts, 196 Yards, 51 Long (32.7 Average)
NDCL: 7 Punts, 216 Yards, 41 Long (30.9 Average)
Kick Return Yards
Louisville: 1 Return, 28 Yards
NDCL: 3 Returns, 61 Yards, 26 Long (20.3 Average)
Punt Return Yards
Louisville: 2 Returns, 0 Yards (0.0 Average)
NDCL: 5 Returns, 0 Yards (0.0 Average)
Field Goal Attempts
Louisville: 1 for 1 (100%) | Made 31
NDCL: 1 for 3 (33%) | Missed 57, Made 49, Missed 55
---
Individual Stats
Rushing
Louisville
Will Ramsey 10 Carries, 31 Yards, Touchdown
Andrew Essik 8 Carries, 22 Yards
Jacob Davide 2 Carries, 6 Yards
Braiden Hershey 1 Carry, 5 Yards
Charlie Roberts 17 Carries, -1 Yard
Chase Mueller 1 Carry, -1 Yard
NDCL
Burke Buell 34 Carries, 126 Yards, 2 Touchdowns
Ryan Lipowski 15 Carries, 35 Yards
Passing
Louisville
Charlie Roberts 13 of 25 for 155 Yards, 2 Touchdowns, 1 Interception
Daveion Cruse 0 of 1
NDCL
Ryan Lipowski 8 of 18 for 42 Yards
Nicholas Dietrich 0 of 1
Receiving
Louisville
Chase Mueller 3 Catches, 90 Yards, 2 Touchdowns
Jacob Davide 2 Catches, 37 Yards
Brandon Jackson 4 Catches, 10 Yards
Connor Morley 1 Catch, 10 Yards
Braiden Hershey 2 Catches, 9 Yards
Daveion Cruse 1 Catch, -1 Yard
NDCL
Hayden Dixon 3 Catches, 21 Yards
Burke Buell 3 Catches, 11 Yards
Ryan Callahan 1 Catch, 9 Yards
Nicholas Miller 1 Catch, 1 Yard
Kick Returns
Louisville
Brandon Jackson 1 Return, 28 Yards
NDCL
Griffin Moskal 3 Returns, 61 Yards, 26 Long (20.3 Average)
Punt Returns
Louisville
Chase Mueller 1 Return, 1 Yard, 1 Fumble Lost
Brandon Jackson 1 Return, -1 Yard
NDCL
Griffin Moskal 5 Returns, 0 Yards (0.0 Average)
Punts
Louisville
Carter Duskey 6 Punts, 196 Yards, 51 Long (32.7 Average)
NDCL
Gianni Spetic 7 Punts, 216 Yards, 41 Long (30.9 Average)
Takeaways
Louisville
Connor Morley Forced Fumble
Will Ramsey Fumble Recovery
Brady Hawk Fumble Recovery
NDCL
Caleb Cirino Fumble Recovery
John Paul Nowak Interception