Louisville Falls at GlenOak 48-13 – Varsity Football

GlenOak 48, Louisville 13
<<< Previous Vs. Green | Football Schedule | Next Vs. NDCL >>>
The Louisville Leopards Football Team fell to the host GlenOak Golden Eagles 48-13 Friday Night at Bob Commings Field. With the loss, Louisville falls to 2-6 on the season.
Game Stats | Scoring Summary | Team Stats | Individual Stats
---
Roberts and Hershey Connect for 87 Yard Touchdown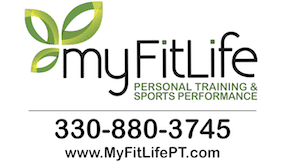 Senior quarterback Charlie Roberts finished with 201 total yards of offense to lead the Leopards. Roberts ran the ball 20 times for 78 yards and scored a 3 yard touchdown on Louisville's opening drive of the game. He also finished 7 of 14 passing for 123 yards and threw an 87 yard touchdown pass to junior wide receiver Braiden Hershey late in the third quarter.
Senior runingback Andrew Essik also carried the ball 8 times for 37 yards and senior wide receiver Chase Mueller made 3 catches for 32 yards.
---
GlenOak Racks Up 437 Yards and 5 TDs on the Ground
GlenOak amassed 437 yards on 37 rushing attempts and scored five touchdowns on the ground. Junior tailback Avantae Burt finished with 20 carries for 247 yards and 2 touchdowns to lead the Golden Eagles. Burt scored on a 1 yard rush in the third quarter and then broke loose for a 59 yard touchdown run in the fourth quarter. Burt made 3 catches for 32 yards in the passing game. Sophomore tailback Jamar Johnson also had 5 carries for 104 yards and scored a pair of touchdowns.
Sophomore quarterback Adrion Burt ran the ball 11 times for 80 yards. He scored on a 9 yard touchdown scamper to give GlenOak its first lead at 14-7 with 55 seconds to go before halftime. Minutes earlier, Burt threw a 41 yard touchdown pass over the top to wide open sophomore wide receiver Xavier Harris to knot the game at 7-7 Burt would finish 5 of 10 passing through the air for 89 yards. Harris had one other catch to finish as the Eagles top receiver with 57 receiving yards.
GlenOak's only other score came on the defensive side of the ball. Sophomore defensive back Robert Brown picked off a pass in the middle of the field and returned it 46 yards to the house to put the Golden Eagles in front 41-13 with 7:03 left in the contest.
---
Louisville Vs. GlenOak Football Series History
The Leopards have now fallen to the Golden Eagles in eight of their last nine meetings overall dating back to 1984. Louisville is now 7-11 against GlenOak all-time, which includes a 3-6 record when playing on the road in the series.
The 61 points is the highest combined score of any matchup in this series. The 48 points is also the most scored by any single team in the series.
The Leopards finish the season 1-4 against Federal League opponents and have now dropped their last six road games against Federal League foes. Louisville's last road victory against a Federal League school was a 17-14 win at GlenOak in 2020.
<<< Previous 2021 | GlenOak All-Time Series
UP NEXT: The Leopards will next host the Notre Dame-Cathedral Latin Lions on Friday, October 14. Game time is set for 7:00 PM from Louisville Leopards Stadium. Freshman and JV will travel to take on the Notre Dame-Cathedral Latin at Lozick Field in Chardon. `Freshman will play on Thursday, October 13 at 5:00 PM and JV will take on NDCL on Saturday, October 15 at 10:00 AM.
---
Louisville Opponent Results Week 7
@Steubenville 32, Taylor Allderdice (PA) 6
Poland Seminary 9, @Lakeview 0
Northwest 28, @Triway 7
Lake 35, @North Canton Hoover 15
@Green 38, Perry 35
@Padua Franciscan 21, Notre Dame-Cathedral Latin 14
No Game this Week: Linsly (WV)
---
48-13 Louisville Football Scorigami
No Scorigami! The 48-13 score has occurred one time previously in Louisville Football History. The Leopards defeated the Dublin Jerome Celtics 48-13 in the DII, Region 7 Quarterfinals on November 4, 2005.
---
Donate to Leopard Nation
---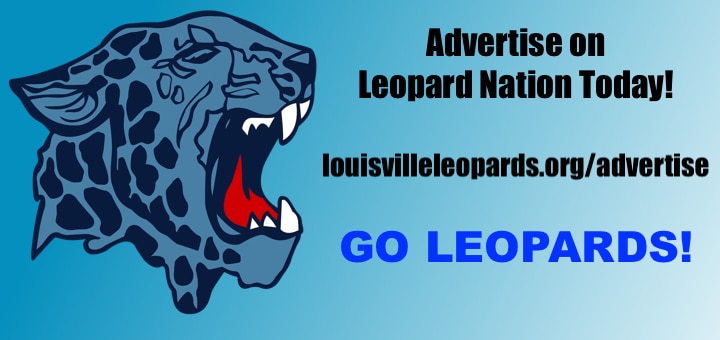 ---
Louisville at GlenOak Football Game Statistics
Scoring Summary
GOLDEN EAGLES 48, LEOPARDS 13
Team 1-2-3-4–TOTAL
Louisville 7-0-6-0–13
GlenOak 0-14-14-20–48
1st Quarter
LOUISVILLE – Charlie Roberts 3 Yard Run (Seth Colley Kick) | LHS 7, GHS 0, 7:49
10 Plays, 56 Yards, 4:02
2nd Quarter
GLENOAK – Xavier Harris 41 Yard Pass from Adrion Burt (Luc Thompson) | LHS 7, GHS 7, 4:53
6 Plays, 91 Yards, 2:11
GLENOAK – Adrion Burt 9 Yard Run (Luc Thompson Kick) | LHS 7, GHS 14, 0:55
5 Plays, 44 Yards, 1:51
3rd Quarter
GLENOAK – Avantae Burt 1 Yard Run (Luc Thompson Kick) | LHS 7, GHS 21, 6:56
4 Plays, 75 Yards, 1:24
GLENOAK – Jamar Johnson 5 Yard Run (Luc Thompson Kick) | LHS 7, GHS 28, 1:21
7 Plays, 83 Yards, 2:27
LOUISVILLE – Braiden Hershey 87 Yard Pass from Charlie Roberts (Kick Failed) | LHS 13, GHS 28, 0:23
3 Plays, 89 Yards, 0:51
4th Quarter
GLENOAK – Avantae Burt 59 Yard Run (Luc Thompson Kick) | LHS 13, GHS 35, 11:24
3 Plays, 70 Yards, 9:50
GLENOAK – Robert Brown 46 Yard Interception Return (Kick Failed) | LHS 13, GHS 41, 7:03
GLENOAK – Jamar Johnson 7 Yard Run (Luc Thompson Kick) | LHS 13, GHS 48, 4:02
2 Plays, 75 Yards, 0:29
Records: GlenOak 3-5, Louisville 2-6
---
Team Stats
First Downs
Louisville: 15 (12 Rushing, 3 Passing)
GlenOak: 17 (14 Rushing, 3 Passing)
Total Offense
Louisville: 63 Plays, 319 Yards (5.1 Average)
GlenOak: 47 Plays, 526 Yards (11.2 Average)
Rushing
Louisville: 46 Carries, 181 Yards, 1 Touchdown
GlenOak: 37 Carries, 437 Yards, 5 Touchdowns
Passing
Louisville: 8 of 17 for 138 Yards, 1 Touchdown, 1 Interception
GlenOak: 5 of 10 for 89 Yards, 1 Touchdown
Fumbles/Lost
Louisville: 0/0
GlenOak: 0/0
Penalties/Yards
Louisville: 6 for 50 Yards
GlenOak: 10 for 100 Yards
3rd Down Conversions
Louisville: 3 for 11 (27%)
GlenOak: 0 for 4 (0%)
4th Down Conversions
Louisville: 1 for 3 (33%)
GlenOak: 0 for 0
Punt Yards
Louisville: 5 Punts, 133 Yards (26.6 Average)
GlenOak: 4 Punts, 135 Yards (33.8 Average)
Kick Return Yards
Louisville: 7 Returns, 100 Yards (14.3 Average)
GlenOak: 3 Returns, 39 Yards (13.0 Average)
Punt Return Yards
Louisville: None
GlenOak: 2 Returns, 5 Yards (2.5 Average)
Field Goal Attempts
Louisville: None
GlenOak: None
---
Individual Stats
Rushing
Louisville
Charlie Roberts 20 Carries, 78 Yards, Touchdown
Andrew Essik 8 Carries, 37 Yards
Jacob Davide 4 Carries, 25 Yards
Will Ramsey 7 Carries, 24 Yards
Cooper Rice 3 Carries, 16 Yards
Tate Golden 1 Carry, 9 Yards
Chase Mueller 1 Carry, 0 Yards
Daveion Cruse 1 Carry, -3 Yards
Braiden Hershey 1 Carry, -5 Yards

GlenOak
Avantae Burt 20 Carries, 247 Yards, 2 Touchdowns
Jamar Johnson 5 Carries, 104 Yards, 2 Touchdowns
Adrion Burt 11 Carries, 80 Yards, Touchdown
Xavier Harris 1 Carry, 6 Yards
Passing
Louisville
Charlie Roberts 7 of 14 for 123 Yards, Touchdown, Interception
Cooper Rice 1 of 3 for 15 Yards
GlenOak
Adrion Burt 5 of 10 for 89 Yards, Touchdown
Receiving
Louisville
Braiden Hershey 1 Catch, 87 Yards, Touchdown
Chase Mueller 3 Catches, 32 Yards
Tyler Paumier 1 Catch, 15 Yards
Tate Golden 1 Catch, 6 Yards
Brandon Jackson 1 Catch, 4 Yards
Carter Deem 1 Catch, -6 Yards
GlenOak
Xavier Harris 2 Catches, 57 Yards, Touchdown
Avantae Burt 3 Catches, 32 Yards
Kick Returns
Louisville
Chase Mueller 4 Returns, 58 Yards, 23 Long (14.5 Average)
Brandon Jackson 1 Return, 31 Yards
Connor Morley 1 Return, 6 Yards
Tate Golden 1 Return, 5 Yards
GlenOak
Xavier Harris 2 Returns, 22 Yards, 15 Long (11.0 Average)
Avantae Burt 1 Return, 17 Yards
Punt Returns
Louisville
None
GlenOak
Hunter Kurylo 2 Returns, 5 Yards, 6 Long (2.5 Average)
Punts
Louisville
Carter Duskey 5 Punts, 133 Yards, 36 Long (26.6 Average)
GlenOak
Aiden Whaley 4 Punts, 135 Yards, 39 Long (33.8 Average)