Lady Leps Roll Out of the Gate, Down Dukes 50-36 – Girls Basketball
Louisville 50, Marlington 36
The Louisville Leopards Girls Varsity Basketball Team earned a 50-36 home victory against the visiting Marlington Dukes Wednesday Night at Louisville High School. With the win, Louisville has now won 8 of their last 10 to improve to 11-5 on the season.
Paige Cole finished with game-highs of 21 points and 7 rebounds to lead the Leopards. Kendal Loy also surpassed double figures with 11 and Kelsey Adelman added 7 for Louisville.
---
Donate to Leopard Nation
---
The Lady Leopards blasted out of the gate in taking a commanding 24-10 advantage and never looked back. They extended their lead to 35-16 by halftime before the Lady Dukes rallied to cut the deficit to 41-33 at the end of the third. Louisville's defense put the clamps down in the fourth quarter in outscoring Marlington 9-3 to clinch the victory.
The Dukes (12-4) were led by Mary Mason who scored a team-high 14 points. Leah Springer also scored 7 points and led Marlington in rebounds with 5. Nia Lambdin tacked on 5 points for MHS as well.
Louisville owned the boards for the game 29-12. The Leopards also out-shot the Dukes 53% (21 of 40) to 31% (13 of 42) from the field.
With the victory, Louisville has now won 10 of their last 12 meetings against Marlington including the last 3 overall. The Lady Leopards now lead the all-time series 69-19 which includes a 33-11 mark in games played at LHS.
JV: Marlington Won
UP NEXT: The Lady Leopards will next host the Cardinal Mooney Cardinals on Wednesday, January 29. JV will tip at 6:00 PM and Varsity will follow around 7:30 PM.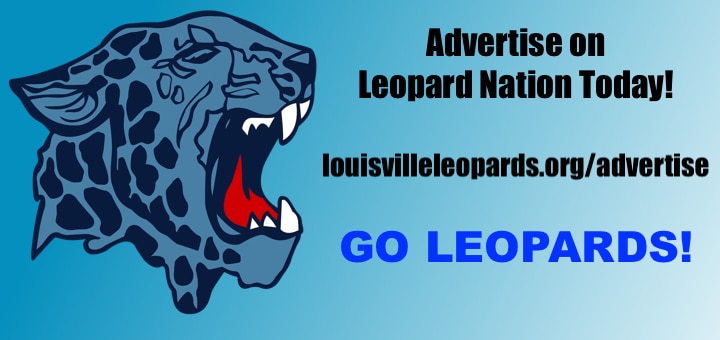 Varsity Statistics
LEOPARDS 50, DUKES 36
Team 1-2-3-4–TOTAL
Marlington 10-6-17-3–36
Louisville 24-11-6-9–50
DUKES: Mason 5 1 14, Springer 2 1 7, Lambdin 2 0 5, Miller 2 0 4, Lacher 1 1 3, Warner 1 0 3. TOTAL 13 3-6 36.
3-Pointers (7): Mason 3, Springer 2, Lambdin, Warner
Team FT: 3-6 50%
LEOPARDS: Cole 9 1 21, Loy 5 1 11, Adelman 3 0 7, Gibson 3 0 6, Mullett 1 1 3, Bast 0 1 1, Dyer 0 1 1. TOTAL 21 5 50
3-Pointers (3): Cole 2, Adelman
Team FT: 5-12 42%
Fouls: 13-8 Marlington
Rebounds: Louisville 29 (Cole 7), Marlington 12 (Springer 5)
Records: Louisville 11-5, Marlington 12-4