Louisville Avenges Senior Night Loss in Sweep at Claymont – Volleyball

Louisville 25-25-25, Claymont 21-14-19
<<< Previous Vs. Smithville | Volleyball Schedule | Next Vs. Alliance >>>
The Louisville Leopards Varsity Volleyball Team swept the host Claymont Mustangs 25-21, 25-14, 25-19 Monday Night at Claymont High School. With the victory, Louisville improves to 4-17 on the season.
---
Leopards Stat Leaders Vs. Mustangs
Leopard junior defensive specialist Kiersten Kendall was the leading server for the match with 11 service points and 3 aces. Junior setter Addison Burick finished with a team high 29 assists and junior outside hitter Brooke Haren finished with a team leading 11 kills.
Sophomore defensive specialist Nicole Lanham led the Louisville defense with a match high 10 digs.
---
---
Louisville Spoils Claymont's Senior Night
Claymont was led by Hannah Wallace and Kailey Watkins. Wallace finished with 8 points, 2 aces, and 10 digs. Watkins had 7 points, 1 ace, and 9 digs.
The Lady Leopards are now 5-1 against the Lady Mustangs since their first known meeting in 2010. Louisville also holds a 2-0 record in matches played at Claymont in the series.
The Lady Leopards were swept by the visiting Lady Mustangs 25-19, 25-15, 25-16 for Louisville's 2021 Senior Night match. The Lady Leopards returned the favor on Monday by sweeping Claymont in three sets on the Mustangs' senior night.
JV: Claymont 2, Louisville 1
Freshman: Claymont 2, Louisville 1
UP NEXT: The Lady Leopards will next host the Alliance Aviators for Senior Night on Wednesday, October 12. JV will begin at 5:00 PM and Varsity will follow around 6:00 PM from Louisville High School.
---
Donate to Leopard Nation
---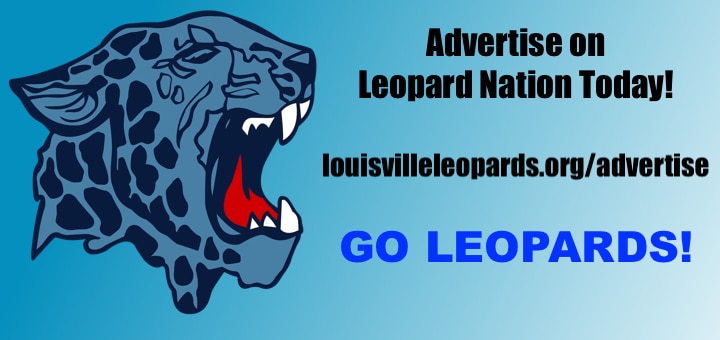 Don't forget to Subscribe to Our Posts for Free