Leopards Fall Just Short Against Undefeated Wooster 12-7 – Varsity Football

Wooster 12, Louisville 7
<<< Previous At Canton Central Catholic | Football Schedule | Next Vs. NDCL >>>
The Louisville Leopards Varsity Football Team fell to the visiting Wooster Generals 12-7 Friday Night at Louisville Leopards Stadium. With the loss, Louisville is now 2-4 on the season.
Senior quarterback Tyler Jackson was 14 of 27 for 184 yards passing and connected on a 13 yard touchdown pass to junior wide receiver Zack Seaman with 4:46 to go in the first half. That score gave the Leopards a 7-0 lead that they would take into the half.
Junior wide receiver AJ Lingenhoel would finish as Louisville's top receiver with 3 catches for 65 yards. Seaman also made 3 catches for 55 yards and Dan Kennedy pulled in 5 receptions for 33 yards.
The Generals scored 12 unanswered points in the third quarter. Junior wide receiver Zachary Harpster scored on a 19 yard touchdown run with 6:58 to go to tie the game at 7-7. After three-and-outs by both teams, Wooster junior punter Andrew Rader pinned Louisville at their own 1 yard line.
After a penalty, seniors James Lyons and Luke Stokes stormed into the backfield on the next play for a Wooster safety. That gave the Generals their first lead of the night at 9-7.
Using their ground attack, Wooster pounded their way to the 2 yard line on a 10 play, 40 yard drive following the safety punt. The Leopards defense stiffened and Rader booted through a 20 yard field goal to put Wooster in front 12-7 with 38 seconds left in the third quarter.
The Generals defense shutout the Leopards the rest of the way to complete a perfect 6-0 pre-postseason. Late in the game Wooster had a 1st-and-goal on the 3 yard line, but Louisville's defense made a goal line stand and held them at the 1 yard line on 4th-and-goal.
Lingenhoel then pulled down a 36 yard completion over the head of two General defenders on 3rd-and-8 for a 36 yard completion to the Leopards 39. However, Louisville's dream drive would stall four plays later when a 4th-and-4 fell incomplete.
MORE TO COME..
<<< Previous 1989 | Wooster All-Time Series
UP NEXT: The Leopards will next host the Notre Dame-Cathedral Latin Lions on Friday, October 9 in the opening round of the DIII, Region 9 playoffs. Game time is set for 7:00 PM from Louisville Leopards Stadium. Freshman Football will also host the Lake Blue Streaks on Thursday, October 8 at 5:00 PM.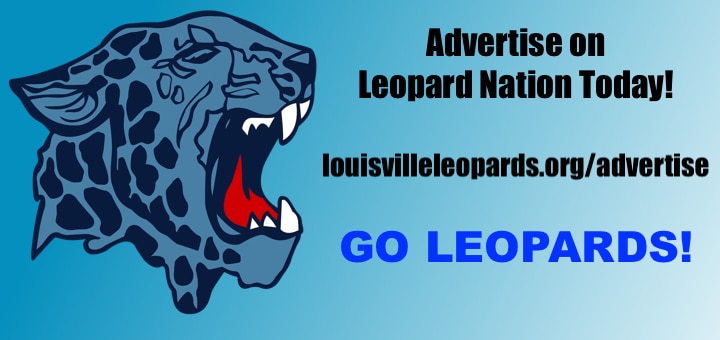 Game Statistics
Scoring Summary
GENERALS 12, LEOPARDS 7
Team 1-2-3-4–TOTAL
Wooster 0-0-12-0–12
Louisville 0-7-0-0–07
1st Qtr:
None
2nd Qtr:
L – 4:46 – Zack Seaman 13 yd pass from Tyler Jackson
Myles Lab PAT
11 plays 64 yds
3rd Qtr:
W – 6:58 – Zachary Harpster 19 yd run
Andrew Rader PAT
12 plays 58 yds
W – 3:55 – Safety Jackson tackled in end zone
W – 0:38 – Andrew Rader 20 yd Field Goal
10 plays 40 yds
4th Qtr:
None
Records: Wooster 6-0, Louisville 2-4
Team Stats
Team Stats:
First Downs:
Wooster: 13
Louisville: 11
Rushing:
Wooster: 37 / 116 / 1 TD
Louisville: 29 / 45
Passing:
Wooster: 12 / 26 / 0 100 yds 0 TD's 0 INT's
Louisville: 14 / 27 / 1 184 yds 1 TD 1 INT
Fumbles/Lost:
Wooster: 0 / 0
Louisville: 1 / 0
Penalties:
Wooster: 3 / 15
Louisville: 3 / 30
3rd Down Conversions:
Wooster: 6 / 15
Louisville: 3 / 12
4th Down Conversions:
Wooster: 2 / 3
Louisville: 3 / 4
Individual Stats
Rushing:
Wooster: Joseph Lyons: 19 / 72
Zachary Harpster: 3 / 27 1 TD
Aeden Chavez: 4 / 10
Owen Roach: 9 / 6
Louisville: Creed Patterson: 11 / 27
Tyler Jackson: 12 / 14
Receiving:
Wooster: Dajon Brown: 5 / 23
Zachary Harpster: 3 / 45
Louisville: Daniel Kennedy: 5 / 33
AJ Lingenhoel: 3 / 65
Zack Seaman: 3 / 55 1 TD
Creed Patterson: 2 / 23
Broc Pickens: 1 / 8
Passing:
Wooster: Owen Roach: 12 / 26 / 0 100 yds 0 TD
Louisville: Tyler Jackson: 14 / 27 / 1 184 yds 1 TD