Lady Leopards Demolish St. Vincent-St. Mary 17-3 – Softball
Louisville 17, St. Vincent-St. Mary 3, 5 Innings
<<< Previous Vs. Claymont | Softball Schedule | Next Vs. GlenOak >>>
The Louisville Leopards Varsity Softball Team upended the visiting St. Vincent-St. Mary Fighting Irish 17-3 in a five inning run-rule victory Tuesday Evening at West Main Vet Clinic Field. With their third straight victory, Louisville improves to 8-11 on the season.
---
Benson and Collins Both Homer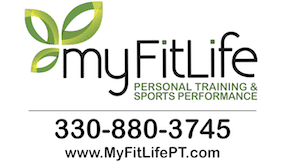 Senior first baseman Jenna Collins batted a perfect 3-for-3 and drove in four runs during the Lady Leopards nine-run second inning. Collins hit a three-run homer for Louisville's first runs of the second frame to put them ahead 8-1. After the Lady Leopards batted around, Collins drove in Louisville's ninth run of the inning on a two-out RBI single to left field to put LHS ahead 14-1.
Sophomore shortstop Matti Benson, who scored on both of Collins' RBI hits, also finished 2-for-3 at the dish with three RBIs and three runs scored. Benson gave the Leopards their first lead of the game with a two-run home run in the bottom of the first inning. Later in the second inning, Benson smashed a two-out RBI double to right field bringing home freshman left fielder Matti Adams from second.
Louisville has now slugged 26 homers as a team this year. Benson has now clubbed a team leading eight home runs this season and Collins has hit seven homers this year. This is also the third game this season in which both Benson and Collins have homered in the same game.
---
Haren & Mayle Finish with Three Hits Each
The Leopards out-hit the Fighting Irish 15-6 for the contest. Five different Louisville batters had multi-hit games including sophomore center fielder Brooke Haren and junior second baseman Shelby Mayle who recorded three hits each.
Haren finished 3-for-4 with two runs batted in and three runs scored. Haren doubled home senior catcher Brooke Brendle in the first inning and singled in Mayle in the second inning. Mayle also doubled for the Lady Leopards lone hit in the fourth inning.
Sophomore third baseman Kenzi Denzer went 2-for-3 with three runs batted in and two runs scored at the top of the lineup. Denzer doubled for Louisville's first hit of the game and then walked home on Benson's two-run blast. Denzer was hit by a pitch to begin the second inning and walked home again when Collins went yard. Denzer drove in senior courtesy runner Stevie Barrett later on in the second inning. In the third inning, Denzer cracked a two-run single that scored Haren and Adams to put LHS in command 17-3.
Brendle, junior pitcher Kendra Thomas, and freshman right fielder Olivia Mongiardo also recorded RBIs for the Leopards. Louisville scored all 17 runs through the first three innings of action including five in the opening inning and nine more in the second inning.
---
Thomas Notches Fifth Victory
Thomas threw four innings, gave up three runs on give hits, and struck out three en rout to her team leading fifth victory of the season in the circle.
Sophomore pitcher Katie Heath also worked a scoreless inning in relief. She struck out the final two batters she faced to close out the Lady Leopards run-rule victory.
---
Mays Leads St. Vincent-St. Mary
Centerfielder Kate Kujawski and first baseman Avarie Mays both batted 2-for-3 to lead the Lady Irish. Kujawksi scored the first run the game on a dropped third strike wild pitch. Later in the third, Mays hit a two-run single scoring right fielder Kylie Stewart and Kujawski to cut their deficit to 14-3.
Shortstop Jane Clark also recorded a double for St. Vincent-St. Mary.
This was the first ever meeting between the two schools in varsity softball. The Fighting Irish are the 73rd different opponent Louisville has played in their history.
Cover Photo By The Louisville Herald
UP NEXT: The Louisville Leopards Varsity Softball Team will next host the GlenOak Golden Eagles on Wednesday, May 4 at 5:00 PM.
---
Donate to Leopard Nation
---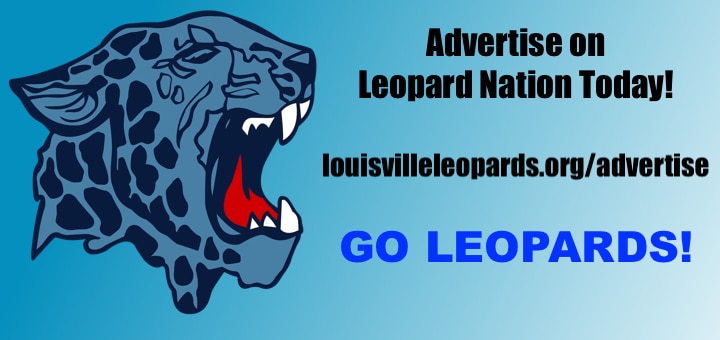 Don't forget to Subscribe to Our Posts for Free
---
VARSITY SOFTBALL BOX SCORE
LEOPARDS 17, FIGHTING IRISH 3, 5 INNINGS
Team 123-45–R-H-E
St. Vincent-St. Mary 102-00–3-6-2
Louisville 593-0X–17-15-1
SVSM FIGHTING IRISH SOFTBALL VARSITY BATTING STATS
| Lineup | AB | R | H | RBI | BB | SO |
| --- | --- | --- | --- | --- | --- | --- |
| Kate Kujawski | 3 | 2 | 2 | 0 | 0 | 0 |
| Sydney Shaker | 2 | 0 | 0 | 1 | 0 | 1 |
| –Kennedy Brophy | 0 | 0 | 0 | 0 | 0 | 0 |
| –Brena Campbell | 0 | 0 | 0 | 0 | 1 | 0 |
| Jane Clark | 3 | 0 | 1 | 0 | 0 | 0 |
| Avarie Mays | 3 | 0 | 2 | 2 | 0 | 0 |
| Nori Talley | 3 | 0 | 0 | 0 | 0 | 1 |
| Kaidyn Schrader | 3 | 0 | 0 | 0 | 0 | 2 |
| Kaitlin Shuber | 2 | 0 | 0 | 0 | 0 | 1 |
| Reagan Zajac | 2 | 0 | 0 | 0 | 0 | 0 |
| Kylie Stewart | 1 | 1 | 1 | 0 | 0 | 0 |
| Lola Hall | – | – | – | – | – | – |
| Totals | 22 | 3 | 6 | 3 | 1 | 5 |
SVSM FIGHTING IRISH SOFTBALL VARSITY PITCHING STATS
| Pitching | IP | #P | S% | H | R | ER | SO | BB | HR |
| --- | --- | --- | --- | --- | --- | --- | --- | --- | --- |
| Kaidyn Schrader | 1.0 | 29 | .690 | 7 | 8 | 7 | 1 | 0 | 2 |
| Nori Talley | 1.1 | 61 | .557 | 7 | 9 | 5 | 2 | 4 | 0 |
| Kaitlin Shuber | 1.2 | 14 | .786 | 1 | 0 | 0 | 1 | 0 | 0 |
| Totals | 4.0 | 104 | .625 | 15 | 17 | 12 | 4 | 4 | 2 |
LOUISVILLE LEOPARDS SOFTBALL VARSITY BATTING STATS
| Lineup | AB | R | H | RBI | BB | SO |
| --- | --- | --- | --- | --- | --- | --- |
| Kenzi Denzer | 3 | 2 | 2 | 3 | 0 | 0 |
| Matti Benson | 3 | 3 | 2 | 3 | 0 | 0 |
| Jenna Collins | 3 | 1 | 3 | 4 | 0 | 0 |
| –Riley Walters | 0 | 1 | 0 | 0 | 0 | 0 |
| –Chay Cline | 1 | 0 | 0 | 0 | 0 | 1 |
| Shelby Mayle | 4 | 1 | 3 | 0 | 0 | 0 |
| Brooke Brendle | 2 | 2 | 1 | 1 | 2 | 0 |
| Brooke Haren | 4 | 3 | 3 | 2 | 0 | 0 |
| Kendra Thomas | 1 | 0 | 0 | 1 | 0 | 0 |
| –Paige Folk | 1 | 1 | 0 | 0 | 0 | 1 |
| –Stevie Barrett | 1 | 1 | 0 | 0 | 0 | 0 |
| Matti Adams | 2 | 2 | 1 | 0 | 1 | 0 |
| Caitlin Thouvenin | 1 | 0 | 0 | 0 | 0 | 1 |
| –Olivia Mongiardo | 1 | 0 | 0 | 1 | 1 | 1 |
| Katie Heath | – | – | – | – | – | – |
| Totals | 27 | 17 | 15 | 15 | 4 | 4 |
LOUISVILLE LEOPARDS SOFTBALL VARSITY PITCHING STATS
| Pitching | IP | #P | S% | H | R | ER | SO | BB | HR |
| --- | --- | --- | --- | --- | --- | --- | --- | --- | --- |
| Kendra Thomas | 4.0 | 50 | .620 | 5 | 3 | 3 | 3 | 0 | 0 |
| Katie Heath | 1.0 | 23 | .565 | 1 | 0 | 0 | 2 | 1 | 0 |
| Totals | 5.0 | 73 | .603 | 6 | 3 | 3 | 5 | 1 | 0 |
Records: Louisville 8-11