Louisville Takes 6th at Shamrock Shootout – Boys Golf
Louisville 339 (6th Out of 11)
<<< Previous At Wooster | Boys Golf Schedule | Next Match At Dover >>>
The Louisville Leopards Boys Golf Team competed at the Shamrock Shootout tournament held at Alliance Country Club on Tuesday. Louisville shot 339 as a team to earn 6th place out of 11 competing teams.
---
---
Sophomore Jack Mayle shot a team low 81 to lead the Leopards finishing in 10th place individually. Mayle shot a team best 41 on the front nine before finishing even stronger with a team low 40 on the back nine. Junior Sam Karcher also shot 41 on the front nine before finishing with a 43 on the back nine. His 84 shot performance earned him 20th individually out of 58 competing golfers.
Rounding out the scoring for Louisville were sophomores Zach Root and Cole Miller who shot 85 and 89 respectively. Junior Caleb Harsh also carded a 98 as the only other Leopard participant.
---
Two Medalists Lead Hoban to Team Crown
The Archbishop Hoban Knights won the tournament by finishing with a team low score of 308 well ahead of the rest of the field. Hoban was led by medalists Braden Herstich and Charlie Hite who shot 5 over par 75. Blake Hood of Alliance matched their score forcing a three-way tie for first place individually.
Hite finished with a match low 35 on the back nine. Ryan Sam (Boardman), Bryce Daggett (Canfield A), Brock Jenkins (Massillon), and Paul Kropf (Walsh Jesuit) also carded a tournament leading 37 on the front nine as well.
The Canfield Cardinals A Team beat out the Boardman Spartans for second place by four strokes 328 vs. 332. The Walsh Jesuit Warriors and Massillon Tigers both shot 336 for the day, but the Warriors took fourth virtue of the Tigers not having a fifth man. The Leopards were next finishing sixth with 339, their second lowest 18-hole total for the year.
UP NEXT: The Leopards Varsity will next host the Cloverleaf Colts on Thursday, September 30. Tee-time is set for 3:45 PM from Sleepy Hollow Country Club. JV will next be in action at Dover on Wednesday, September 29 at 5:00 PM.
---
Shamrock Shootout Team Scores
| | | | | |
| --- | --- | --- | --- | --- |
| Place | Golfer | FRONT | BACK | TOTAL |
| 10 | Jack Mayle | 41 | 40 | 81 |
| 20 | Sam Karcher | 41 | 43 | 84 |
| 21 | Zach Root | 43 | 42 | 85 |
| 31 | Cole Miller | 45 | 44 | 89 |
| 48 | Caleb Harsh | 50 | 48 | 98 |
| | TOTAL | 170 | 169 | 339 |
---
Shamrock Shootout Team Scores
| | | |
| --- | --- | --- |
| Place | Team | Score |
| 1 | Archbishop Hoban Knights | 308 |
| 2 | Canfield Cardinals A | 328 |
| 3 | Boadman Spartans | 332 |
| 4 | Walsh Jesuit Warriors | 336 |
| 5 | Massillon Tigers | 336 |
| 6 | Louisville Leopards | 339 |
| 7 | GlenOak Golden Eagles | 345 |
| 8 | Canfield Cardinals B | 357 |
| 9 | Green Bulldogs | 365 |
| 10 | Carrollton Warriors | 388 |
| 11 | Canton McKinley Bulldogs | 486 |
---
Shamrock Shootout Individual Scores
| | | | | | |
| --- | --- | --- | --- | --- | --- |
| Place | Golfer | Team | FRONT | BACK | TOTAL |
| 1 | Blake Hood | Alliance | 39 | 36 | 75 |
| 1 | Braden Herstich | Hoban | 39 | 36 | 75 |
| 1 | Charlie Hite | Hoban | 40 | 35 | 75 |
| 4 | Ryan Sam | Boardman | 37 | 39 | 76 |
| 5 | Bryce Daggett | Canfield A | 37 | 40 | 77 |
| 6 | Brock Jenkins | Massillon | 37 | 41 | 78 |
| 6 | Anthony Gore | Hoban | 38 | 40 | 78 |
| 8 | Trey Lautenschleger | Massillon | 40 | 39 | 79 |
| 9 | Ray Dress | Hoban | 41 | 39 | 80 |
| 10 | Simon Kovass | Canfield A | 41 | 40 | 81 |
| 10 | Jack Mayle | Louisville | 41 | 40 | 81 |
| 10 | Mason Sieloff | GlenOak | 44 | 37 | 81 |
| 10 | Nate Smrek | Boardman | 41 | 40 | 81 |
| 10 | Dom Kapics | Austintown Fitch | 39 | 42 | 81 |
| 15 | Connor Daggett | Canfield A | 41 | 41 | 82 |
| 16 | Jack Mercer | Walsh | 43 | 39 | 82 |
| 17 | Trent Marsh | Massillon | 45 | 38 | 83 |
| 18 | Paul Kropf | Walsh | 37 | 46 | 83 |
| 18 | Anthony Grossi | Walsh | 39 | 44 | 83 |
| 20 | Sam Karcher | Louisville | 41 | 43 | 84 |
| 21 | Zach Root | Louisville | 43 | 42 | 85 |
| 21 | Gabe Ball | Canfield B | 42 | 43 | 85 |
| 23 | Luke Leskovac | Canfield B | 43 | 43 | 86 |
| 23 | David Deibel | Hoban | 44 | 42 | 86 |
| 23 | Colin Whitmer | GlenOak | 44 | 42 | 86 |
| 23 | Joey Worsencroft | Boardman | 40 | 46 | 86 |
| 23 | Adrian Puz | Austintown Fitch | 39 | 47 | 86 |
| 28 | Brando Papalia | Canfield A | 44 | 44 | 88 |
| 28 | Jacob Zahler | Walsh | 50 | 38 | 88 |
| 28 | Matt Caldwell | GlenOak | 49 | 39 | 88 |
| 31 | Cole Miller | Louisville | 45 | 44 | 89 |
| 31 | Luke Ryan | Boardman | 40 | 49 | 89 |
| 31 | Brady Trejbal | Green | 47 | 42 | 89 |
| 34 | Nolan Williard | Canfield A | 45 | 45 | 90 |
| 34 | Greyson Phister | GlenOak | 44 | 46 | 90 |
| 36 | Tony Russo | Canfield B | 45 | 46 | 91 |
| 36 | Andrew Arway | GlenOak | 49 | 42 | 91 |
| 36 | Cole Trejbal | Green | 43 | 48 | 91 |
| 36 | Evan Raymond | Green | 49 | 42 | 91 |
| 40 | Everett Brooks | Carrollton | 46 | 47 | 93 |
| 41 | Ty Young | Alliance | 41 | 53 | 94 |
| 41 | Cameron Hartzfeld | Walsh | 49 | 45 | 94 |
| 41 | Ryder Kreps | Boardman | 49 | 45 | 94 |
| 41 | Eric Lindsey | Green | 45 | 49 | 94 |
| 45 | Ray McCune | Canfield B | 45 | 50 | 95 |
| 46 | Robert Morgan | Massillon | 50 | 46 | 96 |
| 47 | Dylan Maple | Carrollton | 48 | 49 | 97 |
| 48 | Caleb Harsh | Louisville | 50 | 48 | 98 |
| 48 | Grant Price | Green | 49 | 49 | 98 |
| 50 | Bryce Taylor | Carrollton | 48 | 51 | 99 |
| 50 | Andrew Birong | Carrollton | 50 | 49 | 99 |
| 52 | Andrew Shockey | Carrollton | 49 | 51 | 100 |
| 53 | Tim Domer | Canfield B | 54 | 54 | 108 |
| 54 | Carter Demetro | McKinley | 56 | 59 | 115 |
| 55 | Tyler Hunt | McKinley | 63 | 59 | 122 |
| 56 | Luc Capobianco | McKinley | 64 | 59 | 123 |
| 57 | Luke Mullins | McKinley | 63 | 63 | 126 |
| 58 | Delaney Hoskins | McKinley | 60 | 68 | 128 |
---
Donate to Leopard Nation
---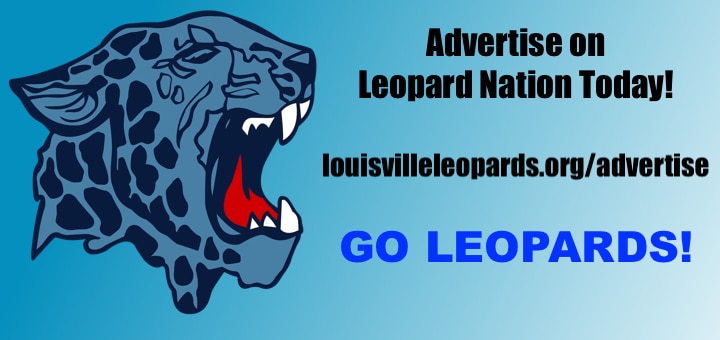 Don't forget to Subscribe to Our Posts for Free