Lady Leopards Hit 10 Three-Pointers In Win Over Riverside 66-61 – Girls Basketball
Louisville 66, Painesville Riverside 61
<<< Previous At Canton McKinley | Girls Basketball Schedule | Next Vs. Hathaway Brown >>>
The Louisville Leopards Girls Varsity Basketball Team rallied to earn a 66-61 victory over the Painesville Riverside Beavers Wednesday Afternoon in the South Range Holiday Hoops Classic at South Range High School.
Varsity Recap | Varsity Box Score | JV Box Score
---
Varsity Recap
Sophomore guard Courtney Barwick scored 12 of her team high 19 points in the second half to lead the Lady Leopards. She was one of four Louisville players to reach double figures during the contest. The others included freshman guard Taylor McCully who scored 10 of her 17 points in the fourth quarter, senior guard Taryn Miglich who added 13, and junior guard Brooke Haren who tacked on 11.
The Lady Leopards cashed in on 5 of their 10 three-pointers for the game during their fourth quarter rally. McCully and Miglich each hit a pair of three-pointers and Barwick made another in the final stanza. Miglich led the team with 4 three-pointers for the afternoon, while Barwick and McCully each finished with 3 triples.
Junior guard Savanah Laurenty scored double digits in both halves en rout to pouring in a game high 29 points to lead the Lady Beavers. She scored 10 points in the first half and then dropped in 15 points in the third quarter alone. Laurenty was limited to just two field goals in the final period as Louisville rallied back from a 48-41 fourth quarter deficit.
Senior guard Belle Bozic buried 6 of Riverside's 8 three-pointers and finished with 20 points for the Lady Beavers. Senior forward Samantha Volpe also reached double figures with 10 points. The Riverside trifecta accounted for 59 of the team's 61 total points for the game.
The first and second quarters proved to be mirror reflections of each other in terms of scoring. Riverside led 15-10 at the end of the first quarter before the Leopards outscored the Beavers 15-10 in the second quarter to knot the game at 25-25 at the half.
Riverside took command of the contest in a high scoring third quarter as they outscored Louisville 23-16 in the period to take a seven point advantage into the final quarter. However, the Lady Leopards flipped the script again by outscoring the Lady Beavers 25-16 in the final stanza to take the game 66-61.
Louisville used multiple three-point makes in the second half to aide their rally. McCully's three with 2:04 left in the game completed the Leopards comeback in giving them their first lead of the fourth quarter. Haren and Miglich both hit bonus free throws in the final minute to up the Louisville lead to 64-61 with 9.9 seconds to play.
On the other end, the Leopard defense got the stop they needed as Riverside turned the ball over out of bounds with 5.6 seconds to go. On the final inbound, a pass to midcourt deflected through a wall of defenders and into the hands of Barwick alone on the other side. With an empty court in front of her, she dribbled ahead and laid the ball home at the buzzer to ice the victory.
This was the first ever meeting between the Leopards and Beavers in girls basketball.
UP NEXT: The Lady Leopards will continue to compete at the South Range Hoops Classic Hathaway Brown Blazers on Thursday, December 29
---
Donate to Leopard Nation
---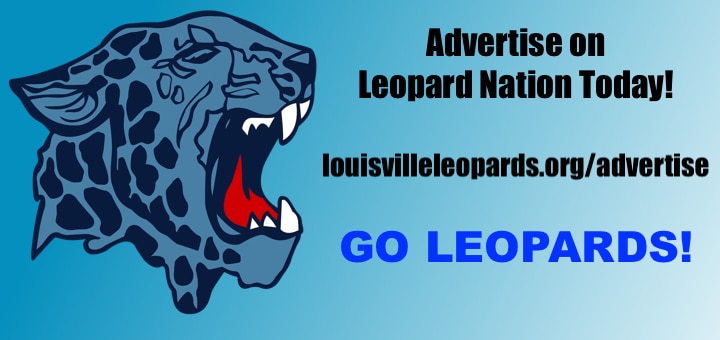 ---
Louisville Vs. Riverside Varsity Statistics
LEOPARDS 66, BEAVERS 61
Team 1-2-3-4–TOTAL
Louisville 10-15-16-25–66
Riverside 14-10-23-13–61
LEOPARDS: Barwick 8 0-0 19, McCully 7 0-1 17, Miglich 4 1-2 13, Haren 4 3-4 11, Mayle 2 0-0 4, Orin 1 0-0 2. TOTAL 26 4-7 66.
3-Pointers (10): Miglich 4, Barwick 3, McCully 3,
Team FT: 4-7 57%
BEAVERS: Laurenty 14 0-1 29, Bozic 7 0-0 20, Volpe 4 1-2 10, Valvoda 1 0-0 2. TOTAL 26 1-3 61.
3-Pointers: Bozic 6, Laurenty, Volpe
Team FT: 1-3 33%
Fouls: 10-7 Riverside
Records: Louisville 5-3
---
JV: Louisville 35, Painesville Riverside 32
JV Statistics
LEOPARDS 35, BEAVERS 32
Team 1-2-3-4–TOTAL
Louisville 8-14-8-5–35
Riverside 5-8-14-5–32
LEOPARDS: Beatty 6 0-2 13, Baker 3 3-4 10, Biery 2 0-0 5, Walters 2 1-4 5, Cline 1 0-4 2. TOTAL 14 4-14 35.
3-Pointers (3): Baker, Beatty, Biery
Team FT: 4-14 29%
BEAVERS: Hendershot 4 0-2 10, Mapes 4 0-0 10, Owens 3 0-0 6, Shantery 1 1-2 4, White 1 0-0 2, Rocky 0 0-2 0. TOTAL 13 1-6 32.
3-Pointers (5): Hendershot 2, Mapes 2, Shantery
Team FT: 1-6 17%
Fouls: 12-10 Riverside
Records: Louisville 7-1