Leopards Shutout St. Vincent-St. Mary 9-0 – Baseball
Louisville 9, St. Vincent-St. Mary 0
<<< Previous Vs. SVSM | Baseball Schedule | Next Vs. Hoover >>>
The Louisville Leopards Varsity Baseball Team shutout the host St. Vincent-St. Mary Fighting Irish 9-0 Wednesday at Summit Lake Fields. With their fifth straight victory, Louisville improves to 6-2 on the season.
---
---
Miller Cracks Pair of 3-Run Extra Base Hits
Junior first baseman Cole Miller batted 2-for-3 and finished with 6 runs batted in to lead the Leopards. Miller hit a clutch 2-out, 3-run triple to get Louisville on the board in the top of the third. Junior shortstop Andrew Corona, senior center fielder Charlie Roberts, and freshman courtesy runner Ty Paumier all scored on the hit that put LHS in front 3-0.
The Leopards tacked on 6 more runs in the fourth inning. The frame was capped off by Miller's 2-out, 3-run homer to right field that made the score 9-0. The dinger was Miller's second career home run as he also went yard in last year's season opener against West Ridge (Tennessee).
---
Leopards Put 6 Spot Up in the 4th
Louisville manufactured 3 other runs in the fourth inning prior to Miller's 3-run shot. Sophomore right fielder/pitcher Cooper Rice walked to start the inning and then sophomore designated hitter Kolton Loy was able to reach base on an error. Senior left fielder Kyle Vesely followed with a single to left field to load the bases. Corona was next and drew a 4-pitch walk to bring home Rice from third to make it 4-0.
Then Roberts hit a sacrifice fly to left field that allowed Loy to tag and score. Senior pitcher Connor Morley singled home Vesely on a line drive single to center after that.
---
Morley Throws 6 Shutout Innings in Win
Morley tossed 6 shutout innings, gave up just 2 hits, and struck out 3 en rout to earning his fourth victory on the mound this season. He retired the first 8 Irish batters he faced until sophomore second baseman Ashton Tamzarian reached on an error with 2 outs in the third. Morley did not surrender a hit to the Fighting Irish until junior first baseman Daniel Krabill hit a 2-out double to center in the fourth. Senior shortstop Nick Tura recorded the only other St. Vincent-St. Mary hit via a single in the next inning.
Morley gave way to Rice in the seventh to finish off the combined shutout. Rice faced the minimum in the seventh courtesy of a ground ball double play from Corona at short to Miller at first to end the game.
UP NEXT: The Louisville Baseball Team will next host the North Canton Hoover Vikings on Friday, April 14 at 5:00 PM. Freshman and JV will travel to North Canton Hoover at the same time.
Cover Photo By The Louisville Herald
---
Donate to Leopard Nation
---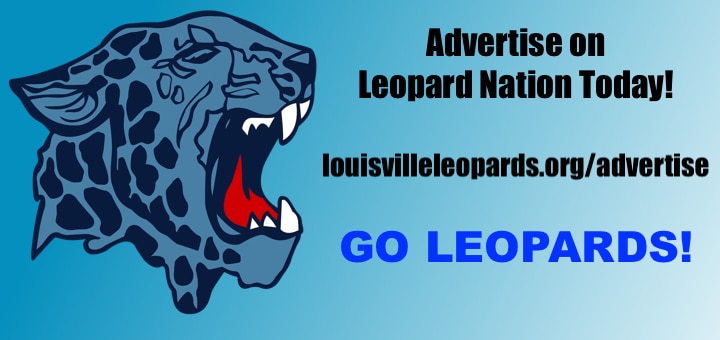 Don't forget to Subscribe to Our Posts for Free
---
Louisville at St. Vincent-St. Mary Varsity Baseball Box Score
LEOPARDS 9, FIGHTING IRISH 0
Team 123-456-7–R-H-E
Louisville 003-600-0–9-5-1
SVSM 000-000-0–0-3-2
LOUISVILLE LEOPARDS BASEBALL BATTING STATS
| | | | | | | |
| --- | --- | --- | --- | --- | --- | --- |
| LINEUP | AB | R | H | RBI | BB | SO |
| A Corona (SS) | 2 | 2 | 1 | 1 | 2 | 0 |
| C Roberts (CF) | 2 | 1 | 0 | 1 | 0 | 0 |
| C Morley (P) | 4 | 1 | 1 | 1 | 0 | 0 |
| —Z Triplett (RF) | 0 | 0 | 0 | 0 | 0 | 0 |
| K Siegfried (C) | 1 | 0 | 0 | 0 | 2 | 0 |
| –T Paumier | 0 | 1 | 0 | 0 | 0 | 0 |
| —Z Ganser (C) | 1 | 0 | 0 | 0 | 0 | 1 |
| C Miller (1B) | 3 | 1 | 2 | 6 | 0 | 0 |
| —C Harsh | 1 | 0 | 0 | 0 | 0 | 0 |
| Z Root (3B) | 3 | 0 | 0 | 0 | 0 | 1 |
| —C Atwell | 1 | 0 | 0 | 0 | 0 | 0 |
| C Rice (RF, P) | 1 | 1 | 0 | 0 | 2 | 0 |
| K Loy (DH) | 3 | 1 | 0 | 0 | 0 | 1 |
| K Vesely (LF) | 3 | 1 | 1 | 0 | 0 | 1 |
| TEAM | 25 | 9 | 5 | 9 | 6 | 4 |
3B: C Miller
HR: C Miller
TB: A Corona 1, C Morley 1, C Miller 7, K Vesely 1
HBP: C Roberts
SF: C Roberts
SB: A Corona, T Paumier
E: C Morley
LOUISVILLE LEOPARDS BASEBALL PITCHING STATS
| | | | | | | |
| --- | --- | --- | --- | --- | --- | --- |
| PITCHING | IP | H | R | ER | BB | SO |
| C Morley(W) | 6 | 2 | 0 | 0 | 0 | 3 |
| C Rice | 1 | 1 | 0 | 0 | 0 | 1 |
| TEAM | 7 | 3 | 0 | 0 | 0 | 4 |
Pitches-Strikes: C Rice 10-7, C Morley 66-49
Batters Faced: C Rice 3, C Morley 21
ST. VINCENT-ST. MARY FIGHTING IRISH BASEBALL BATTING STATS
| | | | | | | |
| --- | --- | --- | --- | --- | --- | --- |
| LINEUP | AB | R | H | RBI | BB | SO |
| Milkovich (CF) | 3 | 0 | 0 | 0 | 0 | 0 |
| Lenz (RF) | 3 | 0 | 0 | 0 | 0 | 0 |
| Lehman (DH) | 3 | 0 | 0 | 0 | 0 | 0 |
| –Zwisler | 0 | 0 | 0 | 0 | 0 | 0 |
| Krabill (1B) | 3 | 0 | 2 | 0 | 0 | 0 |
| Adamczyk (LF) | 3 | 0 | 0 | 0 | 0 | 2 |
| Kurkey (C) | 3 | 0 | 0 | 0 | 0 | 0 |
| Tura (SS) | 2 | 0 | 1 | 0 | 0 | 0 |
| Beard (3B) | 2 | 0 | 0 | 0 | 0 | 2 |
| Tamzarian (2B) | 2 | 0 | 0 | 0 | 0 | 0 |
| TEAM | 24 | 0 | 3 | 0 | 0 | 4 |
2B: Krabill
TB: Krabill 3, Tura 1
E: Krabill 2
ST. VINCENT-ST. MARY FIGHTING IRISH BASEBALL PITCHING STATS
| | | | | | | |
| --- | --- | --- | --- | --- | --- | --- |
| PITCHING | IP | H | R | ER | BB | SO |
| Corge(L) | 3 | 2 | 3 | 3 | 3 | 3 |
| Slone | 1 | 3 | 6 | 2 | 2 | 0 |
| Dine | 3 | 0 | 0 | 0 | 1 | 1 |
| TEAM | 7 | 5 | 9 | 5 | 6 | 4 |
HBP: Corge
Pitches-Strikes: Corge 56-28, Slone 27-16, Dine 28-18
Batters Faced: Corge 15, Slone 9, Dine 9
Records: Louisville 6-2