Lady Leopards Finish 9th at District Tournament – Girls Golf
Louisville 344 (9th Out of 16)
<<< Previous DI Elms Sectional | Girls Golf Schedule
The Louisville Leopards Girls Golf Team competed at the DI Northeast District Tournament Tuesday at Brookledge Golf Club. Louisville shot 344 as a team to finish in ninth place out of 16 competing schools.
---
---
Davis & Strouse Card 82 Each to Lead Louisville
Seniors Abby Davis and Erin Strouse led the Lady Leopards by shooting a team low 82 each in tying for 16th place individually. Davis shot a team best 38 on the front nine before finishing the day with a 44 on the back nine. Strouse tallied 39 on the front nine before ending the tournament with a 43 on the back nine.
Seniors Alexis Ralston and Claire Weston rounded out the Louisville scoring. Ralston carded an 86 and Weston recorded a 94. Senior Lauren L'Amoreaux also shot 107 for LHS.
---
Magnificat Wins District Title, Goyette Medalist
The Magnificat Blue Streaks finished with three golfers in the top 10 en rout to claiming the DI Northeast District Title. The Blue Streaks shot 318 finishing six strokes ahead of the second place Highland Hornets who shot 324 as a team. The Hornets were led by individual champion sophomore Isabella Goyette who shot 1 under par 70.
The Jackson Polar Bears also took third place with a team score of 327 and the Kent Roosevelt Rough Riders came in fourth place with a team total of 334. Both Jackson and Kent Roosevelt also qualify for state as a team along with Magnificat and Highland.
---
Reemsnyder Leads Individual Qualifiers
GlenOak senior Madison Reemsnyder finished as the individual runner-up and first individual state qualifier for the tournament. Reemsnyder started off strong carding a tournament best 32 on the front nine before ending her day with a 40 on the back nine to finish 1 over par 72.
North Canton Hoover senior Abby Blackburn also shot 75 to finish in fourth place while punching her ticket to state. Green senior Emily Liptak and Aurora sophomore Brooklyn Millard were the other individual state qualifiers. The pair finished tied for fifth place individually after tallying 76 for the tournament.
<<< Previous 2020 | DI District Tournament
---
Louisville Scores from DI Brookledge District Tournament
Leopards 344 (9th Out of 16)
| | | | | |
| --- | --- | --- | --- | --- |
| Place | Name | Front | Back | Total |
| 16 | Abby Davis | 38 | 44 | 82 |
| 16 | Erin Strouse | 39 | 43 | 82 |
| 29 | Alexis Ralston | 44 | 42 | 86 |
| 57 | Claire Weston | 46 | 48 | 94 |
| 84 | Lauren L'Amoreaux | 52 | 55 | 107 |
---
Donate to Leopard Nation
---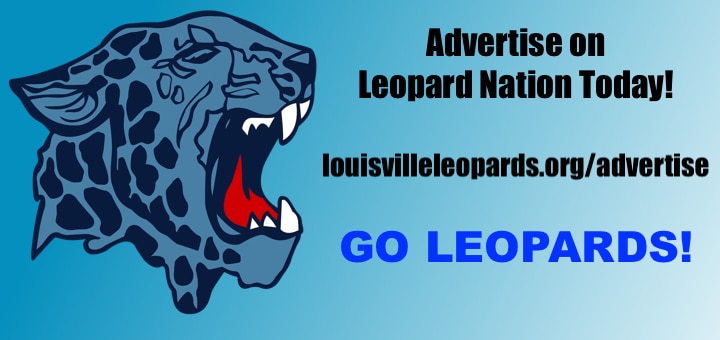 Don't forget to Subscribe to Our Posts for Free
---
DI Northeast District Team Results
Qualifiers: Top 4 teams and 4 individuals not on a qualifying team.
( * Indicates qualifying team.)
| | | |
| --- | --- | --- |
| Place | Team | Score |
| 1 | Magnificat Blue Streaks* | 318 |
| 2 | Highland Hornets* | 324 |
| 3 | Jackson Polar Bears* | 327 |
| 4 | Kent Roosevelt Rough Riders* | 334 |
| 5 | Green Bulldogs | 339 |
| 6 | North Canton Hoover Vikings | 340 |
| 7 | Aurora Greenmen | 342 |
| 8 | Hudson Explorers | 344 |
| 9 | Louisville Leopards | 344 |
| 10 | Nordonia Knights | 354 |
| 11 | Hathaway Brown Blazers | 355 |
| 12 | Strongsville Mustangs | 381 |
| 13 | Boardman Spartans | 388 |
| 14 | Stow-Munroe Falls Bulldogs | 388 |
| 15 | Avon Eagles | 391 |
| 16 | St. Joseph Academy Jaguars | 402 |
---
DI Northeast District Individual Results
Qualifiers: Top 4 teams and 4 individuals not on a qualifying team.
( * Indicates qualifying individual.)
Rank
Individual
Team
Grade
F
B
Score
1
Isabella Goyette
Highland
10
35
35
70
2
Madison Reemsnyder *
GlenOak
12
32
40
72
3
Maren Seaholts
Roosevelt
12
39
35
74
4
Abby Blackburn *
Hoover
12
36
39
75
5
Emily Liptak *
Green
12
39
37
76
3rd; Won on 1st playoff hole
Brooklyn Millard *
Aurora
10
38
38
76
Lost playoff
Cara Heisterkamp
Magnificat
10
34
42
76
8
Avery Wright
Mas. Jackson
12
42
35
77
Cammy Reed
Magnificat
9
37
40
77
10
Dixon Hill
Hathaway Brown
9
39
40
79
Maureen O'Leary
Magnificat
9
37
42
79
12
Savanna Porter
Mas. Jackson
12
42
38
80
Sophia Rosa
Mass. Perry
12
41
39
80
14
Alessandra Goyette
Highland
12
41
40
81
Kaitlin Kormuth
Solon
11
38
43
81
16
Samantha DeMuesy
Green
12
39
43
82
Ava Pulley
Green
11
41
41
82
Erin Strouse
Louisville
12
39
43
82
Abby Davis
Louisville
12
38
44
82
Emmy Burling
Hudson
9
41
41
82
Natalie Kostalnick
Strongsville
10
40
42
82
22
Paige McKendry
Highland
10
42
41
83
Julia Gulla
Nordonia
9
41
42
83
Madison Murphy
Boardman
11
40
43
83
25
Rylee Colangelo
Mas. Jackson
12
41
43
84
Morgan Bauza
Roosevelt
12
40
44
84
Aubrie Rush
Avon
11
45
39
84
Gianna Reginelli
St. Joseph Academy
9
39
45
84
29
Abrielle Nikolaidis
Mas. Jackson
12
41
45
86
Alexis Ralston
Louisville
12
44
42
86
Christina Nagy
Nordonia
11
44
42
86
Sherry Du
Hudson
10
41
45
86
Sydnie Leavery
Roosevelt
12
43
43
86
Graycn Vidovic
Aurora
9
41
45
86
Ella Baird
Magnificat
10
42
44
86
36
Halle Ellis
Hoover
11
42
45
87
Ava Kemp
Hoover
9
46
41
87
Arianna Kaser
Wadsworth
12
45
42
87
Kandace Kellon
Hathaway Brown
11
43
44
87
Gabriella Berlingieri
Stow-Munroe Falls
10
43
44
87
Jocelyn Zhao
Canfield
11
47
40
87
Hannah Lee
Strongsville
9
42
45
87
43
Delaney DiGeronimo
Hudson
12
42
46
88
Lizzy Grant
Hudson
11
43
45
88
45
Jill Donnelly
Cloverleaf
12
41
49
90
Grace Prentiss
Highland
12
43
47
90
Ashlyn Leavery
Roosevelt
9
41
49
90
Anjali Mishra
Aurora
12
48
42
90
Kayla Tejada
Aurora
12
45
45
90
Isabella Paez
Magnificat
11
44
46
90
51
Hannah Higgins
Hoover
11
47
44
91
Brooke Barnes
Nordonia
10
45
46
91
53
Kylie Porter
Hoover
9
44
48
92
54
Vanessa Prodafikas
Mas. Jackson
11
44
49
93
Kavya Chada
Highland
10
45
48
93
Rachel Adams
No. Olmsted
12
44
49
93
57
Claire Weston
Louisville
12
46
48
94
Larisa Golembiewski
Nordonia
11
43
51
94
Madeleine Williams
Hathaway Brown
12
47
47
94
Ellie Ryan
Stow-Munroe Falls
12
44
50
94
McKenzie Ickes
Stow-Munroe Falls
11
44
50
94
62
Moira Ackerman
Hudson
12
48
47
95
Claire Hickey
Hathaway Brown
11
47
48
95
64
Zoey Fick-Mills
Boardman
11
43
53
96
Shaylee Muckleroy
West Branch
10
47
49
96
66
Emily Pierce
Aurora
12
45
52
97
Sophia Rivera
Boardman
10
46
51
97
Madigan O'Leary
Avon
10
46
51
97
69
Kate McKeown
Rocky River
12
50
48
98
70
Sydney Shocklee
Green
9
46
53
99
71
Grace Bandwen
Walsh Jesuit
12
44
56
100
72
Christine Kim
Hathaway Brown
10
46
55
101
Sarah Skaggs
Avon Lake
12
53
48
101
74
Angela Dodson
Shaker Hts.
12
44
58
102
75
Zanna Belacic
Green
11
51
52
103
Ali Holtz
Chagrin Falls
12
50
53
103
77
Ainsley Gillcrist
Avon
12
47
57
104
Ashley Hubert
Avon Lake
12
51
53
104
79
Niamh OMelia
Shaker Hts.
12
48
57
105
Kendall Grau
Strongsville
10
48
57
105
Devon Maxwell
St. Joseph Academy
11
49
56
105
Hannah Caruso
St. Joseph Academy
11
53
52
105
83
Casey Grant
Avon
12
49
57
106
84
Lauren L'Amoreaux
Louisville
12
52
55
107
Cristina Joseph
Chagrin Falls
12
49
58
107
Taylor Bass
Strongsville
11
49
58
107
87
Anna Picicco
Roosevelt
10
52
56
108
Margaret Dalton
St. Joseph Academy
11
54
54
108
89
Maci Taylor
Nordonia
11
52
57
109
Mridulaa Badri
Strongsville
11
55
54
109
91
Caroline Neitzel
St. Joseph Academy
10
53
57
110
92
Emily Choleva
Boardman
11
52
60
112
Allie Day
Avon
10
56
56
112
94
Addison Ades
Stow-Munroe Falls
10
56
57
113
Noelle Hammar
Boardman
12
56
57
113
96
Anna Hurst
Stow-Munroe Falls
10
57
60
117