Louisville Falls to Youngstown Ursuline 3-1 – Softball
Youngstown Ursuline 3, Louisville 1
<<< Previous Vs. Field | Softball Schedule | Next Vs. Walsh Jesuit >>>
The Louisville Leopards Varsity Softball Team fell to the visiting Youngstown Ursuline Fighting Irish 3-1 Wednesday Evening at West Main Vet Clinic Field. Louisville has now lost 3 straight and drops to 7-5 on the season.
---
---
Benson Doubles in Denzer in 6th
Junior shortstop Matti Benson doubled to left field driving home junior first baseman/third baseman Kenzi Denzer from first for the Lady Leopards only run of the game. The play chopped the Ursuline lead in half at 2-1, but Louisville would fail to score again in the sixth or seventh innings.
Benson finished 2-for-3 for the evening to lead the Leopards who were out-hit by the Fighting Irish 11-6. Sophomore left fielder Olivia Mongiardo also registered Louisville's only other extra base hit with a 2-out double in the bottom of the third.
---
Ursuline Scores Every Run Off Long Ball
The home runs accounted for all of Ursuline's runs. Hannah Saluga hit a 2-out, 2-run homer in the top of the second to put the Fighting Irish up 2-0. Savannah Patrone also hit a solo shot to left field to lead off the sixth.
Right fielder Lilly Ditz, center fielder Brooke O'palick, and Saluga all finished with 2 hits each for Youngstown Ursuline.
---
Leopards Vs. Irish Softball Series
The Leopards and Fighting Irish have now met in each of the past three seasons. Ursuline now leads the series 2-1 overall with each team winning once in games played at Louisville.
The Fighting Irish doubled up the Leopards 2-1 last year in Youngstown. Louisville rallied with 5 runs in the seventh to edge Ursuline 9-8 in 2021.
<<< Previous 2022 | Ursuline All-Time Series
Cover Photo By The Louisville Herald
---
Donate to Leopard Nation
---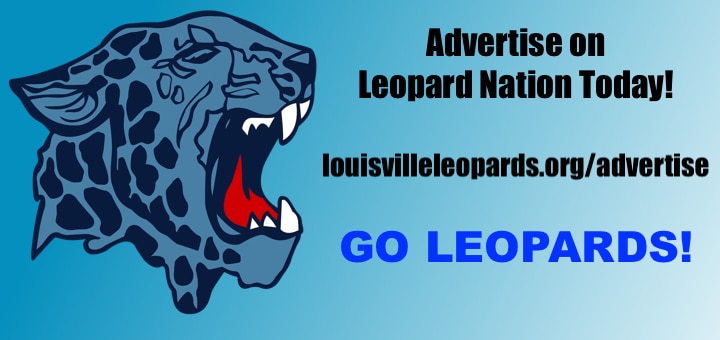 Don't forget to Subscribe to Our Posts for Free
---
Ursuline at Louisville Softball Box Score
FIGHTING IRISH 3, LEOPARDS 1
Team 123-456-7–R-H-E
Ursuline 020-001-0–3-11-2
Louisville 000-001-0–1-6-1
URSULINE IRISH SOFTBALL VARSITY BATTING STATS
| | | | | | | |
| --- | --- | --- | --- | --- | --- | --- |
| LINEUP | AB | R | H | RBI | BB | SO |
| B O'palick (CF) | 4 | 0 | 2 | 0 | 0 | 0 |
| L Barbato (SS) | 4 | 0 | 1 | 0 | 0 | 0 |
| M Opalick (P) | 3 | 0 | 1 | 0 | 0 | 1 |
| K Koulianos (3B) | 2 | 1 | 1 | 0 | 0 | 0 |
| G Schiavone (2B) | 3 | 0 | 0 | 0 | 0 | 1 |
| —A Wendt | 1 | 0 | 1 | 0 | 0 | 0 |
| S Patrone (1B) | 3 | 1 | 1 | 1 | 1 | 0 |
| H Saluga | 4 | 1 | 2 | 2 | 0 | 0 |
| L Ditz (RF) | 3 | 0 | 2 | 0 | 0 | 0 |
| E Peart (LF) | 3 | 0 | 0 | 0 | 0 | 2 |
| TEAM | 30 | 3 | 11 | 3 | 1 | 4 |
URSULINE IRISH SOFTBALL VARSITY PITCHING STATS
| | | | | | | |
| --- | --- | --- | --- | --- | --- | --- |
| PITCHING | IP | H | R | ER | BB | SO |
| M Opalick | 7 | 6 | 1 | 1 | 1 | 6 |
| TEAM | 7 | 6 | 1 | 1 | 1 | 6 |
LOUISVILLE LEOPARDS SOFTBALL VARSITY BATTING STATS
| | | | | | | |
| --- | --- | --- | --- | --- | --- | --- |
| LINEUP | AB | R | H | RBI | BB | SO |
| K Twinem (2B) | 3 | 0 | 0 | 0 | 0 | 1 |
| K Denzer (1B, 3B) | 3 | 1 | 1 | 0 | 0 | 1 |
| M Benson (SS) | 3 | 0 | 2 | 1 | 0 | 0 |
| A Campbell (C) | 2 | 0 | 1 | 0 | 1 | 0 |
| A Sirohman (3B, P) | 3 | 0 | 1 | 0 | 0 | 0 |
| B Haren (CF) | 3 | 0 | 0 | 0 | 0 | 0 |
| C Cline (F10) | 3 | 0 | 0 | 0 | 0 | 1 |
| K Heath (P, 1B) | 2 | 0 | 0 | 0 | 0 | 2 |
| —T Thompson | 1 | 0 | 0 | 0 | 0 | 0 |
| O Mongiardo (LF) | 2 | 0 | 1 | 0 | 0 | 1 |
| TEAM | 25 | 1 | 6 | 1 | 1 | 6 |
LOUISVILLE LEOPARDS SOFTBALL VARSITY PITCHING STATS
| | | | | | | |
| --- | --- | --- | --- | --- | --- | --- |
| PITCHING | IP | H | R | ER | BB | SO |
| K Heath | 4.2 | 6 | 2 | 2 | 1 | 2 |
| A Sirohman | 2.1 | 5 | 1 | 1 | 0 | 2 |
| TEAM | 7 | 11 | 3 | 3 | 1 | 4 |
Records: Louisville 7-4