Louisville Swept by Hoover at Home – Volleyball

North Canton Hoover 25-25-25, Louisville 22-18-18
<<< Previous Vs. Lake | Volleyball Schedule | Next At Tallmadge >>>
The Louisville Leopards Varsity Volleyball Team was swept by the visiting North Canton Hoover Vikings in three sets 22-25, 18-25, 18-25 Thursday Night at Louisville High School. With the loss, Louisville falls to 1-11 on the season.
Varsity Vs. Hoover | 8th Grade Vs. Copley | 7th Grade Vs. Copley
---
---
Haren Leads Lady Leopards in Digs and Kills
Junior outside hitter Brooke Haren led the Lady Leopards with a team high 16 digs on defense and tied senior middle hitter Lexi Jobe with a team leading eight kills on offense. Sophomore setter Madie ElFaye also recorded 21 assists for Louisville.
Freshman outside hitter/middle hitter Taylor McCully and junior opposite hitter Sloane Sypolt also finished with three blocks each for LHS.
---
Louisville Vs. Hoover Volleyball Series
The Lady Leopards have now fallen in five of their last six matches against the Lady Vikings dating back to 2017. Louisville has also dropped their last seven matchups at home with Hoover and have not defeated the Vikings at LHS since 2006. The Lady Leopards are now 5-15 against North Canton since rally scoring began in 2004, this includes a 1-8 home record in the series during that stretch.
Louisville is now 0-5 against Federal League opponents this season.
JV: Louisville 25-15-25, North Canton Hoover 22-25-19
Freshman: Louisville 25-25, North Canton Hoover 15-15
UP NEXT: The Lady Leopards will next travel to take on the Tallmadge Blue Devils on Saturday, September 17. JV will begin at 1:00 PM and Varsity will follow around 2:30 PM.
---
8th Grade: Louisville 25-25, Copley 11-22
Leah Claugus 5 Kills, 3 Aces
Katelynn Miller 3 Aces, 2 Blocks
Karis Miglich 3 Aces
Tristyn Edgein 2 Blocks
Aubrey Johnston 7 Digs
---
7th Grade: Louisville 25-25, Copley 19-23
Paige Gill 7 Serves (2 Aces)
Leah DeLaCroix 6 Serves (1 Ace)
Ella Tillett 2 Hits
Ezela Manko 2 Hits
Records: Louisville 10-1
---
Donate to Leopard Nation
---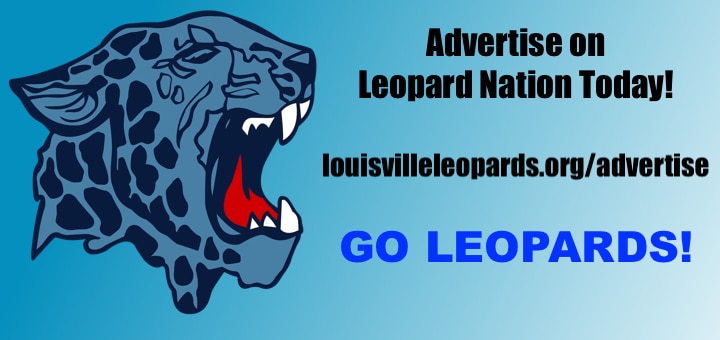 Don't forget to Subscribe to Our Posts for Free