Leopards Bounce Back with Road Win Vs. Quakers – Girls Tennis
Louisville 4, New Philadelphia 1
<<< Previous At Dover | Girls Tennis Schedule | Next At United Local >>>
The Louisville Leopards Girls Tennis Team downed the host New Philadelphia Quakers 4-1 Wednesday in New Philadelphia. With the victory, Louisville improves to 4-1 on the season.
---
---
Leopard Senior Trio Sweeps Singles Matches
The Lady Leopards won all three singles matches in two sets. Senior Rachel Kibler remained undefeated with a perfect 6-0, 6-0 win over Alexis Mamula in #1 singles. Kibler is now 7-0 on the season with the victory.
In #2 singles, senior Jade Thomas evened her season record to 3-3 with a win over Sophie Troyer by the count of 7-5, 6-1. Senior Katie Yarnall also defeated Meagan Prouty in straight sets 6-1, 6-2 to improve to 5-1 on the year.
---
.
---
Louisville Splits Doubles with New Philadelphia
Louisville split with New Philadelphia in their doubles matchups. The senior-laden #1 doubles team of Bailey Menegay and McKenzie Taylor earned a 6-3, 7-6 (7-2) victory for LHS. Menegay improved to 5-2 and Taylor to 4-3 with the win.
The Lady Quakers only victory came in #2 doubles. The tandem of Shannon Russell and Ella Wherley broke up the Lady Leopards shutout by defeating the LHS duo of junior Jhacel Dawa and senior Kora Woolf.
---
Leopards Vs. Quakers Girls Tennis History
The Lady Leopards have now defeated the Lady Quakers in each of their last two meetings. Louisville now leads the all-time series 14-1 overall, which includes a 6-1 record in the most recent series that began in 2018.
UP NEXT: The Lady Leopards will next travel to take on the United Local Golden Eagles on Tuesday, September 2 at 4:30 PM.
---
Louisville at New Philadelphia Girls Tennis Box Score
LEOPARDS 4, QUAKERS 1
Singles
#1 Rachel Kibler (L) d. Alexis Mamula (NP) 6-0, 6-0
Kibler 7-0
#2 Jade Thomas (L) d. Sophie Troyer (NP) 7-5, 6-1
Thomas 3-3
#3 Katie Yarnall (L) d. Meagan Prouty (NP) 6-1,6-2
Yarnall 5-1
Doubles
#1 Bailey Menegay & McKenzie Taylor (L) 6-3,7-6 (7-2)
Menegay 5-2, Taylor 4-3
#2 Shannon Russell & Ella Wherley (NP) d. Jhacel Dawa & Kora Woolf (L) 6-3,2-6
Dawa 0-5, Woolf 3-3
---
Donate to Leopard Nation
---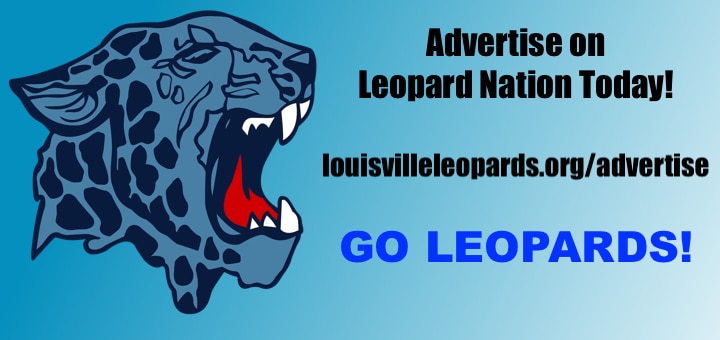 Don't forget to Subscribe to Our Posts for Free