Louisville Falls at Dover in Battle of Undefeated – Girls Tennis
Dover 3, Louisville 2
<<< Previous At Archbishop Hoban | Girls Tennis Schedule | Next At New Philadelphia >>>
The Louisville Leopards Girls Tennis Team suffered their first loss of the season on the road against the undefeated Dover Tornadoes by the count of 3-2. With the loss, Louisville drops to 3-1 on the year.
---
---
Kibler and Yarnall Win in Straight Sets
The Lady Leopards were led by senior Rachel Kibler who remained unbeaten with a perfect 6-0, 6-0 victory in #1 singles over Taylor Rose. Kibler is now 6-0 on the year.
Senior Katie Yarnall also won in #3 singles over Dover's Kaleigh McCutcheon 6-4, 6-4. Yarnall improves to 4-1 on the season with the victory.
---
---
Dover Stays Unbeaten Improving to 7-0
The Tornadoes claimed #2 singles and won both doubles match-ups to keep their undefeated mark in improving to 7-0 on the season.
Maisie Dugger defeated Louisville senior Jade Thomas 6-2, 6-0 in #2 singles. Jenna Ziegler & Hannah Graziani took #1 singles 6-4, 6-1 and the Twister duo of Grace Williams & Josie Pinelli won their #2 doubles match 7-5, 7-2.
---
Leopards Vs. Tornadoes Girls Tennis History
Dover has now defeated Louisville in each of the past two seasons. The Tornadoes also won 3-2 in last year's matchup.
The Lady Leopards still hold an 11-5 series edge over Dover since their first meeting in 1976.
---
Louisville at Dover Girls Tennis Box Score
TORNADOES 3, LEOPARDS 2
Singles
#1 Rachel Kibler (L) d. Taylor Rose (D) 6-0, 6-0
Kibler 6-0
#2 Maisie Dugger (D) d. Jade Thomas (L) 6-2, 6-0
Thomas 2-4
#3 Katie Yarnall (L) d. Kaleigh McCutcheon (D) 6-4, 6-4
Yarnall 4-1
Doubles
#1 Jenna Ziegler & Hannah Graziani (D) d. Bailey Menegay & McKenzie Taylor (L) 6-4, 6-1
Menegay 4-2, Taylor 3-3
#2 Grace Williams & Josie Pinelli (D) d. Jhacel Dawa & Kora Woolf (L) 7-5, 6-2
Woolf 3-2, Dawa 0-4
---
Donate to Leopard Nation
---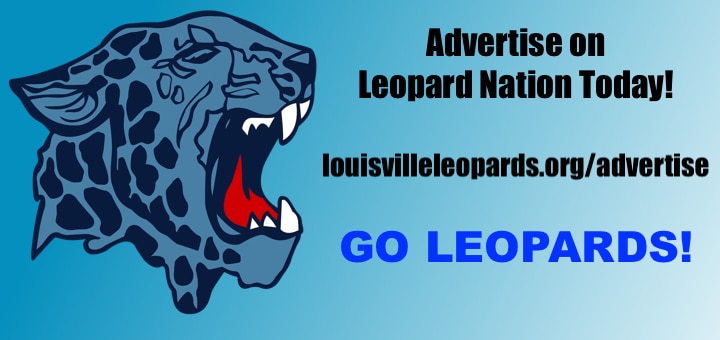 Don't forget to Subscribe to Our Posts for Free