Karcher Shoots Personal Best to Lead Leopards to Road Win Over Spartans 164-180 – Boys Golf
Louisville 164, Akron Springfield 180
<<< Previous Congress Lake Invite | Boys Golf Schedule | Next Vs. Akron Springfield >>>
The Louisville Leopards Boys Golf Team defeated the host Akron Springfield Spartans 164-180 Tuesday on the front nine (par 36) at Chenoweth Golf Course in Akron. With their fourth straight victory, Louisville is now 4-1 in dual matches this season.
---
---
Karcher Shoots 1 Under Par to Lead Leopards
Senior Sam Karcher shot 1 under par 35 to lead the Leopards. His 35 is a personal best and a season low for the team this year. Other scorers for Louisville included junior Jack Mayle who shot 42, junior Cole Miller who carded 43, and senior Caleb Harsh who tallied 44.
Finishing just outside of scoring were senior Ian DiMarzio and junior Zach Root who shot 45 each for the Leopards.
"(We) traveled to Chenoweth in Akron, a course that none of the boys had ever played and one that I haven't played since my freshman year of college. Lots of out of bounds throughout the course, (we) didn't get to hit balls before due to our arrival time and the wind was whipping all around. But the fellas played pretty well all things considered! (We) came out with a W against an 8-4 Springfield team on their home course 164-180."

– Louisville Head Coach Mike McFerren
---
Hahn Cards Team Low 40 to Lead Springfield
Springfield (8-4) was led by junior Brady Hahn who shot a team low 4 over par 40. Other scorers for the Spartans included junior Connor Eckenrode 42, junior Jacob Thomas 44, and J. Bradley 54.
This was the first meeting between Louisville and Springfield since the Leopards swept them in 2004, which was the final year that the Spartans played in the Northeastern Buckeye Conference.
UP NEXT: The Leopards will next host the Akron Springfield Spartans on Tuesday, September 6. Match is slated to begin at 4:00 PM at Sleepy Hollow Country Club.
---
Louisville at Springfield Boys Golf Box Score
LEOPARDS 164, SPARTANS 180
Chenoweth Golf Course, Front 9, Par 36
LEOPARDS SCORES: Sam Karcher 35, Jack Mayle 42, Cole Miller 43, Caleb Harsh 44. TEAM TOTAL = 164
SPARTANS SCORES: Brady Hahn 40, Conor Eckenrode 42, Jacob Thomas 44, J. Bradley 54. TEAM TOTAL = 180
Records: Louisville 4-1, Springfield 8-4
---
Donate to Leopard Nation
---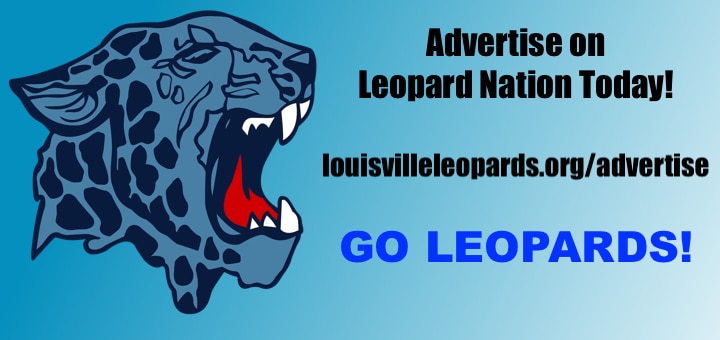 Don't forget to Subscribe to Our Posts for Free