Lady Leopards Finish 7th at Sectional Tournament – Girls Golf
Louisville 395 (7th Out of 16)
<<< Previous Vs. Massillon | Girls Golf Schedule
The Louisville Leopards Girls Golf Team competed at the DI Elms Sectional Tournament Tuesday at Elms Country Club. Louisville shot 395 as a team to place seventh out of 16 competing schools.
Louisville Results | Team Results | Individual Results
---

---
Biery Shoots 88 to Lead Louisville

Junior Peyton Biery shot 16 over par 88 to lead the Lady Leopards in taking 15th individually. Biery shot a team best 42 on the front nine and also a team low 46 on the back nine for Louisville.
Senior Kylie Wallace finished her varsity career shooting 19 over par 91 to take 21st individually. Other scorers for the Lady Leopards included freshman Natalie Warner who carded 106 and junior Anna Myers who tallied 110.
Senior Rachel Devins also shot 113 in her final time on the green for Louisville.
---
Hoover Wins Elms Sectional

The North Canton Hoover Vikings shot 331 as a team to win the DI Elms Sectional Tournament. The Lady Vikings finished seven strokes ahead of the sectional runner-up Lake Blue Streaks who shot 338 as a team. The Green Bulldogs and Jackson Polar Bears also qualified as a team for the DI District Tournament to be held at Brookledge Golf Club on Thursday, October 13. The Bulldogs took third by a single stroke over the fourth place Polar Bears 351-352.
North Canton Hoover sophomore Ava Kemp shot even par 72 to finish as the sectional tournament medalist. Green senior Ava Pulley also shot 3 over par 75 to finish as the individual runner-up.
Cover Photo By The Louisville Herald
---
DI Elms Sectional Louisville Results
| | | | | | |
| --- | --- | --- | --- | --- | --- |
| Rank | Individual | Front 9 | Back 9 | Total | Par |
| 15 | Peyton Biery | 42 | 46 | 88 | +16 |
| 21 | Kylie Wallace | 43 | 48 | 91 | +19 |
| 49 | Natalie Warner | 53 | 53 | 106 | +34 |
| 58 | Anna Myers | 55 | 55 | 110 | +38 |
| 63 | Rachel Devins | 55 | 58 | 113 | +41 |
| | TEAM TOTAL | | | 395 | +107 |
---
Donate to Leopard Nation
---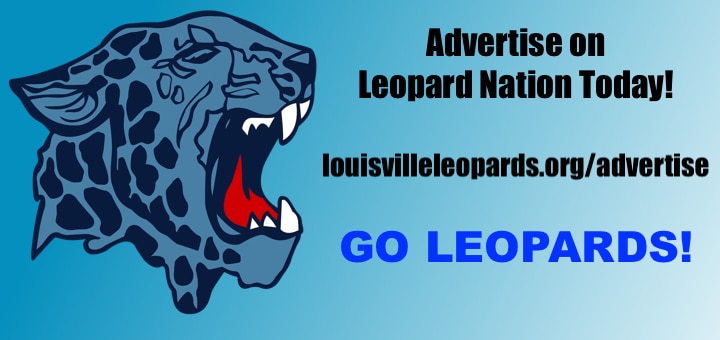 Don't forget to Subscribe to Our Posts for Free
---
DI Elms Sectional – Team Results
*Indicates Team Qualified for District Tournament
| | | | |
| --- | --- | --- | --- |
| Place | Team | Total | Par |
| 1 | North Canton Hoover* | 331 | +43 |
| 2 | Lake Blue Streaks* | 338 | +50 |
| 3 | Green Bulldogs* | 351 | +63 |
| 4 | Jackson Polar Bears* | 352 | +64 |
| 5 | Marlington Dukes | 362 | +74 |
| 6 | Dover Tornadoes | 373 | +85 |
| 7 | Louisville Leopards | 395 | +107 |
| 8 | Wooster Generals | 402 | +114 |
| 9 | GlenOak Golden Eagles | 404 | +116 |
| 10 | Copley Indians | 413 | +125 |
| 11 | Perry Panthers | 425 | +137 |
| 12 | Massillon Tigers | 430 | +142 |
| 13 | Akron Springfield Spartans | 438 | +150 |
| 14 | New Philadelphia Quakers | 438 | +150 |
| 15 | Archbishop Hoban Knights | 451 | +163 |
| 15 | Cloverleaf Colts | 451 | +163 |
---
DI Elms Sectional – Individual Results
*Indicates Individual District Qualifier
| | | | | | | | |
| --- | --- | --- | --- | --- | --- | --- | --- |
| Rank | Individual | Team | Grade | Front 9 | Back 9 | Total | Par |
| 1 | Ava Kemp | North Canton Hoover | 10 | 35 | 37 | 72 | Even |
| 2 | Ava Pulley | Green | 12 | 38 | 37 | 75 | +3 |
| 3 | Zoe Mort * | Marlington | 10 | 39 | 39 | 78 | +6 |
| 4 | Kate Potashnik | Lake | 12 | 41 | 41 | 82 | +10 |
| 5 | Piper Olson * | Dover | 12 | 41 | 42 | 83 | +11 |
| | Vanessa Prodafikas | Jackson | 12 | 41 | 42 | 83 | +11 |
| 7 | Halle Ellis | North Canton Hoover | 12 | 42 | 42 | 84 | +12 |
| | Amanda Fedor | Lake | 12 | 43 | 41 | 84 | +12 |
| 9 | Riley Schie * | Dover | 12 | 41 | 45 | 86 | +14 |
| | Kylie Porter | North Canton Hoover | 10 | 41 | 45 | 86 | +14 |
| | Audrey Nichols | Lake | 11 | 45 | 41 | 86 | +14 |
| | Evanne Mast | Lake | 11 | 43 | 43 | 86 | +14 |
| | Camille Leporis * | Akron Springfield | 12 | 44 | 42 | 86 | +14 |
| 14 | Cara Murphy | Jackson | 10 | 40 | 47 | 87 | +15 |
| 15 | Katie Sieverts | Jackson | 11 | 41 | 47 | 88 | +16 |
| | Peyton Biery | Louisville | 11 | 42 | 46 | 88 | +16 |
| | Maria Warner | Marlington | 12 | 45 | 43 | 88 | +16 |
| 18 | Hannah Higgins | North Canton Hoover | 12 | 47 | 42 | 89 | +17 |
| | Payton Findley | Massillon | 12 | 47 | 42 | 89 | +17 |
| 20 | Nina Shaffer | Green | 12 | 40 | 50 | 90 | +18 |
| 21 | Kylie Wallace | Louisville | 12 | 43 | 48 | 91 | +19 |
| 22 | Caroline Roush | Copley | 11 | 43 | 49 | 92 | +20 |
| | Sydney Shocklee | Green | 10 | 45 | 47 | 92 | +20 |
| | Olivia Gibas | Indian Creek | 12 | 47 | 45 | 92 | +20 |
| | Bella Gales | Perry | 11 | 46 | 46 | 92 | +20 |
| 26 | Corrin Schorsten | GlenOak | 11 | 49 | 44 | 93 | +21 |
| | Abbi Jones | Wooster | 12 | 46 | 47 | 93 | +21 |
| 28 | Zanna Belacic | Green | 12 | 47 | 47 | 94 | +22 |
| | Alyssa Evans | North Canton Hoover | 10 | 50 | 44 | 94 | +22 |
| | Milena Grametbauer | Jackson | 10 | 47 | 47 | 94 | +22 |
| 31 | Kamdyn Hershberger | GlenOak | 10 | 47 | 50 | 97 | +25 |
| | Emma Menapace | New Philadelphia | 12 | 50 | 47 | 97 | +25 |
| | Elizabeth Hohman | Wooster | 12 | 50 | 47 | 97 | +25 |
| 34 | Bridgette Runion | Alliance | 12 | 50 | 48 | 98 | +26 |
| | Mya Downing | Dover | 10 | 50 | 48 | 98 | +26 |
| | Rebecca Kuhlmann | Marlington | 12 | 53 | 45 | 98 | +26 |
| | Kelsey Nieman | Marlington | 11 | 48 | 50 | 98 | +26 |
| 38 | Giuliana Ciccarelli-Aloisi | Green | 12 | 51 | 48 | 99 | +27 |
| 39 | Sophia Radosevic | Canton McKinley | 11 | 46 | 54 | 100 | +28 |
| | Jenna McGarry | Cloverleaf | 12 | 54 | 46 | 100 | +28 |
| 41 | Cami Changet | Lake | 12 | 53 | 48 | 101 | +29 |
| 42 | Mackenzie Seiwerth | Cloverleaf | 10 | 55 | 47 | 102 | +30 |
| | Natalie Ullum | Perry | 11 | 51 | 51 | 102 | +30 |
| 44 | Anna Eversdyke | Alliance | 11 | 52 | 51 | 103 | +31 |
| | Abigail Watson | GlenOak | 11 | 53 | 50 | 103 | +31 |
| 46 | Sofia Miklic | Archbishop Hoban | 11 | 47 | 57 | 104 | +32 |
| | Hannah Roush | Copley | 10 | 54 | 50 | 104 | +32 |
| 48 | Payton Haynes | Wooster | 11 | 47 | 58 | 105 | +33 |
| 49 | Kiley McIntosh | Dover | 11 | 51 | 55 | 106 | +34 |
| | Charlotte Raketich | Jackson | 9 | 53 | 53 | 106 | +34 |
| | Natalie Warner | Louisville | 9 | 53 | 53 | 106 | +34 |
| | Madison Wright | New Philadelphia | 11 | 48 | 58 | 106 | +34 |
| | Morgan Miller | Akron Springfield | 12 | 49 | 57 | 106 | +34 |
| 54 | Olivia Wiley | Copley | 11 | 47 | 60 | 107 | +35 |
| | Kailey Kartisek | Wooster | 11 | 53 | 54 | 107 | +35 |
| 56 | Lane Shannon | Archbishop Hoban | 11 | 51 | 57 | 108 | +36 |
| | Mallory Findley | Massillon | 10 | 50 | 58 | 108 | +36 |
| 58 | Madison Maxwell | Copley | 10 | 59 | 51 | 110 | +38 |
| | Anna Myers | Louisville | 11 | 55 | 55 | 110 | +38 |
| | Joy Bacon | Perry | 10 | 54 | 56 | 110 | +38 |
| 61 | Nina Betro | GlenOak | 12 | 56 | 55 | 111 | +39 |
| 62 | Sara Klar | Dover | 10 | 55 | 57 | 112 | +40 |
| 63 | Rachel Devins | Louisville | 12 | 55 | 58 | 113 | +41 |
| 64 | Kallie Ludwig | GlenOak | 11 | 57 | 57 | 114 | +42 |
| | Katie Hout | Massillon | 11 | 55 | 59 | 114 | +42 |
| 66 | Olivia Jackson | New Philadelphia | 10 | 56 | 59 | 115 | +43 |
| 67 | Maggie Putt | Akron Springfield | 9 | 55 | 62 | 117 | +45 |
| 68 | Annie Fuhrer | Archbishop Hoban | 11 | 64 | 54 | 118 | +46 |
| 69 | Francesca Hatheway | Massillon | 10 | 59 | 60 | 119 | +47 |
| 70 | Emilia Cerda | New Philadelphia | 11 | 63 | 57 | 120 | +48 |
| | Alexandria Frey | Massillon | 10 | 61 | 59 | 120 | +48 |
| 72 | Lila Parsons | Archbishop Hoban | 10 | 58 | 63 | 121 | +49 |
| | Libby Adams | Perry | 12 | 62 | 59 | 121 | +49 |
| 74 | Lily Walker | Alliance | 11 | 64 | 58 | 122 | +50 |
| 75 | Sydney Jones | Cloverleaf | 11 | 56 | 67 | 123 | +51 |
| 76 | Addie Leonard | Cloverleaf | 10 | 51 | 75 | 126 | +54 |
| | Faith Fitzgibbons | Norton | 10 | 67 | 59 | 126 | +54 |
| 78 | Brooke Porter | Akron Springfield | 10 | 64 | 65 | 129 | +57 |
| 79 | Madalynn Misch | Marlington | 9 | 70 | 63 | 133 | +61 |
| | Abigail Collins | Norton | 9 | 68 | 65 | 133 | +61 |
| 81 | Mallory Jones | Perry | 11 | 68 | 67 | 135 | +63 |
| 82 | Shylah Swiger | Akron Springfield | 10 | 71 | 77 | 148 | +76 |
| 83 | Kiersten Creighton | New Philadelphia | 10 | 75 | 74 | 149 | +77 |
| | Gabrielle Rice | Wooster | 11 | 72 | 77 | 149 | +77 |
| 85 | Gianna Pennell | Norton | 10 | 81 | 96 | 177 | +105 |
| 86 | Ella Miller | Archbishop Hoban | 10 | DNF | 0 | DNF | – |
| | Emma Bazemore | Cloverleaf | 11 | DNF | 0 | DNF | – |