Leopards Subdue Rebels 18-1 in Most Lopsided Win in Team History – Boys Lacrosse
Louisville 18, Willoughby South 1
<<< Previous Vs. Southeast | Boys Lacrosse Schedule | Next At Kent Roosevelt >>>
The Louisville Leopards Boys Varsity Lacrosse Team subdued the visiting Willoughby South Rebels 18-1 Tuesday Night at Louisville Leopards Stadium. With the victory, Louisville improves to 4-2 on the season.
Senior attackman Bryce Rebuck led the Leopards with a game-high 5 goals to go along with at least 3 assists. Junior midfielder Brandon Kimble and senior attackman Tyler Shadle both added 4 goals each for Louisville as well.
---
Shadle Buzzer-Beater Puts Leps Up 12-1 at Half
The Leopards led 4-1 after the first quarter and added 8 goals in the second quarter to take a 12-1 lead into the half. Louisville needed every tick on the clock to get to their twelfth goal of the opening half. With 2.4 seconds left on the clock, sophomore attackman Zach Bennett inbounded from the back end line into Shadle who one-timed the ball into the back of the net for the score as the buzzer sounded.
The assist was the third of the first half for Bennett who would go on to add two goals of his own in the second half. Other Leopard goal scorers included sophomore midfielder Joey Johnson, junior midfielder Joe Reynolds, and senior midfielder Matt VanNostran.
---
Most Lopsided Victory in Team History
Louisville blanked Willoughby South in the second half 6-0 to tie the team record for the most lopsided victory in Leopard Lacrosse history. The 17-goal difference matches the Leopards identical 18-1 victory at Canton Central Catholic in 2015. This victory also eclipses their 15-0 shutout of Canfield earlier this year for the most lopsided home victory in team history.
Junior goalkeeper Evan Wengerter finished with 7 saves in the net for Louisville. Wengerter and the Leopards defense now own 3 of the 4 best defensive performances in team history in terms of goals allowed in a single game. LHS has now outscored the opposition 48-2 over their last three games.
---
ONeil Scores Lone Goal for 0-3 Rebels
Senior attackman James ONeil scored the lone goal for the Rebels with 7:12 left in the first quarter to break up the shutout. The goal was also the first of the season for Willoughby South who has now been outscored 61-1 in three losses to start the year.
This was the first ever meeting between these two schools in boys lacrosse.
Willoughby South All-Time Series
UP NEXT: The Leopards will next travel to face the Kent Roosevelt Rough Riders on Friday, April 9. JV will begin at 5:30 PM and Varsity will follow around 7:30 PM.
---
Donate to Leopard Nation
---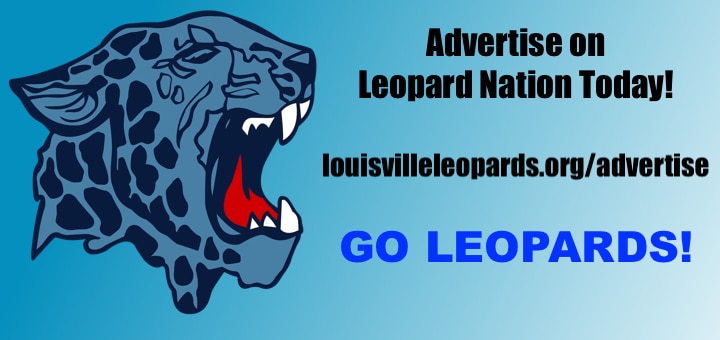 Don't forget to Subscribe to Our Posts for Free
Willoughby South at Louisville Boys Lacrosse Box Score
LEOPARDS 18, REBELS 1
Team 1-2-3-4–TOTAL
Willoughby South 1-0-0-0–01
Louisville 4-8-2-4–18
1st Quarter
LOUISVILLE – Bryce Rebuck (Jacob Davide) | LHS 1, WSHS 0, 11:20
LOUISVILLE- Brandon Kimble | LHS 2, WSHS 0, 11:04
LOUISVILLE – Brandon Kimble | LHS 3, WSHS 0, 7:58
WILLOUGHBY SOUTH – James ONeil | LHS 3, WSHS 1, 7:12
LOUISVILLE – Brandon Kimble | LHS 4, WSHS 1, 0:10.7
2nd Quarter
LOUISVILLE – Bryce Rebuck (Brandon Kimble) | LHS 5, WSHS 1, 11:00
LOUISVILLE – Bryce Rebuck | LHS 6, WSHS 1, 10:03
LOUISVILLE – Tyler Shadle (Bryce Rebuck) | LHS 7, WSHS 1, 6:37
LOUISVILLE – Bryce Rebuck (Zach Bennett) | LHS 8, WSHS 1, 3:44
LOUISVILLE – Tyler Shadle (Bryce Rebuck) | LHS 9, WSHS 1, 3:11
LOUISVILLE – Matt Van Nostran (Zach Bennett) | LHS 10, WSHS 1, 2:11
LOUISVILLE – Joe Reynolds | LHS 11, WSHS 1, 1:39
LOUISVILLE- Tyler Shadle (Zach Bennett) | LHS 12, WSHS, 1, 0:00
3rd Quarter
LOUISVILLE – Tyler Shadle (Bryce Rebuck) | LHS 13, WSHS 1, 9:12
***Leopard Nation Coverage Ends 7:18 left in 3rd >>> Assists and Time Stamps Not Available After This Point ***
LOUISVILLE – Zach Bennett | LHS 14, WSHS 1
4th Quarter
LOUISVILLE – Brandon Kimble | LHS 15, WSHS 1
LOUISVILLE- Bryce Rebuck | LHS 16, WSHS 1
LOUISVILLE – Zach Bennett | LHS 17, WSHS 1
LOUISVILLE – Joey Johnson | LHS 18, WSHS 1
Records: Louisville 4-2,