Louisville Falls to Nordonia 4-1 – Girls Tennis
Nordonia 4, Louisville 1
<<< Previous LHS Doubles Classic | Girls Tennis Schedule | Next Vs. Canfield >>>
The Louisville Leopards Girls Tennis Team fell 4-1 to the visiting Nordonia Knights Tuesday at the Greg Parrish Courts. With the loss, Louisville falls to 7-3 on the season.
---

---
Kibler Improves to 10-0 in Singles Play
Senior Rachel Kibler kept her perfect record in #1 singles by defeating Nordonia's Schuster 6-1, 6-1. Kibler is now 10-0 this season in singles play.
Leeport and Benardinelli both won singles matches for the Lady Knights. Leeport defeated Louisville senior Jade Thomas 6-2, 7-5 in #2 singles and Benardinelli earned a hard fought 6-2, 5-7, 11-9 victory over Leopards senior Katie Yarnall in #3 singles.
---
Knights Claim Both Doubles Matches
The Nordonia duo of Adams & McMichael defeated the Louisville senior tandem of Bailey Menegay & McKenzie Taylor 6-2, 1-6, 6-0 in #1 doubles action.
The Knight combination of Cundra & Zuschin also won #2 doubles against the Leopards team of junior Jhacel Dawa and senior Kora Woolf.
---
Nordonia Earns First Win Over Louisville
With the loss, Louisville is now 3-1 against Nordonia all-time dating back to the 2018 season. The Lady Leopards are now an even 1-1 when hosting the Knights in the series.
<<< Previous 2020 | Nordonia All-Time Series
---
Nordonia at Louisville Girls Tennis Box Score
KNIGHTS 4, LEOPARDS 1
Singles
#1 Rachel Kibler (L) d. Schuster (N) 6-1, 6-1
Kibler 11-1 (10-0 Singles)
#2 Leeport (N) d. Jade Thomas (L) 6-2, 7-5
Thomas 6-6 (5-5 Singles)
#3 Benardinelli (N) d. Katie Yarnall (L) 6-2, 5-7, 11-9
Yarnall 8-4 (7-3 Singles)
Doubles
#1 McMichael & Adams (N) d. Bailey Menegay & McKenzie Taylor (L) 6-2,1-6, 6-0
Menegay 7-6, Taylor 5-8
#2 Zuschin & Cundra (N) d. Jhacel Dawa & Kora Woolf (L) 7-6 (7-5), 6-4
Dawa 1-7, Woolf 3-8 (3-7 Doubles)
Records: Louisville 7-3
---
Donate to Leopard Nation
---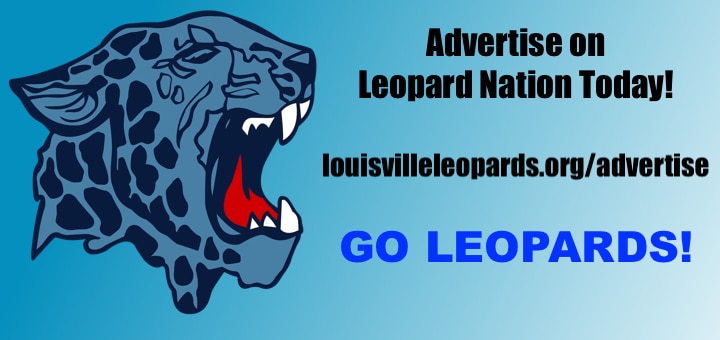 Don't forget to Subscribe to Our Posts for Free