Louisville Takes 6th at Marilyn Jackson Open – Girls Golf
Louisville 418 (6th Out of 10)
<<< NE Ohio CO-Ed Classic | Girls Golf Schedule | Next Match At Garaway >>>
The Louisville Leopards Girls Golf Team competed at the Marilyn Jackson Open Tuesday at Alliance Country Club. The Lady Leopards shot 418 as a team to take sixth place out of 10 area schools.
Louisville Results | Team Results | Individual Results
---
Biery Shoots 91 to Lead Lady Leopards
Junior Peyton Biery shot a team low 21 over par 91 to lead Louisville. Biery placed eighth individually against a field of 56 competing golfers.
Senior Kylie Wallace and freshman Natalie Warner both shot 108 as well for the Lady Leopards. Rounding out the scoring for Louisville were senior Rachel Devins and junior Anna Myers who tallied 111 each to tie for the fourth best LHS score. Sophomore Isabelle Tack also carded 120 for the tournament.
---

---
Mort Leads Marlington to

Marlington sophomore Zoe Mort and Carrollton junior Claire Hostetler both shot a tournament best 11 over par 81 to lead the pack. Mort beat out Hostetler on a tie-breaker to claim medalist for the Marilyn Jackson Open. Hostetler took runner-up individually as a result.
Likewise, the Marlington Dukes took the team title shooting 380 as a team just one stroke ahead of the second place Carrollton Warriors who finished with 381.
UP NEXT: The Lady Leopards will next travel to take on the Garaway Pirates on Thursday, August 18. Tee-time is set for 3:30 PM from Black Gold Golf Club.
---
Louisville Results – Marilyn Jackson Open
| | | | |
| --- | --- | --- | --- |
| Rank | Name | Score | PAR |
| 8 | Peyton Biery | 91 | +21 |
| 21 | Kylie Wallace | 108 | +38 |
| 21 | Natalie Warner | 108 | +38 |
| 26 | Anna Myers | 111 | +41 |
| 26 | Rachel Devins | 111 | +41 |
| 40 | Isabelle Tack | 120 | +50 |
| 6 | TEAM TOTAL | 418 | +138 |
---
Team Results – Marilyn Jackson Open
| | | | |
| --- | --- | --- | --- |
| Place | Team | Score | PAR |
| 1 | Marlington Dukes | 380 | +100 |
| 2 | Carrollton Warriors | 381 | +101 |
| 3 | Hudson Explorers | 398 | +118 |
| 4 | Massillon Tigers | 413 | +133 |
| 5 | West Branch Warriors | 417 | +137 |
| 6 | Louisville Leopards | 418 | +138 |
| 7 | United Local Eagles | 460 | +180 |
| 8 | Archbishop Hoban Knights | 475 | +195 |
| 9 | Alliance Aviators | 479 | +199 |
| 10 | Northwest Indians | 483 | +203 |
| | Canton South Wildcats | – | – |
| | Minerva Lions | – | – |
---
Individual Results – Marilyn Jackson Open
| | | | | |
| --- | --- | --- | --- | --- |
| Rank | School | Name | Score | PAR |
| 1 | Marlington | Zoe Mort | 81 | +11 |
| 1 | Carrollton | Claire Hostetler | 81 | +11 |
| 3 | Marlington | Maria Warner | 83 | +13 |
| 3 | United | Matilyn Zines | 83 | +13 |
| 5 | Carrollton | Ashlee Garner | 84 | +14 |
| 6 | West Branch | Shaylee Muckleroy | 89 | +19 |
| 7 | Canton South | Delaney Kruger | 90 | +20 |
| 8 | Louisville | Peyton Biery | 91 | +21 |
| 9 | Massillon | Payton Findley | 92 | +22 |
| 10 | Hudson | Julia Kuss | 95 | +25 |
| 11 | West Branch | Lachlan Cameron | 98 | +28 |
| 11 | Hudson | Olivia Lindley | 98 | +28 |
| 13 | Hudson | Lindsey Columbia | 99 | +29 |
| 14 | Marlington | Becky Kuhlman | 104 | +34 |
| 15 | Canton South | Sam Irwin | 105 | +35 |
| 15 | Carrollton | Jada Moore | 105 | +35 |
| 15 | Massillon | Chessie Hatheway | 105 | +35 |
| 18 | Hudson | McKenna Kiewatt | 106 | +36 |
| 18 | Northwest | Jessica Cliff | 106 | +36 |
| 20 | Massillon | Alex Frey | 107 | +37 |
| 21 | Alliance | Anna Eversdyke | 108 | +38 |
| 21 | Louisville | Kylie Wallace | 108 | +38 |
| 21 | Louisville | Natalie Warner | 108 | +38 |
| 24 | Massillon | Mallory Findley | 109 | +39 |
| 25 | Hudson | Hannah Lee | 110 | +40 |
| 26 | Carrollton | Kaylee Russell | 111 | +41 |
| 26 | Hoban | Lane Shannon | 111 | +41 |
| 26 | Louisville | Anna Myers | 111 | +41 |
| 26 | Louisville | Rachel Devins | 111 | +41 |
| 26 | Massillon | Katie Hout | 111 | +41 |
| 31 | Marlington | Kelsey Nieman | 112 | +42 |
| 31 | West Branch | Katie Santee | 112 | +42 |
| 33 | Alliance | Bridgette Runion | 114 | +44 |
| 33 | Carrollton | Paige Davis | 114 | +44 |
| 33 | United | Madison Kibler | 114 | +44 |
| 36 | Hoban | Sammi Hessel | 116 | +46 |
| 37 | Massillon | Lexi Blaylock | 117 | +47 |
| 37 | Northwest | Sadie Villers | 117 | +47 |
| 39 | West Branch | Lulu Smith | 118 | +48 |
| 40 | Hoban | Kylene Coyle | 120 | +50 |
| 40 | Louisville | Isabelle Tack | 120 | +50 |
| 40 | West Branch | Hayden Mesler | 120 | +50 |
| 43 | Alliance | Lily Walker | 121 | +51 |
| 44 | Northwest | Lacey Bibbee | 125 | +55 |
| 45 | United | Emma Murphy | 126 | +56 |
| 46 | Minerva | Calee Lukowski | 127 | +57 |
| 47 | Hoban | Lila Parsons | 128 | +58 |
| 48 | West Branch | Erin Albert | 130 | +60 |
| 49 | Hoban | Addison Hirsch | 135 | +65 |
| 49 | Northwest | Laura Caniglia | 135 | +65 |
| 51 | Marlington | Mady Misch | 137 | +67 |
| 51 | United | Olivia Ashburn | 137 | +67 |
| 53 | Alliance | Neveah Marsh | 138 | +68 |
| 54 | United | Abby Jones | 139 | +69 |
| 55 | Minerva | Lily Mitchell | 140 | +70 |
| 56 | Northwest | Jada Sparks | 144 | +74 |
| 57 | Canton South | Erin Foster | WD | – |
| 57 | Hoban | Ella Miller | WD | – |
| 57 | Hudson | Annabel Lindley | WD | – |
---
Donate to Leopard Nation
---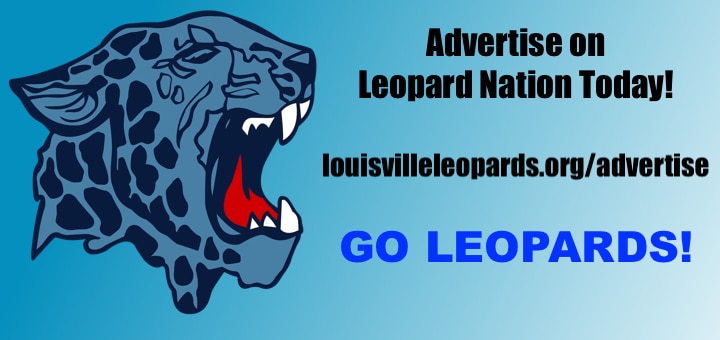 Don't forget to Subscribe to Our Posts for Free