Lady Leopards Fall at Garaway in Dual Opener 157-178 – Girls Golf
Garaway 157, Louisville 178
<<< Marilyn Jackson Open | Girls Golf Schedule | Vs. Carrollton >>>
The Louisville Leopards Girls Golf Team fell to the host Garaway Pirates 157-178 in their dual match opener Thursday afternoon at Black Gold Golf Club in Sugarcreek.
---
Biery Leads Leopards with Team Low 42
Junior Peyton Biery shot a team low 6 over par 42 to lead the Lady Leopards. Freshman Natalie Warner finished just behind Biery shooting 7 over par 43 for Louisville as well.
Rounding out the scoring for the Lady Leopards were senior Kylie Wallace who tallied 45 and junior Anna Myers who carded 48. Senior Rachel Devins also shot 56 for the Louisville varsity.
This was the first ever meeting between the two schools in girls golf.
---

---
Hane Shoots 57 to Lead Louisville JV
The Lady Leopards JV Team shot 248 as a team for the match. They were led by junior Claire Hane who shot a team best 21 over par 57.
Other scorers for the Louisville JV included freshman Hailey Feckett 60, freshman Jenna Steenrod 61, and junior Brooklyn Sommers 78.
UP NEXT: The Lady Leopards will next host the Carrollton Warriors on Tuesday, August 23. Tee-time is set for 4:00 PM from Pleasant View Golf Club.
---
Louisville Pictures from Black Gold Golf Club
---
Louisville Leopards at Garaway Pirates Girls Golf Box Score
VARSITY: PIRATES 157, LEOPARDS 178
LEOPARDS SCORES: Peyton Biery 42, Natalie Warner 43, Kylie Wallace 45, Anna Myers 48, Rachel Devins 56. TEAM TOTAL = 178
PIRATES SCORES: Not Provided
Records: Louisville 0-1
JV: LEOPARDS 248, PIRATES ??
LEOPARDS SCORES: Claire Hane 57, Hailey Feckett 60, Jenna Steenrod 61, Brooklyn Sommers 78. TEAM TOTAL = 248
PIRATES SCORES: Not Provided
---
Donate to Leopard Nation
---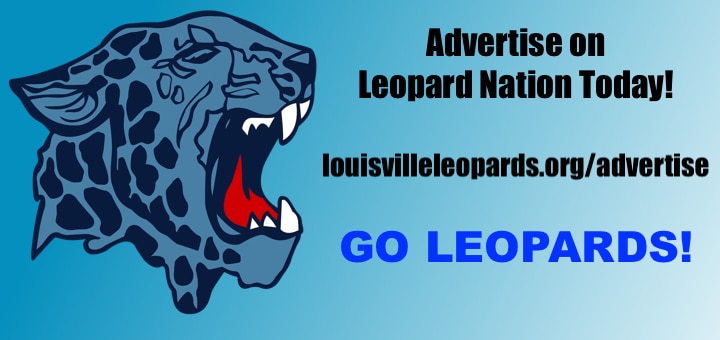 Don't forget to Subscribe to Our Posts for Free