Cole Breaks Own 3-Point Record as Leopards Claw Chaney 75-15 – Girls Basketball
Louisville 75, Youngstown Chaney 15
<<< Previous Vs. Austintown Fitch | Girls Basketball Schedule | Next Vs. Warrensville Heights>>>
The Louisville Leopards Girls Varsity Basketball Team earned a dominate 75-15 road victory over the host Youngstown Chaney Cowgirls Saturday Afternoon at Chaney High School. With the victory, Louisville improves to 2-3 on the season.
---
.
---
Cole Rewrites Three-Point Record Book
Senior Paige Cole broke her own record by hitting home 8 three-pointers and outscored the opposition on her own with a game-high 24 points. Cole was on fire out of the gate as she banged home a record 5 three-pointers in the first quarter. She then added another triple in the second quarter to break another one of her own records with 6 threes in a single half. Cole would hit two more shots from beyond the arch in each of the final two periods to set the new mark.
Altogether nine Louisville players scored during the contest. Senior Sherilynn Mullett finished with 13 and junior Kendal Loy reached double figures with 10. Juniors Maddie Dyer and Kelsey Adelman also added 8 each for LHS.
---
Leopards Score Record 33 Points in 1st Quarter
The Lady Leopards flew out of the gate in scoring a team record 33 points in the opening quarter. Their effott eclipses the previous high mark of 29 points in a quarter set by Louisville in the first quarter of their 79-29 victory over Alliance on January 21, 2017.
The Leopards defense held the Cowgirls to only a single field goal in 3 of the 4 quarters played. As a result, Louisville led 33-4 after the first quarter, 48-7 by halftime, and and 61-13 at the end of the third. The Lady Leopards also outscored Chaney 14-2 in the final stanza.
---
Jackson Leads Cowgirls with Team-High 13
The Cowgirls were led by senior guard Cazhia Jackson who made 3 three-pointers and scored a team-high 13 points. Forward Joshlyn Kitchen scored the only other points for Youngstown Chaney with their only 2 points of the fourth quarter.
This was the first ever meeting between the two teams.
UP NEXT: The Lady Leopards will next host the Warrensville Heights Tigers on Monday, January 11. This will be a varsity only matchup beginning at 5:30 PM from LHS.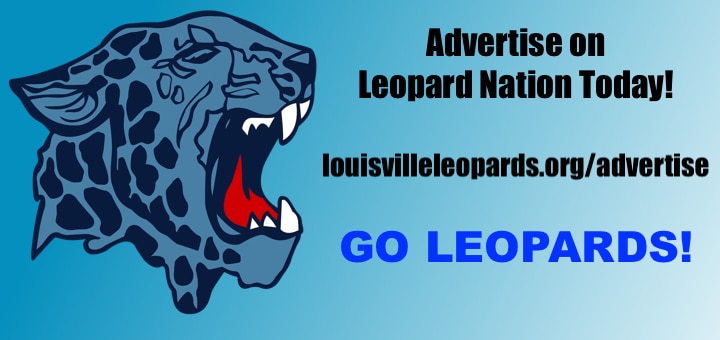 Varsity Statistics
LEOPARDS 75, COWGIRLS 15
Team 1-2-3-4–TOTAL
Louisville 33-15-13-14—75
Chaney 4-3-6-2—15
LEOPARDS: Cole 8 0-0 24, Mullett 5 3-4 13, Loy 5 0-0 10, Adelman 4 0-0 8, Dyer 4 0-0 8, Haren 3 0-0 6, Thorne 1 0-0 3, Joseph 1 0-0 2, Orin 0 1-2 1. TOTAL 31 4-6 75.
3-Pointers (9): Cole 8, Thorne
Team FT: 4-6 67%
COWGIRLS: Jackson 4 2-6 13, Kitchen 1 0-0 2. TOTAL 5 2-6 15.
3-Pointers (3): Jackson 3
Team FT: 2-6 33%
Fouls: 8-5 Chaney
Records: Louisville 2-3
Note: No JV Game