Miller Throws Shutout as Louisville Blanks State Runner-Up Hoban 2-0 – Baseball
Louisville 2, Archbishop Hoban 0
<<< Previous Vs. Green | Baseball Schedule | Next Vs. Chardon >>>
The Louisville Leopards Varsity Baseball Team shutout the visiting Akron Archbishop Hoban Knights 2-0 Saturday at Andy Aljancic Field. With their victory over the 2022 DII State Runner-Ups, Louisville improves to 3-2 on the season.
---
Miller Throws 3-Hit Shutout
Junior pitcher Cole Miller threw a complete game 3-hit shutout and struck out 3 to lead the Leopards. He surrendered a double to junior Parker Falkenstein to start the game and issued all 3 of his walks in the first two innings. Miller was able to get the Knights to ground into inning ending double plays to get out of both jams.
Miller settled in after that allowing just 3 base runners for the remainder of the game. He retired the side in order in the third and fifth innings. Miller gave up lead-off singles in the fourth and sixth innings, but then shutdown the next three Hoban batters in each frame. The only Knight runner in the seventh inning reached via error as Miller completed the third shutout of his varsity career.
---
Siegfried Knocks In Go-Ahead Run
The game remained scoreless until the Leopards pushed across the go-ahead run in the bottom of the fourth. Senior center fielder Charlie Roberts landed on second after reaching on an error to lead off the frame. Two batters later, senior catcher Karson Siegfried hit a line drive single to left field that brought home Roberts from second to put Louisville in front 1-0.
Siegfried would finish 2-for-3 to lead the Leopards who out-hit the Knights 5-3 for the game. Falkenstein also batted 2-for-3 to lead Archbishop Hoban.
---
Leopards Add Insurance Run in 6th
Roberts again led off the sixth with a double to left field. Senior second baseman Connor Morley followed with a walk and Siegfried singled to left field to load the bases. After a fielder's choice produced the first out of the frame, junior third baseman Zach Root was able to get aboard via an error scoring Morley from third to give Louisville a commanding 2-0 lead.
The run only proved to be an insurance measure with the way Miller was dealing on the mound.
---
Donate to Leopard Nation
---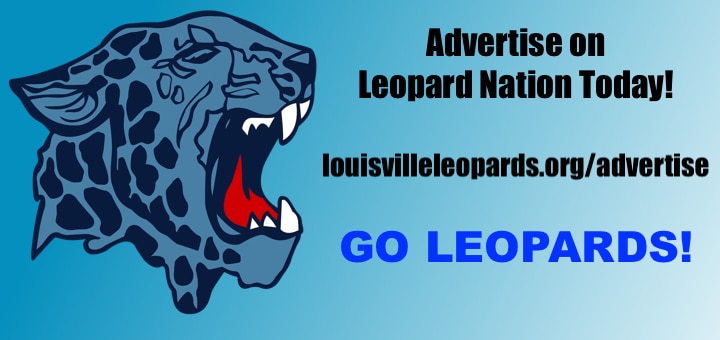 Don't forget to Subscribe to Our Posts for Free
---
Hoban at Louisville Varsity Baseball Box Score
LEOPARDS 2, KNIGHTS 0
Team 123-456-7–R-H-E
Hoban 000-000-0–0-3-2
Louisville 000-101–2-5-2
HOBAN KNIGHTS VARSITY BASEBALL BATTING STATS
| | | | | | | |
| --- | --- | --- | --- | --- | --- | --- |
| LINEUP | AB | R | H | RBI | BB | SO |
| P Falkenstein (CF) | 3 | 0 | 2 | 0 | 0 | 0 |
| Ciavolella (RF) | 3 | 0 | 0 | 0 | 0 | 0 |
| Zimmerman (2B) | 2 | 0 | 1 | 0 | 1 | 1 |
| A Karloff (1B) | 3 | 0 | 0 | 0 | 0 | 1 |
| Shimmel (3B) | 2 | 0 | 0 | 0 | 1 | 1 |
| Kievman (LF) | 3 | 0 | 0 | 0 | 0 | 0 |
| B Bantum (C) | 1 | 0 | 0 | 0 | 1 | 0 |
| —Carson | 1 | 0 | 0 | 0 | 0 | 0 |
| Jennings (DH) | 2 | 0 | 0 | 0 | 0 | 0 |
| —Buckner | 1 | 0 | 0 | 0 | 0 | 0 |
| Wilson (SS) | 2 | 0 | 0 | 0 | 0 | 0 |
| TEAM | 23 | 0 | 3 | 0 | 3 | 3 |
2B: P Falkenstein
TB: Zimmerman 1, P Falkenstein 3
SB: Kievman
E: Kievman, B Bantum
HOBAN KNIGHTS VARSITY BASEBALL PITCHING STATS
| | | | | | | |
| --- | --- | --- | --- | --- | --- | --- |
| PITCHING | IP | H | R | ER | BB | SO |
| Lafine(L) | 5 | 3 | 1 | 0 | 2 | 1 |
| Driscoll | 1 | 2 | 1 | 0 | 1 | 1 |
| TEAM | 6 | 5 | 2 | 0 | 3 | 2 |
HBP: Lafine
Pitches-Strikes: Driscoll 27-16, Lafine 68-36
Batters Faced: Driscoll 7, Lafine 19
LOUISVILLE LEOPARDS VARSITY BASEBALL BATTING STATS
| | | | | | | |
| --- | --- | --- | --- | --- | --- | --- |
| LINEUP | AB | R | H | RBI | BB | SO |
| A Corona (SS) | 3 | 0 | 0 | 0 | 0 | 0 |
| C Roberts (CF) | 3 | 1 | 1 | 0 | 0 | 0 |
| C Morley (2B) | 2 | 1 | 0 | 0 | 1 | 1 |
| K Siegfried (C) | 3 | 0 | 2 | 1 | 0 | 0 |
| C Miller (P) | 2 | 0 | 0 | 0 | 1 | 0 |
| Z Root (3B) | 3 | 0 | 0 | 1 | 0 | 0 |
| C Rice (RF) | 3 | 0 | 1 | 0 | 0 | 1 |
| Z Triplett | 2 | 0 | 0 | 0 | 0 | 0 |
| K Vesely (LF) | 1 | 0 | 1 | 0 | 1 | 0 |
| TEAM | 22 | 2 | 5 | 2 | 3 | 2 |
2B: C Roberts
TB: C Roberts 2, C Rice 1, K Siegfried 2, K Vesely 1
HBP: Z Triplett
CS: B Graziani
E: C Atwell 2
LOUISVILLE LEOPARDS VARSITY BASEBALL PITCHING STATS
| | | | | | | |
| --- | --- | --- | --- | --- | --- | --- |
| PITCHING | IP | H | R | ER | BB | SO |
| C Miller(W) | 7 | 3 | 0 | 0 | 3 | 3 |
| TEAM | 7 | 3 | 0 | 0 | 3 | 3 |
WP: C Miller 3
Pitches-Strikes: C Miller 75-45
Batters Faced: C Miller 26
Records: Louisville 3-2