Morley Throws Shutout as Leopards Win on Passed Ball in 7th – Baseball
Louisville 1, Green 0
<<< Previous Vs. Daniel Boone | Baseball Schedule | Next Vs. Hoban >>>
The Louisville Leopards shutout the visiting Green Bulldogs 1-0 Tuesday Evening at Andy Aljancic Field. With the victory, Louisville evens its record at 2-2 to start the season.
---
---
Morley Throws Complete Game Shutout
Senior pitcher Connor Morley threw a complete game 5-hit shutout and struck out 3 to lead the Leopards. He sent the Bulldogs down in order in the first, second, and fourth innings.
Green wasn't able to get a runner in scoring position until the top of the fifth. Designated hitter Brett Young singled, advanced to second on third baseman Ryan Harrigle's sacrifice bunt, and then advanced to third on a groundout by second baseman Owen Garee. Morley ended the threat by striking out catcher Aiden Twigg looking on three pitches in the next at-bat.
In the top of the sixth, the Bulldogs threatened again with runners on the corners and two outs. But Morley was able to get first baseman Henry Zwisler to pop out to Louisville junior shortstop Andrew Corona on the next pitch to keep the game scoreless.
---
Vesely Manufactures Game Winning Run in 7th
Senior left fielder Kyle Vesely finished 2-for-3 and stole 3 bases to lead the Leopards on offense. Vesely hit a 2-out line drive single to center field in the bottom of the seventh inning. He then stole second, stole third, and scored the game winning run via a passed ball on three consecutive pitches.
Louisville out-hit Green 6-5 for the game. Corona, junior first baseman Cole Miller, Morley, and junior third baseman Zach Root all recorded singles for the Leopards to go along with Vesely's multi-hit performance.
Cover Photo By The Louisville Herald
---
Donate to Leopard Nation
---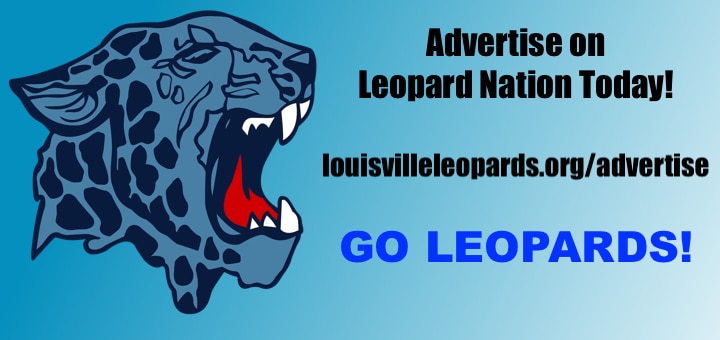 Don't forget to Subscribe to Our Posts for Free
---
Green at Louisville Varsity Baseball Box Score
LEOPARDS 1, BULLDOGS 0
Team 123-456-7–R-H-E
Green 000-000-0–0-5-0
Louisville 000-000-1–1-6-0
GREEN BULLDOGS VARSITY BASEBALL BATTING STATS
| | | | | | | |
| --- | --- | --- | --- | --- | --- | --- |
| LINEUP | AB | R | H | RBI | BB | SO |
| B Roilyson (SS) | 3 | 0 | 1 | 0 | 0 | 0 |
| L Ickes (CF) | 3 | 0 | 0 | 0 | 0 | 0 |
| A Manderone (RF) | 3 | 0 | 1 | 0 | 0 | 1 |
| H Zwisler (1B) | 3 | 0 | 0 | 0 | 0 | 0 |
| B Young (DH) | 3 | 0 | 1 | 0 | 0 | 0 |
| N Carr (P) | 1 | 0 | 0 | 0 | 0 | 0 |
| —E Muzi (3B) | 0 | 0 | 0 | 0 | 0 | 0 |
| R Harrigle (3B) | 2 | 0 | 1 | 0 | 0 | 0 |
| A Twigg (C) | 3 | 0 | 1 | 0 | 0 | 1 |
| O Garee (2B) | 3 | 0 | 0 | 0 | 0 | 1 |
| —D Mandarine (LF) | 1 | 0 | 0 | 0 | 0 | 0 |
| TEAM | 25 | 0 | 5 | 0 | 0 | 3 |
2B: B Rollyson, R Harrigle
TB: B Young 1, B Rollyson 2, R Harrigle 2, A Twigg 1, A Manderone 1
HBP: R Harrigle
GREEN BULLDOGS VARSITY BASEBALL PITCHING STATS
| | | | | | | |
| --- | --- | --- | --- | --- | --- | --- |
| PITCHING | IP | H | R | ER | BB | SO |
| N Carr(L) | 6.2 | 6 | 1 | 0 | 2 | 6 |
| TEAM | 6.2 | 6 | 1 | 0 | 2 | 6 |
Pitches-Strikes: N Carr 86-58
Batters Faced: N Carr 27
LOUISVILLE LEOPARDS VARSITY BASEBALL BATTING STATS
| | | | | | | |
| --- | --- | --- | --- | --- | --- | --- |
| LINEUP | AB | R | H | RBI | BB | SO |
| A Corona (SS) | 3 | 0 | 1 | 0 | 0 | 0 |
| C Roberts (CF) | 3 | 0 | 0 | 0 | 0 | 1 |
| C Morley (P) | 2 | 0 | 1 | 0 | 1 | 1 |
| K Siegfried (C) | 2 | 0 | 0 | 0 | 1 | 2 |
| C Miller (1B) | 3 | 0 | 1 | 0 | 0 | 0 |
| Z Root (3B) | 3 | 0 | 1 | 0 | 0 | 0 |
| C Rice (RF) | 3 | 0 | 0 | 0 | 0 | 0 |
| Z Triplett (DH) | 3 | 0 | 0 | 0 | 0 | 1 |
| K Vesely (LF) | 3 | 1 | 2 | 0 | 0 | 1 |
| TEAM | 25 | 1 | 6 | 0 | 2 | 6 |
TB: A Corona 1, C Morley 1, Z Root 1, C Miller 1, K Vesely 2
SB: A Corona, C Rice, K Siegfried, K Vesely 3, B Graziani 2
CS: B Graziani
LOUISVILLE LEOPARDS VARSITY BASEBALL PITCHING STATS
| | | | | | | |
| --- | --- | --- | --- | --- | --- | --- |
| PITCHING | IP | H | R | ER | BB | SO |
| C Morley(W) | 7.0 | 5 | 0 | 0 | 0 | 3 |
| TEAM | 7.0 | 5 | 0 | 0 | 0 | 3 |
HBP: C Morley
Pitches-Strikes: C Morley 73-55
Batters Faced: C Morley 26
Records: Louisville 2-2