Louisville Nipped by Green 3-2 in Season Finale – Girls Tennis
Green 3, Louisville 2
<<< Previous Vs. Manchester | Girls Tennis Schedule | DI Jackson Park Sectional >>>
The Louisville Leopards Girls Tennis Team was edged by the visiting Green Bulldogs 3-2 Wednesday Evening at the Greg Parrish Courts. With the loss, Louisville finishes the regular season with a final record of 10-5.
---
---
Kibler Finishes Regular Season 15-0 in Singles
Leopard senior Rachel Kibler found herself in a seesaw battle with Green's Evie Pryor in #1 singles. Kibler defeated Pryor 6-1 in the opening set, but dropped the second set 6-3. However, Kibler returned to form in the third set taking it 6-1 to clinch the victory and a perfect regular season in singles play. Kibler heads into the postseason with a record of 16-1 overall and 15-0 in singles competition.
Senior Katie Yarnall rallied back against the Bulldogs' Jules Beyes in #3 singles for Louisville's only other victory. Yarnall dropped the opening set 4-6, but flipped the tables in taking the second set by a 6-4 count. Seizing momentum, Yarnall was dominate in the third and final set 6-1 to claim the win.
---
Peel Win in #2 Singles Lifts Bulldogs
Green won both doubles matches. The Bulldogs duo of Lily Howdyshell & Mariah Lynch rallied for a 1-6, 6-0, 6-1 victory over the Lady Leopards senior team of Bailey Menegay & McKenzie Taylor. Green's #2 doubles team of Sophia Futo & Kylie Weisel also won in straight sets over Louisville's Jhacel Dawa & Kora Woolf 6-3, 6-0.
The match came down to #2 singles. Emily Peel edged Leopard senior Jade Thomas 6-3, 3-6, 7-6 to earn the match point and win for the Bulldogs. Green finishes the regular season at 9-7 with the victory.
---
Louisville Vs. Green Girls Tennis History
The Lady Leopards have now fallen to the Lady Bulldogs in each of the past two seasons. Louisville still leads the all-time series 8-5, but Green has taken 5 of the last 7 matchups overall.
<<< Previous 2020 | Green All-Time Series
UP NEXT: The Lady Leopards will next compete at the DI Canton Sectional Tournament beginning on Monday, October 4 at Jackson Park.
---
Green at Louisville Girls Tennis Box Score
BULLDOGS 3, LEOPARDS 2
Singles
#1 Rachel Kibler (L) d. Evie Pryor (G) 6-2, 3-6, 6-1
Kibler 16-1 (15-0 Singles)
#2 Emily Peel (G) d. Jade Thomas (L) 6-2, 3-6, 7-6 (7-3)
Thomas 9-8 (8-7 Singles)
#3 Katie Yarnall (L) d. Jules Beyes (G) 4-6, 6-2, 6-1
Yarnall 12-5 (11-4 Singles)
Doubles
#1 Lily Howdyshell & Mariah Lynch (G) d. Bailey Menegay & McKenzie Taylor (L) 2-6, 6-0, 6-1
Menegay 9-9, Taylor 7-11
#2 Kylie Weisel & Sophia Futo (G) d. Kora Woolf & Jhacel Dawa (L) 6-3, 6-0
Woolf 3-12 (3-11 Doubles), Dawa 1-11
---
Donate to Leopard Nation
---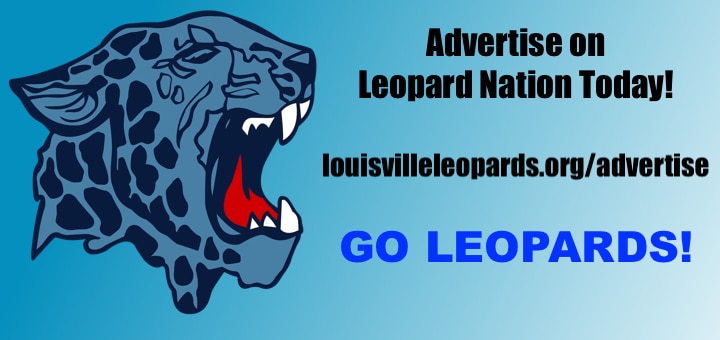 Don't forget to Subscribe to Our Posts for Free